Gold Coast Australia Travel Guide

Hello! Welcome to the Gold Coast Australia and the sunshine state of Queensland!

I'm Annie and I know how difficult it can be to find real information. When researching my own holidays I was often frustrated with websites with no information or endless lists of accommodation. Travel Agent brochures weren't much better! It wasn't FUN it was FRUSTRATING!

So, I guarantee you will find real information on this website and I promise no endless lists of accommodation!

You'll find hints and tips from my own experiences and those of my family and friends who visit or live here. I hope you enjoy this website and visit the Gold Coast soon.
Put on your holiday shirt - it's vacation time!
Top 10 Frequently Asked Questions
Planning A Trip To
Gold Coast Australia
A family afternoon at Rainbow Bay beach, Coolangatta
---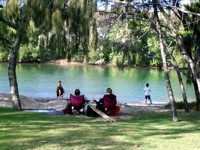 In the same way that there isn't only one flight option for getting to the Gold Coast Australia, there isn't one
best time to visit
or only one
place to stay
.
I'd love to introduce you to parts of the Gold Coast you might not have known about or considered before and give you information about those that you might have heard of. I'd like to help you narrow down your search so you can decide for yourself what you want and what you don't want! What fits best for you.
Chinese philosopher Lao-tzu said...
"A journey of a thousand miles starts with a single step."
I hope enjoy your journey - starting right now.....
Why Holiday in Gold Coast?
Discover what the Gold Coast Australia has to offer for a holiday in Queensland. Find out if the common myths are true or false!
Gold Coast is fantastic for kids of all ages - including the grown up ones ;-)
Fast paced theme park holidays, family beach holidays, action packed extreme thrillseeking, short breaks, long stays, weekend getaways, gourmet breaks, back to nature rainforest experiences or relaxing rejuvenating retreats. We can cater for it all....
And if you are coming to Australia from overseas why not put the Gold Coast into your itinerary on your travels downunder to Australia.
Struggling To Work Out When To Visit?
The
monthly guides
cover January to December. They give you a quick snapshot of what is happening around the Gold Coast each month including information on
school holidays
, public holidays, local events, weather for that time of year and things to do.
Still confused? There's a page on
frequently asked questions about when to visit
and if you don't find something there you can ask your own question.
Discover More Than Surfers Paradise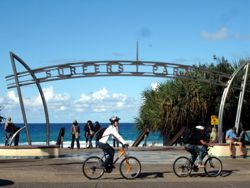 Many people people believe that
Gold Coast = Surfers Paradise = Gold Coast
Surfers Paradise attracts much attention, however the Gold Coast is so much more than
Surfers Paradise
. Use the
suburb guides
and
map
to discover and guide you around this very large and diverse area.
Each suburb page is a snapshot of information.
Scroll down and you will be amazed what you will learn from travel distances to major attractions and nearest golf courses.
What Is There To Do?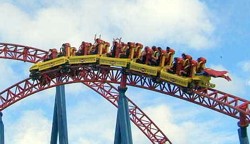 How To Get Here?
How To Get Around?
Shall I
hire a car
? Can I use local transport? What about
coaches and transfers
? This is always such a personal decision which can be dependent upon budget, flexibility and local knowledge.
When hiring a rental car one thing is for certain, it is really hard to compare apples with apples! Everyone seems to have a different offering. Check out these
car hire tips
for things to look out for before you rent a car.
Where To Stay?

Gold Coast Australia covers a large area with a diverse range of places to stay. The photo above shows some of the Gold Coast accommodation choices on the coastal strip between Main Beach, through Surfers and down towards Broadbeach and Burleigh Heads.
There are so many choices both on the coast and in the Gold Coast hinterland.
Choosing the right place will have a huge impact on your enjoyment of your holiday.
I suggest you have a look at the different
areas and suburbs
, use the
map
and get to know the areas.
Once you have narrowed down your areas, check out the suggested accommodation on the suburb pages. I like quality not quantity! But quality doesn't mean it is the most expensive.
I do have my personal favourites. If you are looking for a good all-rounder in the 3 to 4 star category you can't go past
Stella Resorts
. They have lots of great accommodation in good locations around the Coast.
Stella Resorts
with their great selection of locations, type and under the reliable brands of
Mantra
and
Breakfree
are my quick fix accommodation pick!
If you are after a big name hotel or apartments this
great comparison tool
will show you how to get a great deal - all on the one page.
There is certainly plenty to choose from, so you'll have to find ways to narrow it down - but isn't that the fun of planning a holiday? It helps build the anticipation!
What To Do If You Get Really Confused!
Firstly, I am not a travel agent! I have this website because I am passionate about helping people see more of Gold Coast Australia than just the glitzy Surfers Paradise.
I want you to really experience Gold Coast Australia so that when you leave you are already planning your next trip! If, after looking around the website, you cannot find what you are looking for please use the search box at the top of each page. Simply type in what you are looking for.
If you still cannot find what you are looking for then please feel free to
contact me
- I cannot promise you I will know the answers to every question about Gold Coast Australia, but I will try to help you as best I can.
So, what are you waiting for?
Go on dive in and discover my Gold Coast ....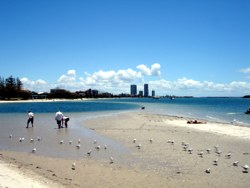 Custom Search