Aqua on Broadwater Restaurant and Bar
Aqua on Broadwater Restaurant Marine Parade Labrador
| | |
| --- | --- |
| | Aqua restaurant and bar was originally just one restaurant, but in 2009 this restaurant expanded into the space next door doubling the size. |
Location:



Aqua Building
300 Marine Parade, Labrador Qld 4215


Phone:


+61 7 5528 6624


Aqua on Broadwater Reviewed
What they say about themselves

Restaurant and bar serving steak, seafood and Mediterranean Cuisine.

Open for:

They boast:

Better than half price menu
$2.99 breakfast special.
What I say
I have only had the breakfast special here and it has taken me until July 2009 to get around to it, such was the lack of appeal of this particular restaurant. There is no denying, It was pretty good value, but I thought $5 for their hot chocolate was a bit steep as it wasn't a patch on Max Brenner's version at Marina Mirage!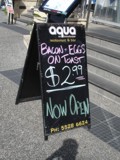 One of the reasons I hadn't eaten here before was because I think there are better options and having eaten here, I would still agree. The breakfast special is certainly a crowd puller and the service was a bit average when I was there, but perhaps it was because we only ordered the breakfast special.

Their "better than half price menu" and their breakfast specials show a lack of differentiation between them and the other restaurants ....or perhaps they lack the quality food and service to get people back?
This photo is of their breakfast deals and better than half price menu taken in May 2008.
Other Eating Options At Aqua
X Coffee - Coffee, breakfast and lunch. Casual.
Harley Seafood - Takeaway fish and chips.
The Lazy Lobster - local seafood is their speciality.
Matsuzaka Restaurant – Japanese and Teppanyaki, remodelled in late 2008.
The Friendly Orca - seafood and just about everything else - CLOSED AS OF JANUARY 2009
Nile on Broadwater Egyptian food and Takeaway - CLOSED AS OF JANUARY 2009.
Lime Leaf Thai - new Thai restaurant - no comments as yet!

Baskin Robbins – Ice Cream.
Marine Sushi - Sushi - during day only.
Beach Burgers Café - burger bar, casual.
Labrador Restaurant Reviews
Custom Search