Gold Coast Australia Main Attractions
COVID-19 Pandemic & This Website
The COVID-19 Pandemic has had a huge impact on local Gold Coast businesses, which rely heavily on visitors from Queensland, interstate and overseas.
During this time, it is hard to keep the website fully up to date with all the changes. In the meantime here are some resources for visitors. Our main booking partners for hotels and for tours, tickets, theme parks and activities are keeping everything up to date, so please use those resources in the meantime.
Travel Information for Queensland Visitors - Queensland Tourist Safety Information - regularly updated, official website.
COVID-19 FAQ's For Activities, Tours, Cruises & Theme Park Tickets - General Ticket & Pass FAQs and COVID-19 Travel Update.
Thank you for your understanding and patience at this really difficult time.

Annie Rettie
Gold Coast Australia Travel Tips - Owner
What are the Gold Coast Australia main attractions?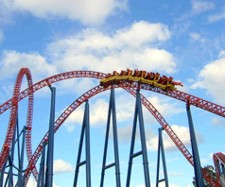 Rollercoaster on Gold Coast!
Whilst the Gold Coast is famous for its theme parks, there are in fact many other attractions for tourists.
In helping many people plan out their itineraries over years, I have found that most don't realise when they start planning what is possible.
I encourage you to look at the options and activities. You'll find them below, split out into categories - Man-made Fun, Natural Fun and Night-time Fun.
Take a little time to do some research and planning, You will find there is so much more to see and do in the Gold Coast. You don't want to kick yourself that you missed out!
If you haven't already got your planning cheat sheets, they are really helpful at this part of your holiday planning. You'll find extra resources, tips and planning sheets to help put your whole itinerary together. So what are you waiting for....
Here's my list of favourite Gold Coast attractions in order!
Top picks for Gold Coast Australia main attractions, activities and things you can do here.
Gold Coast activities can be booked now for a set date, sometimes there is an opportunity to change the dates but check when booking. You can also organise gift vouchers too.
Some activities are good to do even on rainy days in the Gold Coast. If you want some ideas check out the Rainy Day Activity guide.
Natural Stuff with some Man-Made FUN!
Beaches & Ocean
Islands, Broadwater, Canals and River systems
Australian Animals, Scenery and Plants
Return to top Gold Coast Australia Main Attractions

Totally Man-Made and lots of FUN!
Theme Parks
Family Fun
Adrenalin Junky Activities
Golf Courses
Shopping & Markets
Return to top Gold Coast Australia Main Attractions

Night-time Activities and Fun
Night Time Entertainment
The Star Gold Coast Shows
The shows, concerts and visiting artists change regularly.
Gold Coast Australia Main Attractions Transfers
Getting around the Gold Coast can be easy if you plan ahead. You can hire a car or use one of the other attraction transfer options.
If you choose to use the commercial attraction transfers you have don't have the stress of trying to find each location, but you don't have quite the flexibility.
Return to top Gold Coast Australia Main Attractions
What To Do If The Weather Isn't Great?
There are many activities you can do on or around the Gold Coast. Occassionally, we do have a rainy day or two!
That definitely doesn't mean the fun stops!
In fact there is still loads to see and do! My rainy day guide covers some of the Gold Coast Australia main attractions that are suitable for rainy days.
As well as the usual indoor activities there are even some hints and tips on how to enjoy some of the other Gold Coast activities and attractions when the weather isn't so great.
To Book Ahead Or Not?
If you want to remain flexible, you can book your tours or activities when you arrive. However, if you want to keep to a plan and a budget it can be a great idea to book in advance so you lock in your spot on a tour which can be very handy especially in peak periods.
Using a local Gold Coast booking service ensures that you are dealing with the real tour operators and I find the information is kept up to date more effectively. I cannot tell you how much rubbish I read about the Gold Coast, I swear some people haven't set foot in Australia let alone been on the Gold Coast.
To get the most out of your Gold Coast experience book all your Gold Coast Australia main attractions, tours, activities, theme park tickets and transfers in one spot.
Your Questions & Stories
Ask A Question Or Tell Us About Something You Have Done On the Gold Coast
Ask a question about activities or itineraries for you Gold Coast holiday. I will try to answer it or point you in the right direction!

Or tell us a story about one of the activities or attractions you have been to on the Gold Coast.
Return to top Gold Coast Australia Main Attractions
Gold Coast Holiday Planning Information
There are plenty of reasons to make the Gold Coast your next holiday destination and there is more than enough to keep you busy... or relaxed.
Here is more information to help plan your trip or you can grab our planning cheat sheets to give you a framework to plan with...
Custom Search
Home › Things To See & Do