Currumbin Wildlife Sanctuary Tickets
COVID-19 Pandemic & This Website
The COVID-19 Pandemic has had a huge impact on local Gold Coast businesses, which rely heavily on visitors from Queensland, interstate and overseas.
During this time, it is hard to keep the website fully up to date with all the changes. In the meantime here are some resources for visitors. Our main booking partners for hotels and for tours, tickets, theme parks and activities are keeping everything up to date, so please use those resources in the meantime.
Travel Information for Queensland Visitors - Queensland Tourist Safety Information - regularly updated, official website.
COVID-19 FAQ's For Activities, Tours, Cruises & Theme Park Tickets - General Ticket & Pass FAQs and COVID-19 Travel Update.
Thank you for your understanding and patience at this really difficult time.

Annie Rettie
Gold Coast Australia Travel Tips - Owner
Where To Buy Currumbin Wildlife Sanctuary Tickets and Passes?
If you are looking for Currumbin Sanctuary tickets, there's lots of information on this page, including family passes, combining with other activities and multi-attraction pass options.

If you are looking for general information about Currumbin, check out the main Currumbin Sanctuary page.

LATEST DEALS: Deals and Tickets including: Adults, Children (3 to 13 years) and Concession (Seniors/Pensioner) prices OR the Family Deal 2A+2Ch. Under 3s free. Buy Now online. Click for all options.

Stay here to find out more about:

Click the links that interest you, or navigate to other information about Currumbin in the CWS Resources Box, or simply read on for more information about Currumbin Wildlife Sanctuary tickets & pass options.

PS: If you are still working out which theme parks, attractions and activities you want to do on the Gold Coast, you may find planning cheat sheets, tips & tools helpful in working out your itinerary and the things you want to do, which makes choosing your tickets and passes much easier.

Annie Rettie
Gold Coast Australia Travel Tips - Owner
Join the conversation or just check us out...
Select The Topic You Are Interested In
Where To Buy Currumbin Wildlife Sanctuary Tickets
Firstly, I've got great news for you... If you are already a member of the National Trust and live in Queensland, then your entry is included with your NT membership! It's not often I can say there are free tickets to Currumbin Wildlife Sanctuary. The NT also support the Currumbin Wildlife Hospital.
You can buy general admission tickets at the entrance to Currumbin, but if you plan ahead, you can often snare a much better deal by organising your tickets before you go.
Online, we are able to get some pretty great deals, and on this page you will find many of the options.
Things To Consider When Booking Online
You have to beware of some of the online options, as there can be hidden booking fees or credit card fees.
Most of the options I present DO NOT have any booking fees or credit card fees, so the price you see is the price you pay.
In some instances, in order to offer a fuller range of options, I sometimes use other suppliers, who charge extra fees. I try to ensure I make it clear, so that you can make a good comparison.
Some tickets require you to print out your vouchers, whilst others are available to display on your smart phone to save printing. Once again, I try to make sure all the information is available to you, but check on the booking pages for full information, terms and conditions and expiry dates.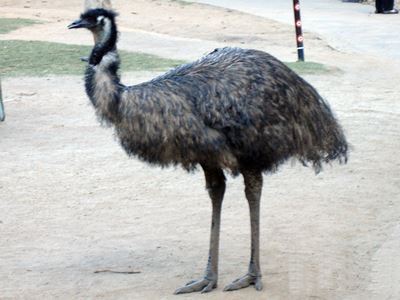 Up close to the emu.

What Are The Options For Currumbin Sanctuary Tickets
Here are the main options for tickets that include entry to Currumbin Wildlife Sanctuary or one of the parks other activities. Click on the links below for more detailed information and pricing as well as suggestions on value or alternatives.
Currumbin Sanctuary General Entry Tickets
Currumbin Sanctuary Extra Activities in Park
Currumbin Wildlife Sanctuary Plus Outside Activities
I have tried to include information about each so that you can see which may be the best option for you. Obviously, prices and terms and conditions change from time to time, and whilst I try to keep this up to date, it may not always be up to date. However, the booking pages contain all the up to date information, terms and conditions and information about the tickets and passes.
For General Entry or Admission:
Children are from 4 to 14 years. Children 0 to 3 years have free entry to the park. Concessions are available for Pensioners and Seniors with a valid ID card which must be shown if a concession ticket is purchased.
For other activities different terms and conditions may apply for children and concessions. Please check booking pages for all the current terms and conditions.
Lorikeets feeding at Currumbin

Family & Discount Options For Currumbin Wildlife Sanctuary General Admission
In this section you will find the main options for discount and family tickets to Currumbin Wildlife Sanctuary. These online options are fantastic value and are pretty hard to beat.
Further down the page, you will see a comparison between these online tickets and the multi attraction passes (which offer great savings also). I have compared each option and then shown which is the cheapest way to buy tickets to Currumbin.
If you are a family of 2 Adults & 1 or 2 Children (4 to 14 years) it's hard to beat the online family pass at just $99 for a whole day of fun!
Read on for all the options.
Currumbin Wildlife Sanctuary Extra Activities
In this section you will find a selection of activities you can include in your itinerary. Some include CWS entry, whilst others are stand alone.
Best Value Tickets For Currumbin Wildlife Sanctuary
This is a round up of the options for you, if you don't want to go through each of the options above!
The best value ticket for Currumbin entry will depend upon how your group is made up and what other activities you want to do.
If you just want to visit Currumbin, then the General Entry online prices are usually the best value, especially for families or single adults.
If you are a family of 2 Adults & 2 Children (4 to 14 years) then the Online Family Pass option is hard to beat.
If you want to look at additional activities, you can pair up entry with another activity on the Gold Coast, such as Whale Watching, Segway Safari Tour or High Ropes Course.
If you are planning on visiting other attractions or doing other activities in Gold Coast or Brisbane you can select a more flexible Multi Attraction Pass. There are also options for Multi-City passes which allow you to select from a wide range of attractions and activities across Eastern Australia (Qld, Vic, NSW & Tas).
With the flexi passes, the more attractions you purchase ahead of time, the cheaper it is per attractions. Selection of attractions will determine how much savings you will make. Sometimes it isn't all about the savings, the flexibility and simplicity of having a single card per person can make travelling so much easier.
Don't forget to contact me if you need any assistance with selection of your tickets or passes, or you can use the Travel Planning Sheets & Resources to help with planning out your own itinerary.

Annie Rettie Gold Coast Australia Travel Tips - Owner


DREAM IT
You'll find lots of photographs, descriptions and information to help you dream up your perfect Gold Coast Holiday.
Why not start with all that the Gold Coast has to offer.
PLAN IT
After many years of planning trips with my family both locally and overseas, I've created many resources to help you through creating an itinerary and plan that will have you seeing, doing and experiencing the best the Gold Coast has to offer you.
You can do it yourself using the resources on this website by starting here.
Or you can cut some corners and get my travel planning sheets and extra resources.
BOOK IT
When you are ready to book your Gold Coast travel arrangements I've hand picked the best resources for all aspects of your travel itinerary. You can feel confident that you are accessing the best local and global travel providers for your holiday.
Back to Top - Currumbin Wildlife Sanctuary Gold Coast