Australia Tourist Visa Guide
COVID-19 Pandemic & This Website
The COVID-19 Pandemic has had a huge impact on local Gold Coast businesses, which rely heavily on visitors from Queensland, interstate and overseas.
During this time, it is hard to keep the website fully up to date with all the changes. In the meantime here are some resources for visitors. Our main booking partners for hotels and for tours, tickets, theme parks and activities are keeping everything up to date, so please use those resources in the meantime.
Travel Information for Queensland Visitors - Queensland Tourist Safety Information - regularly updated, official website.
COVID-19 FAQ's For Activities, Tours, Cruises & Theme Park Tickets - General Ticket & Pass FAQs and COVID-19 Travel Update.
Thank you for your understanding and patience at this really difficult time.

Annie Rettie
Gold Coast Australia Travel Tips - Owner
Australia Tourist Visa Quick Guide To What You Need To Know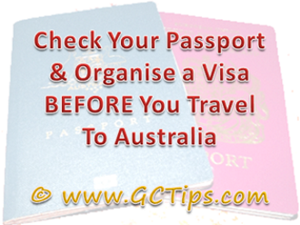 This page is for overseas visitors to Gold Coast or Australia. You will find general information about tourist visas for overseas visitors.
It is recommended that before you book your flights to Australia, that you check the passports of everyone who will be travelling with you to Australia.
Make sure you physically check your passports including the expiry dates. In Australia children's passports only last for 5 years, so it is easy to overlook their passports if you use yours regularly.
Once you have made sure you have a current valid passport, that is not due to expire for at least six months from the date you plan to enter Australia, it's time to organise your Australian tourist visa.
Below you will find resources useful to visitors from different countries.
Many visitors will be able to take advantage of the electronic travel authorities that can be organise online for a small fee through various providers.
Do I Need Austrlia Tourist Visa To Visit Australia?
Who needs an Visa to visit Gold Coast? Do I need a Tourist Visa for Australia?
The answer is almost always YES, if you are coming to Australia from overseas.
Every traveller to Australia except (Australian and New Zealand Citizens with passports) require some kind of Australian travel visa.
There are different kinds of visas but I am only talking about Australian tourist visas. If you are visiting for business, or some other reason then you will need to check what kind of visa you require.
You must apply for your visitors visa outside Australia before you travel.
You can do that either at an Australian Diplomatic office in your country or find the right visa and apply online for an electronic Visa if you meet the criteria.
If you meet the criteria for an Electronic Travel Authority Visa (ETA Visa) applying online for your Australia Tourist Visa will save the time and effort of having to visit your Australian Embassy or High Commission in person or posting your application to them.
Online services to assist with ETAs charge a fee - check this out before you commit as these fees are on top of the official Visa Fee.
These online service fees shouldn't be more than around $20USD per person on top of the standard tourist visa fee. I have seen some providers charging much more than this, but you can use the links on this page to check out a world-wide visa provider who offers this service at a very reasonable rate.
ETA Visas are very handy because they can save you time and money. eVisas are quick and easy to arrange.
You should apply in advance (at least 3 working days or more for online providers, but check their websites for exact details). Once the electronic travel authority has been issued they are valid for 12 months, so the sooner you apply the better.
Criteria for Eligiblity for ETA Visa
In order to be eligible for an ETA Visa you have to have a valid passport with at least 6 months before expiry from the date you enter Australia. There are 32 eligible ETA countries. You also must be in good health and have NO criminal record.
Also, if you are travelling from a country other than your country of citizenship (where your passport is from) you may need proof of your entry visa to Australia. This proof may be required in the form of a stamp or label in your passport. If this is your situation you will need to check with the immigration department of your departure country. It is best to do this early to avoid difficulty at the airport.
Common Questions
Do I need to have my travel booked before I apply for a visa?
No, you don't need to have booked your travel before you apply for a visa. In fact it is probably better to secure your visa first - this is what the Australian Government recommends.
What do I need to apply online?
A valid passport
Credit card
Which countries are approved ETA Countries?
Current list of the ETA countries. Please use this link as I am not a immigration specialist and the list may change and I want you to have up to date information.
What if I don't have a passport from an approved ETA country?
If you don't have a passport from an approved ETA country you will need to check if you are eligible for a different kind of visa: Australian Visa Finder
I am travelling to a conference for business can I use an Australia Tourist Visa?
No, if you you are travelling on business you cannot use a tourist visa. Check to find the right visa for the type of business activity you are going to carry out in Australia Find Business Visa by following the prompts about your visit.
Useful Australia Tourist Visa Information
Overseas Diplomatic Offices - details from the Australian Immigration Department on overseas offices.
Business Entry Visa Options & Information - details about different options for Business Entry (scroll down to relevant section).
Department of Immigration and Border Protection website - more information directly from the Australian Government Department that handles immigration and border protection.
Custom Search