Gold Coast Blog News and Updates
COVID-19 Pandemic & This Website
The COVID-19 Pandemic has had a huge impact on local Gold Coast businesses, which rely heavily on visitors from Queensland, interstate and overseas.
During this time, it is hard to keep the website fully up to date with all the changes. In the meantime here are some resources for visitors. Our main booking partners for hotels and for tours, tickets, theme parks and activities are keeping everything up to date, so please use those resources in the meantime.
Travel Information for Queensland Visitors - Queensland Tourist Safety Information - regularly updated, official website.
COVID-19 FAQ's For Activities, Tours, Cruises & Theme Park Tickets - General Ticket & Pass FAQs and COVID-19 Travel Update.
Thank you for your understanding and patience at this really difficult time.

Annie Rettie
Gold Coast Australia Travel Tips - Owner
Gold Coast Blog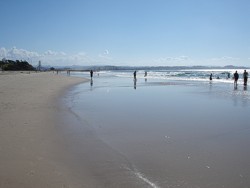 Gold Coast, Queensland, Australia.
Magnificent beach at Coolangatta
at southern end of the Gold Coast.
This page is designed to help you keep up to date with updates and new pages.
If you are looking for seasonal and topical Gold Coast information you can check out my other Gold Coast blog.
It has the latest news, views and happenings around the Gold Coast.
Read on to find out about the new pages or updates to existing pages about:
Gold Coast Suburbs
Things to do in the Gold Coast
Gold Coast Reviews
Gold Coast Accommodation
New Gold Coast photos
Plus many other interesting topics related to your Gold Coast holiday.
Opening times For Gold Coast Theme Parks Outside of School Holidays
Question: I'm from a regional town in WA and we're wondering if the theme parks in the Gold Coast are open when school is back on. Would anyone know??
Continue reading "Opening times For Gold Coast Theme Parks Outside of School Holidays"
Why Holiday in Gold Coast?
Discover what the Gold Coast Australia has to offer for a holiday in Queensland. Find out if the common myths are true or false!
Custom Search