Movie World Gold Coast Information
COVID-19 Pandemic & This Website
The COVID-19 Pandemic has had a huge impact on local Gold Coast businesses, which rely heavily on visitors from Queensland, interstate and overseas.
During this time, it is hard to keep the website fully up to date with all the changes. In the meantime here are some resources for visitors. Our main booking partners for hotels and for tours, tickets, theme parks and activities are keeping everything up to date, so please use those resources in the meantime.
Travel Information for Queensland Visitors - Queensland Tourist Safety Information - regularly updated, official website.
COVID-19 FAQ's For Activities, Tours, Cruises & Theme Park Tickets - General Ticket & Pass FAQs and COVID-19 Travel Update.
Thank you for your understanding and patience at this really difficult time.

Annie Rettie
Gold Coast Australia Travel Tips - Owner
Movie World Gold Coast - What You Need To Know About Planning A Day In This Theme Park
Best Of MovieWorld, Sea World & Wet n Wild

3 DAY PASSES
3 Days Entry To Movie World, Sea World & WetnWild
3 Days Entry To Movie World, Sea World & WetnWild PLUS Hop On Hop Off Ferry Day Pass
7 DAY PASS
7 Day Pass to Move World, Sea World, WetnWild AND Paradise Country

14 DAY PASS
14 Day Pass to Move World, Sea World, WetnWild AND Paradise Country
You will find information on this page about:
I've tried to cover most of what you need to know to enjoy a day at this theme park, however, if I have missed something you are interested in or would like to know, feel free to ask a question.
Don't forget to read other people's questions first as you may well find your answer there and you may discover something useful for you.
Movie World Gold Coast is an amusement park and entertainment experience based around Warner Bros. (Warner Brothers) characters from TV shows and Movies. Movieworld has a range of thrill rides, shows, childrens rides, games and character parades.
It is part of the same group which owns Sea World and Wet n Wild Water Park.
You can buy tickets for one day entry to any of the parks. However passes for entry to Movie World and one or two of the other parks often offer much better value and are not much more than a single entry ticket.
Check out the information about Tickets & Passes.
Opening Times for Movie World Gold Coast
Daily:
10.00am to 5.00pm
Gates open at 9.30am but the rides don't open until 10am.
Gates and rides close at 5pm.
Exceptions:
Closed Christmas Day 25 December.
Closed ANZAC Day 25 April.
Buying Tickets for Movie WorldGold Coast
Best Of MovieWorld, Sea World & Wet n Wild

3 DAY PASSES
3 Days Entry To Movie World, Sea World & WetnWild
3 Days Entry To Movie World, Sea World & WetnWild PLUS Hop On Hop Off Ferry Day Pass
7 DAY PASS
7 Day Pass to Move World, Sea World, WetnWild AND Paradise Country

14 DAY PASS
14 Day Pass to Move World, Sea World, WetnWild AND Paradise Country
You can buy tickets at the gate when you arrive, online or at ticket booths around the coast.
I don't know anywhere that offers large discounts for Gold Coast theme parks.
Sometimes you see ads with huge discounts, often these are so full of restrictions or are for locals only. Beware with these kinds of offers and check everything before you take it up.
From time to time there are special Locals Only deals. If they are available, you will find details on the main Theme Park Passes Page. The deals for locals will also highlight any requirements - such as residential postcodes covered (can be Queensland and northern NSW Residents for example), which you will need to be able to verify when the vouchers are redeemed at the theme parks on their first use.
Occassionally, visitors to the Gold Coast can find genuine discounts where savings are a couple of dollars a ticket. Check for hidden booking fees and credit card fees that eat into those savings.
For visitors to the Gold Coast best savings are with combination tickets and passes.
Generally, buying tickets online should be the same or less than purchasing at the gate. Some of the theme parks charge a higher price for tickets at the gate.
Buying online theme park tickets ahead of time can help with holiday budgetting and overseas visitors can lock in an exchange rate.
One of the main advantages of booking ahead and getting your pre-paid tickets or passes is that you get to skip the queues and go in the pre-paid line. Although these lines can look long, because they don't have to process payments they are MUCH quicker...
At Movie World Gold Coast if you have a pre-paid ticket or voucher with a barcode, you can usually go straight to the turnstiles which are found behind the ticket booths. There is also an entry for strollers on the left-hand side.
Back to Top of Movie World Gold Coast
Getting To Movie World Gold Coast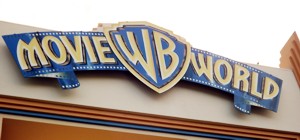 Movie World Gold Coast sign!
Movie World is located in the Gold Coast hinterland area called Oxenford right next door to Australian Outback Spectacular and Wet n Wild and about 1.2kms from Paradise Country.
Movie World Gold Coast address is Entertainment Road, Oxenford and is located off the Pacific Motorway or M1 at the Helensvale North exit.
Coming from Brisbane in the north, or from Gold Coast locations such as Southport, Surfers Paradise, Broadbeach, Nerang, Coolangatta or northern NSW, it is well signposted from the M1 and you can see the park as you approach the turn off to Helensvale North.
This is the same turn off you use for Paradise Country, Australian Outback Spectacular and Wet n Wild.
There is plenty of parking, so driving is a great option you can byo car or hire a car.
Movie World Gold Coast Transfers
Gold Coast Shuttle Transfers are great for transfers directly from your Gold Coast accommodation. Their Freedom and Gold Passes are flexible options for Gold Coast airport transfers and theme parks transfers that will save you money too. They only pick up and drop off at registered accommodation between Runaway Bay and Coolangatta. If you are staying at Hope Island or Sanctuary Cove or private residences you will need to use another way to get to the theme park.
Surfside Buslines run the public bus sustem on the Gold Coast Tel: 131 230. They run theme park express services which stop at Movie World, including services from Helensvale Railway Station and Pacific Fair Shopping Centre amongst many others.
Translink run train services from Brisbane to Varsity Lakes. Helensvale railway station is the best stop for Movie World with Surfside buses providing the bus connections. Usually you can get tickets that allow you to travel on both buses and trains.
Personally, I think it is better to pay a bit extra and go with a shuttle service such as Gold Coast Shuttle Transfers as the public bus service can at times be frustrating.
More details on transfers to theme parks.
Back to Top of Movie World Gold Coast
Things To Consider
Food and Drinks
Movie World has a policy that you cannot bring in food and drink (except for those with food allergies and babies or infants). You can bring in water and fruit.
More information about food outlets in Movie World.
Accessibility and Getting Around
Movie World is pretty flat with only a few places where there are stairs - such as into rides and some of the buildings.
There are a limited number of strollers for hire and some wheelchairs - the park is mostly wheel friendly - but there are restrictions on rides, so you will need to check.
You enter Movie World in the middle but it isn't exactly obvious! If you want to head towards the area for the younger children you will need to turn right after you get to through the gates and head through the covered central area and then turn right again to head to the the Kids WB Fun Zone.
The big thrill rides are on the left hand side of the park and include the new Green Lantern Ride, Batwing SpaceShot, Superman, Scooby Do Spooky Coaster and Wild West Falls.
Things to Take
Best to travel light as possible. There are lockable lockers in the central area and smaller lockers for loose objects for when you go on each of the rides.
Movie World now has a fairly large area that is protected from rain and sun, however, you are still going to be out in the sun too.
Here are some suggestions as to the things we pack or wear:
Water Bottle
Sunscreen - a water repellent one and reapply every two hours
Hat or Cap
Sunglasses
Comfortable Shoes
Comfortable clothing - light in summer and maybe an extra layer in winter. Rain jacket if raining.
Money
There are EFTPOS machines at most outlets and a couple of ATMs in Movieworld.
You will need money for food, drinks, photos, souvenirs, people dryer (if you get wet and want to get dry!). I am struggling to think if there are any pay per use rides in MovieWorld and I don't believe there are. We certainly enjoy this theme park without paying anything extra once we are through the gates.
Pre-paid Tickets & Passes
I prefer to buy tickets ahead of time, so I don't have to wait in the queues at the ticket booths.
Back to Top of Movie World Gold Coast
Weather and How It Affects Your Day
What happens at Movie World Gold Coast when it is raining or there is a storm?
Movie World is a year round attraction. On very rare occassions it will close completely due to the weather - when there was heavy rain and flash flooding in the Gold Coast in January 2012 it was closed for a day. That was extreme weather.
When it is raining heavily or if it is windy or stormy, some of the rides will close during this time. Often, when the weather passes they will reopen.
The Gold Coast, especially during the summer months, can be a little rainy, so you can expect there to be some rain or showers during the day. Often they are short and the sun comes out, dries it all up and you forget there was ever any rain!
One of the things I like about Movie World is that they created a huge undercover area in the Main Street so you can hang out there and be entertained whilst the weather is doing its thing.

During the summer it gets pretty hot and humid. If you get too hot, head to Wild West Falls and you will definitely get wet on that ride and it will cool you down!
Summer or Winter don't forget the sunscreen, even when it is overcast, our sun is very strong!
Back to Top of Movie World Gold Coast
Shops at Movie World Gold Coast
I'll start by telling you that I don't go to theme parks to shop, but if I did Movie World would be the top of my list in the Gold Coast for variety and volume.
As well as the usual theme park souvenir toys, gifts and items based on the rides and characters there is a Warner Bros Department Store, a Movie Memorabilia Store, Rio Bravo outfitters, Charlie and the Chocolate Factory Candy Store and a Harry Potter Shop.
Forgotten to pack a necessity? You can buy batteries for your camera, sunscreen, hats, sunglasses and rain ponchos, plus a host of other items.
Looking for something special for a raving fan of : Batman, Superman, Scooby Doo, Looney Tunes or Road Runner? This is your best opportunity to get something a little out of the ordinary.
Food in Movie World
For me food and thrill rides don't really mix! However, the comes a point in the day when I just need to eat something!
We rarely eat more than a burger, ice cream or piece of cake and a coffee. However, there are a few different food options.
Stars Cafe is near the entrance, and when it is open, I quite like this one as it is usually not too busy. You can sit down at tables and enjoy the movie memorabilia. I went past it during the Christmas Season and there was entertainment from the small stage.
You can get fast food such as burgers, chips (french fries) and hot dog. There is a bakery with a selection of mostly sweet items. Ben and Jerry's Ice cream parlour - don't need to say any more about that one ;-).
Rick's Cafe Americain and Rick's Bar are near Main Street. I haven't eaten in here, but it looks like you can get a full on buffet meal. If you like to eat your main meal in the day, this could be a good option. I cannot confirm that there are Halal options in this restaurant in Movie World - but I understand that there may be halal options here.
Dirty Harry Bar has a few bar counter meals on offer, but nothing fancy. You can get a coffee here too.
With all the different outlets you should be able to find a selection of foods including light meals, full meals and vegetarian options.
During certain times (I think mostly the main summer holiday period - December to January) there are extra food outlets. We saw a BBQ tent during January 2012 with items like kebabs and sausages.
Back to Top of Movie World Gold Coast
Where To Stay Close To Movie World Gold Coast
I often get asked about staying close to the theme parks around Oxenford area. I guess it seems to make sense to save on travel time.
In reality it doesn't take that long to get from the main tourist areas such as Main Beach (about 20 minutes drive), Surfers Paradise (about 20 to 25 minutes drive) or Broadbeach (about 25 minutes drive). And the theme parks don't open until 10am, so you don't have to be up too early on your holidays!
There are couple of options to stay within 5 minutes drive of these theme parks. Those places are either motels, or the the Gold Coast Holiday Park which combines a Caravan Park and 4 star motel accommodation. Another similar option is Treasure Island Holiday Park at Runaway Bay which is about a 10 minute drive.
If you stay in these locations, you would have to drive into Surfers Paradise or Broadbeach for some of the other attractions of the Gold Coast, nightlife and the beaches.
When you look at the map of where the theme parks are, you may be tempted to look for accommodation in Hope Island, Sanctuary Cove or Runaway Bay. Those places are fine, but you definitely need a car to get around and drive yourself to Movie World.
So, a long winded way of answering this question, my personal preference, and what I recommend to my friends is to stay in Main Beach, Surfers Paradise or Broadbeach.
Firstly, there is a large choice of hotels, apartments and accommodation making it more likely that you will find something that suits your style and budget.
Secondly, when you are not at the inland theme parks, you get to experience the beach and other wonderful attractions along the coastal strip. It would be a shame to come to the Gold Coast and not experience those areas.
Check out the Surfers Paradise Accommodation Guide for some of the options in the area.
Movie World Gold Coast Q&A
Do you have a question about visiting Movie World Gold Coast? Will it be suitable for your family? Or perhaps you are not sure about the when to visit?

This is the place to ask!

P.S. Even if you don't have a question, you can use this to leave a story or review about visiting the attractions. Your stories help other people too and we LOVE photos, so don't be shy... Share!
Q and A For Movie World Gold Coast
Click below to see Questions from other visitors to this page and my Answers...

Movie world during storms

Hi, We are travelling to the Gold Coast this weekend from Victoria and considering there are storms forcast for our entire stay, will Movie world close? …
Two Theme Parks In One Day Not rated yet
Two Theme Parks in one day? Am I able to go to Movie World and Wet and Wild in one day with my Super pass? Update The Super Pass is no longer …
Custom Search