Gold Coast Theme Parks
Explore The Best Theme Park Choices For Your Holiday
COVID-19 Pandemic & This Website
The COVID-19 Pandemic has had a huge impact on local Gold Coast businesses, which rely heavily on visitors from Queensland, interstate and overseas.
During this time, it is hard to keep the website fully up to date with all the changes. In the meantime here are some resources for visitors. Our main booking partners for hotels and for tours, tickets, theme parks and activities are keeping everything up to date, so please use those resources in the meantime.
Travel Information for Queensland Visitors - Queensland Tourist Safety Information - regularly updated, official website.
COVID-19 FAQ's For Activities, Tours, Cruises & Theme Park Tickets - General Ticket & Pass FAQs and COVID-19 Travel Update.
Thank you for your understanding and patience at this really difficult time.

Annie Rettie
Gold Coast Australia Travel Tips - Owner
You can't really say Gold Coast without thinking about Theme Parks! After all we are the Theme Park Capital of Australia!

Find out more about each of the theme parks including pros and cons for your holiday.

Which are better for young kids?
Which have the most most thrills and extreme rides?
Which will be best for Grandparents and children?

Discover the answers to these and many more questions about the iconic theme parks of the Gold Coast.

If you are ready to start planning your holiday to the Gold Coast Click Here to find out about my planning cheat sheets, tips & tools to step you through!

Annie Rettie
Gold Coast Australia Travel Tips - Owner
Join the conversation or just check us out...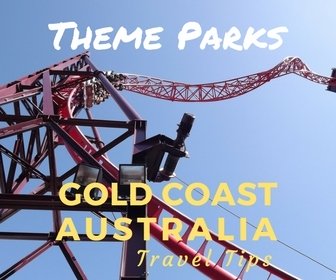 Theme park ride - Buzz Saw at Dreamworld, Gold Coast
What are the 5 major Gold Coast theme parks in Queensland Australia?
Theme Parks are a major attraction in the Gold Coast, and the first steps in working out what you will see and do on your holiday is to find out what the options are. You'll find information and links on this page about theme park options, plus some other attractions to consider as well as many questions and answers submitted by visitors.
If you already know which theme parks you want to go to and how many times you will visit each, then head over to discover the options for tickets and passes.
I recommend, if you haven't already, that you get your copy of the planning sheets, and fill them in as you work through the information.
Let's start with the list of theme parks...
There are five main theme parks on the Gold Coast, however there are 3 other major attractions of note:
Currumbin Wildlife Sanctuary, an Australian wildlife park with shows, demonstrations and the opportunity to feed and cuddle some native Australian animals including Koalas and Kangaroos. Located in Currumbin which is in the southern part of Gold Coast. Well worth a visit, and definitely you should make time for this one.


Australian Outback Spectacular, an evening (and sometimes matinee) dinner and show which dramatically showcases Australian Outback life. Located in Oxenford between MovieWorld and Wet n Wild, you will need to drive yourself here, or get transfers.


Dinner & Show Options For Gold Coast
Australian Outback Spectacular and Dinner & Show Options.




Paradise Country, in Oxenford Gold Coast, located about 1.2km behind Wet n Wild, MovieWorld and Australian Outback Spectacular. This is a lovely location nestled in the hills behind the Gold Coast, with farm demonstrations as well as Australian wildlife. You will need to drive yourself here or get transfers.
You've Got Questions? We have Answers!
When it comes to the nitty gritty details, I've been asked a lot of great questions over the years. And whilst I answer each individually, there are some absolutely great questions and answers to be found further down this page. Here are some of the most popular questions and answers:
Not found the question you want an answer to? There are plenty of other already asked questions & their answers. And if you don't find what you are looking for there is always the option to ask your own question.
On the rest of this page, you'll get an overview of these theme parks and attractions. It's a tough decision: Which one to visit first!
I have grouped the Gold Coast theme parks so you can see the relationship and then see how you can save money by buying multiple park or visit passes for each group.
Don't forget to check out Gold Coast theme park map to see where they are all located - often a great way to help work out where to stay!
Dreamworld & WhiteWater World
Why do I put these two theme parks together? Well, they are related and they are next door to each other!
Dreamworld Gold Coast is a very large theme parkl. As well as rides, attractions and the extreme thrill rides, it is famous for its tigers!
WhiteWater World is a water park situated next to Dreamworld. There are some similar rides to Wet n Wild, and whilst it was originally a smaller water park, it is certainly growing and the rides are being upgraded. This is an all year round attraction, but is definitely quieter during the cooler months - all the more opportunity to ride, slide and splash without the crowds and queues!
There are two main options for tickets and passes for Dreamworld that are best for visitors: single day tickets or multi-day passes.
The options and combinations change regularly, so I recommend you check the latest deals for Dreamworld and WhiteWater World on our theme park passes page.
MovieWorld, Sea World & Wet n Wild Water Park
Warner Brothers Movie World, Sea World and Wet n Wild are all owned by the same group, so if you are planning on visiting more than one of these three Gold Coast theme parks, it is well worth checking out the passes and options.
At MovieWorld you will find fun rides and attractions based around movie themes and characters. The kids love this theme park and it is suitable all year round.
SeaWorld is particularly popular with the younger children, but has something for everyone. There are a selection of rides and they are being upgraded with a few more thrills! Overall, we don't find them quite as thrilling as Movie World or Dreamworld. There's also shows as well as exhibitions of various marine animals. We enjoy watching dolphins, sharks, polar bears, rays and penguins!
Wet n Wild is a huge water fun park, which definitely caters for all ages. Buccaneer Bay is great for the younger children and a good place to base yourself whilst the older thrill seekers head to rides with names like Kamikaze and Black Hole! Water is heated in the cooler seasons to maintain an average of about 25 degrees Celsius or Centigrade (77°F Fahrenheit) making it an all year round attraction. You'll find this water park is not as busy during the cooler (by cooler I mean cooler for us soft Gold Coasters) months - and if you don't mind the temperatures, you'll have a fanatastic time on the various rides and slides without the crowds!
There are a variety of options for theme park tickets and passes which cover entry to more than one theme park, or in combination with other local attractions.
Ask Gold Coast Theme Parks Question
Do you have a question about visiting Gold Coast theme parks? Wondering which one is best for your family? Or perhaps you are not sure about the passes.

This is the place to ask!

P.S. Even if you don't have a question, you can use this to leave a story or review about visiting the attractions. Your stories help other people too and we LOVE photos, so don't be shy, share!
What Other Visitors Have Asked About Gold Coast Theme Parks
Click below to see contributions, comments, stories and questions about the theme parks in the Gold Coast from other visitors to this page...

Latest Deals
Here's a selection of the hot deals at the moment. For a full selection including accommodation, activities, transport, tours, packages and more check out my main selection of deals or specific theme park deals check out Theme Park Passes ...

3 days of Entry to Dreamworld, WhiteWater World and SkyPoint Observation Deck within 7 consecutive days.
Plenty of time to visit these theme parks & Surfers Paradise attraction SkyPoint Observation Deck for up to 3 full days at your leisure over the 7 days.
Use within 12 months of purchase date.
Entry to Dreamworld, WhiteWater World and SkyPoint over 3 days within 7 consecutive days from first gate entry.
Check for special bonuses.
 

Visit Sea World, Movie World and Wet n Wild once each over 5 consecutive days.
Big savings over single entry tickets and online prices are cheaper than at the gate.
Cheapest option for Village Theme Park Passes.
Pass valid for single entry to each of the theme parks Sea World, Movie World & Wet n Wild over 5 consecutive days.
Cheapest way for entry to 2 or more theme parks.
Pass is valid for first use within 12 months from purchase.


Spend a few hours or a whole day at Currumbin Wildlife Sanctuary.
Watch the shows. Hand feed the kangaroos. Get your photo taken with a koala. There's so much to see and do. Check out all the information about Currumbin and other activities.
TOP PICK for visitors who want to see, touch and get photos with some iconic Aussie animals.
TICKET OPTIONS:
Adult | Child (3 to 13 years) | Family (2A+2Ch)

Single Day Entry Ticket To Currumbin Wildlife Sanctuary. Includes shows, excludes food for animals, photos with animals and other extra activities.
Follow links for all pricing including special limited time deals and family options.

Great evening of entertainment. Enjoy a story of Australian outback life showcasing horsemanship & Aussie mateship.
Watch the show whilst enjoying your 3 course dinner. Fun night with lots of great memories and a souvenir bushman's hat.
Book now for all shows.
Child, Vegetarian & Halal meal options available.
MUST SEE Dinner & Show.
After many years of planning trips with my family both locally and overseas, I've created many resources to help you through creating an itinerary and plan that will have you seeing, doing and experiencing the best the Gold Coast has to offer you.
You can do it yourself using the resources on this website by starting here.
Or you can cut some corners and get my travel planning sheets and extra resources.
When you are ready to book your Gold Coast travel arrangements I've hand picked the best resources for all aspects of your travel itinerary. You can feel confident that you are accessing the best local and global travel providers for your holiday.