Coolangatta Gold Coast Queensland
COVID-19 Pandemic & This Website
The COVID-19 Pandemic has had a huge impact on local Gold Coast businesses, which rely heavily on visitors from Queensland, interstate and overseas.
During this time, it is hard to keep the website fully up to date with all the changes. In the meantime here are some resources for visitors. Our main booking partners for hotels and for tours, tickets, theme parks and activities are keeping everything up to date, so please use those resources in the meantime.
Travel Information for Queensland Visitors - Queensland Tourist Safety Information - regularly updated, official website.
COVID-19 FAQ's For Activities, Tours, Cruises & Theme Park Tickets - General Ticket & Pass FAQs and COVID-19 Travel Update.
Thank you for your understanding and patience at this really difficult time.

Annie Rettie
Gold Coast Australia Travel Tips - Owner
Coolangatta Gateway to the Gold Coast
The twin towns of Coolangatta (Queensland) and Tweed Heads (New South Wales) are at the southern end of Queensland's Gold Coast.
Cooly (as it is affectionately called by locals) is a top family beach vacation destination with some of the most amazing golden beaches. The best bit about Cooly is that you can stay in some great apartments close to the family friendly beaches.
There are several beaches to chose from and each beach has its own unique character. Beaches include Cooly's own beach, Greenmount and Rainbow Bay, further north is Kirra Beach. Local headlands include Kirra Point, Snapper Rocks and Point Danger (Tweed Heads).
***z-coolylinks.shtml***

Greenmount Beach Fun!
The rocky outcrops at Kirra Point and Snapper Rocks combined with the change in direction of the coastline at Point Danger also provide a great opportunity for experienced surfers to enjoy the waves.
No visit to the Gold Coast would be complete without experiencing what Cooly and its beaches have to offer.
Coolangatta a family favourite in south of Gold Coast
There's plenty of variety for accommodation with lots of activity around the beaches and within walking distance.
Coolangatta has been enjoying a huge face lift in recent years with many new buildings replacing some of the older style properties.
Reflection on the Sea on Marine Parade is a good example and features an apartment building with shops, parking, cafés and restaurants underneath.
As well as the luxury apartments there are many different apartment styles to meet most budgets.
Some of these apartments have amazing positions overlooking the wide beaches and right in the heart of all the action.
Cooly is definitely worth considering as a base for a great family beach holiday.

Panoramic Ocean View from Point Danger Lookout
***z-coolylinks.shtml***
Attractions
Coolangatta Beach patrolled every day, all year round from 8.00am to 5.00pm.
Greenmount Beach patrolled every day, all year round from 8.00am to 5.00pm. This beach is right in front of Marine Parade at and has the most impressive expanse of golden sand with the stunning backdrop of the Gold Coast skyline.
Rainbow Bay Beach patrolled every day, all year round from 8.00am to 5.00pm. A great area for family play at low tide when a lagoon like water pool appears.
Snapper Rocks - from a surfers point of view possibly the longest and most consistent point break in the world. When the conditions are right good surfers can ride the wave right down to Kirra - about a kilometre away - not bad! Snapper Rocks got their name from the fishing that was to be had there. I often see fishermen there - so when surfing beware!
Coolangatta SLSC - the supporters club offers great breakfasts, lunches and dinners served on a wide verandah overlooking the beach - what more can you want.
Tweed Heads & Coolangatta SLSC - also know as Greenmount SLSC as it is on Greenmount Beach. It is a bit run down but they do have some facilities.
Rainbow Bay SLSC - The Oceandeck restaurant and bar is open to the public for good SLSC food and a spectacular view! There are pokies here too.
Twin Towns Services Club - is a massive complex right on the border offering entertainment, food and accommodation. Twin Towns is known for its pokies and is also the venue that gets the major gigs and shows. Club Banora is connected by frequent bus services and has additional entertainment facilities, restaurants and sporting facilities including golf, tennis and swimming facilities.
Fishing and Ocean Fishing Charters
Bird Watching Walks in Tweed Valley
Visit Crystal Castle just over the border in northern NSW
Taste test the exotic fruits at Tropical Fruit World.
Drive to Kingscliff or Byron Bay for the day
Point Danger Lookout - if you are lucky like we were one September you can even see whales breaching from this great vantage point. Don't forget to pack your binoculars!
Coolangatta Art And Craft Market - 2nd Sunday of the Month
Minjungbal Aboriginal Cultural Centre - learn about the local indigenous peoples.

Point Danger has some interesting wildlife if you look carefully. Lizards, whales, birds and these unusual trees.
***z-coolylinks.shtml***
Accommodation
Click on the links for more information. Links open in new window.
There are quite a few different options for accommodation around Coolangatta and Tweed Heads area.
This is an area that is more popular with those who have stayed on the Gold Coast before and who have their own transport - self-drive or hire car.
These accomodation options include apartments, hotels, motels, backpackers, private houses, farm stays and caravan or tourist parks.
You can check out each of the areas individually or see below for some other featured selections:
Coolangatta Apartments
Reflections on the Sea
Reflections on The Sea are suburb new style apartments located on Marine Parade opposite Greenmount beach. The location is brilliant, with all the facilities of Cooly right at your fingertips.
Two stylish 5* luxury apartment buildings, with facilities include 25m heated lap pool, spa, steam room, sauna and fully equipped gym. And a zen garden to let you get in touch with yourself! And when you've finished with all that why not cook up a storm on the Teppanyaki Grill!
1, 2 and 3 bedroom apartments and a 3 & 4 bedroom "skyhomes" available for holiday lettings. Great for couples or families who enjoy the finer things in life.
These apartments make a great base for a holiday, with easy access to family friendly Greenmount and Cooly Beach right across the road, and Rainbow Bay a short walk. Marine Parade buzzes with beachstyle life and you are also close to Twin Towns for entertainment or other parts of Cooly and Tweed Heads for eating out and activities.
Reflections on the Sea information, availability and pricing.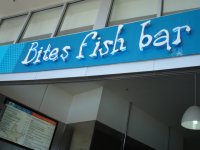 Fish & Chips is one of the options for
beachside eating right under Reflections on the Sea
---
Columbia on Rainbow Bay
Columbia on Rainbow Bay is right opposite Rainbow Beach which makes this a a great place for families who want to enjoy the family friendly beach or surfers who can easily access Snapper Rocks and return to their accommodation in the beach-houses without going in a lift!
There are 2 bedroom apartments and a 3 bedroom penthouse in the tower. Easily accessible beach-houses are also available are two storey and have 2 bedrooms with own private grassy area out the front. You can access the beach-houses without using the lift - great for families and surfers.
All apartments have north facing balconies which are protected from south-easterlies in Winter making it a lovely spot.
The outdoor pool is heated and there is also a kids splash pool which is great for the little, little ones! There is also a half sized tennis court.
It is only a short walk into Coolangatta and is a great option for families who want to stay in Rainbow Bay right on the beach front.
They say it is warmed by the sun in Winter and cooled by the breeze in summer - so guess what - no air-conditioning! But if that doesn't bother you, then this has a lot going for it.
Columbia on Rainbow Bay information, availability and pricing.
Coolangatta Resorts
Outrigger Twin Towns
Outrigger Twin Towns - (formerly Quality Resort Twin Towns) offers 4½ star hotel suites and apartments right on the doorstep of the Twin Towns Services Club and a very short stroll to Greenmount beach, Marine Parade and the centre of Coolangatta.
Catering for all eventualities there are heated indoor and outdoor spa and pools!
Restaurant and bar on-site and 24 hour room service. All hotel suites and apartments are air-conditioned so it meets all my criteria! If you are looking for hotel style accommodation or 1, 2 or 3 bedroom apartments in the heart of Coolangatta this is a good choice.
More information on Outrigger Twin Towns including availability and prices.
***z-coolylinks.shtml***
Golf Information
Coolangatta & Tweed Heads Golf Club is about 10 minutes drive from central Cooly at Tweed Heads South. Two great golf courses including one of the top public courses in the country - so worth a trip if you are a golfer.
Name

Suburb

Travel time

Extra Info

Luxury Golf Courses

Lakelands Golf Course

Merrimac
25 mins
Usually available for bookings at selected times Monday to Friday only.

The Colonial

Robina
25 mins

Palm Meadows Golf Course

Carrara
35 mins
At Raddisson Resort

Royal Pines Resort

Carrara
35 mins
At Crowne Plaza Royal Pines Resort

The Villa

Nerang
35 mins
Only takes groups - minimum 12 maximum 32. Can play at night under lights.

The Grand Golf Club

Gilston
40 mins
Very Exclusive - you'll have to know someone to get in here!

Hope Island Resort Golf Course

Hope Island
50 mins
At Hope Island Resort - the only links course in the Gold Coast.

Sanctuary Cove Golf Resort

Sanctuary Cove
55 mins
Two courses - The Palms and The Pines

General Golf Courses

Coolangatta & Tweed Heads Golf Club

Tweed Heads South
10 mins
Two championship courses to choose from! The River and The West.
Gold Coast Burleigh Golf Club
Miami
25 mins
Robina Woods Golf Course
Robina
25 mins
The Glades
Robina
25 mins
Greg Norman designed course

Tallebudgera Golf Course

Tallebudgera
30 mins
Surfers Paradise Golf Club
Clear Island Waters
35 mins

Emerald Lakes Golf Club

Carrara
35 mins
9 holes under lights to 9.30pm each night.

Southport Golf Club

Bundall
40 mins

Parkwood International Golf Club

Parkwood
40 mins

9 Hole Courses

Boomerang Farm Golf Course

Mudgeeraba
25 mins

Merrimac Golf Course

Merrimac
25 mins
This isn't a very exciting course - but is very affordable!

Burleigh Palms Golf Course

Tallebudgera
30 mins

Tally Valley Golf Club

Tallebudgera
30 mins
Beach Information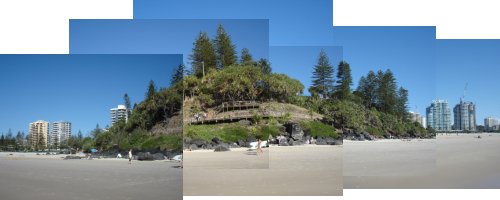 Greenmount - divides Greenmount Beach and Rainbow Bay
There are three beaches at Coolangatta to choose from all are patrolled daily from 8.00am to 5.00pm unless the beach is closed.
Coolangatta
Greenmount
Rainbow Bay
Greenmount is incredibly wide with beautiful clean sand. Whilst Rainbow Bay Beach has a lagoon area at lower tides which is great for the kids to splash around in. Rainbow Bay is my pick for families with young children but Greenmount Beach is also a good option as the headland provides some protection when it is windy.
Surfers love this area because of the very long point break. Surfers must keep away from the flagged areas which are clearly marked on the beach.
You will also see people fishing around Snapper Rocks - so perhaps this is something else you can do with the kids - bring your own rod and have a go.
When the wind is blowing from the southeast there is some protection on these beaches.
As with all Gold Coast beaches make sure you are aware of the beach and surf conditions and only swim between the flags.
***z-coolylinks.shtml***
Travel Times
Approximate travel times by motor vehicle - please note travel times can be affected by many factors including traffic hazards and roadworks. These are just an indication.
***z-coolylinks.shtml***
Directions for Car Travel
For directions and other information I recommend you use Google Maps Australia. This will open in a new window, select the directions tab and then type in your starting point and where you want to go. I find the format the easiest to use and follow.
Custom Search