About Tangalooma On Moreton Island
COVID-19 Pandemic & This Website
The COVID-19 Pandemic has had a huge impact on local Gold Coast businesses, which rely heavily on visitors from Queensland, interstate and overseas.
During this time, it is hard to keep the website fully up to date with all the changes. In the meantime here are some resources for visitors. Our main booking partners for hotels and for tours, tickets, theme parks and activities are keeping everything up to date, so please use those resources in the meantime.
Travel Information for Queensland Visitors - Queensland Tourist Safety Information - regularly updated, official website.
COVID-19 FAQ's For Activities, Tours, Cruises & Theme Park Tickets - General Ticket & Pass FAQs and COVID-19 Travel Update.
Thank you for your understanding and patience at this really difficult time.

Annie Rettie
Gold Coast Australia Travel Tips - Owner
Tangalooma is found on the western side of Moreton Island, about 90 minutes by boat from Brisbane across Moreton Bay.
TANGALOOMA ISLAND RESORT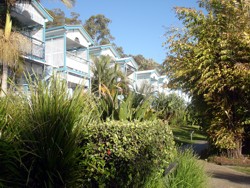 Stay & Enjoy A Few Days
At Tangalooma Island Resort
Great Facilities
Check out the best prices for staying at
Tangalooma Resort or Villas.
---
Don't Have Time To Stay?
Then One Day is All You Need
Check Out Day Trip Options
This place is idyllic and if you have time, I highly recommend a day trip (including feeding the dolphins if time and budget allow) or for those with more time, you can stay on the island at the local resort.
Moreton Island, is the third largest sand island in the world.
Fraser Island further north in Queensland, is the largest, and North Stradbroke Island, just to the south of Moreton Island, is the 2nd largest sand island.
Incredible that all three of the largest sand islands in the world are in Queensland. They are all spectacular places to visit!
It was originally a shore based whaling station.
Perfectly positioned to process humpback whales caught off the coast during the winter months from June through to late October as they migrated to their breeding grounds further north.
It wasn't just any old whaling station. During its ten years of operation, it was the largest onshore whaling station in the southern hemisphere.
Thankfully, it was only open for a decade and closed in 1962. In that time, however it caused a dramatic reduction in the humpback population.
TANGALOOMA DAY TRIPS
TOP PICK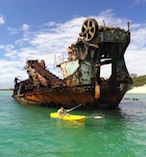 Directly from Gold Coast Hotels to Tangalooma Wrecks

Snorkelling on Tangalooma Wrecks with Lunch and Transfers from Gold Coast or Brisbane.
More information & Bookings for day trip to Tangalooma wrecks from the Gold Coast.Enjoy snorkelling around the Tangalooma wrecks with transfers from Brisbane or Gold Coast.
* Click through for Tangalooma options
Today, there are still reminders of the old whaling station.
The flensing deck where the whales were cut up is still standing and certainly gives a perspective of the size of the operation.
I found it quite disturbing, especially after seeing some of the photos in the Marine Education and Conservation Centre.
Thank goodness we watch the whales these days.
Just north of the resort are the Tangalooma Wrecks.
If you have seen a photo of Tangalooma it almost always includes a photo of these wrecks.
The rusty wrecks, vibrantly coloured tropical fish, amazingly aqua blue water and pure white sands are just as stunning in real life as the professional photos show.
Sadly, I have not been able to capture the true beauty of these in my amateur photos - so you will just have to go see for yourself!
These wrecks were deliberately sunk here during the 1960's through until 1984. The first wreck was scuttled in 1963. Their purpose is to provide a safe anchorage on the eastern side of Moreton Bay.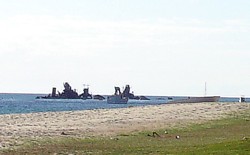 The wrecks are just north of the resort.
Popular with snorkellers and divers.
They can be reached by boat or by
swimming from the shore.
More photos
Today the wrecks are highly photographed and enjoyed by snorkellers and SCUBA divers alike.
The wrecks have created a sort of artifical reef environment and habitat for many different types of marine life.
Many of the day tours offer options to snorkel on the wrecks.
You may have heard the resort referred to as the Wild Dolphin Resort. It gets a bit confusing, but that name comes from the wild dolphins that swim to shore each evening and are hand fed at the resort.
There are now options for those on day trips to stay longer and participate in this feeding. But you need to book these ahead of time, as there are obviously only limited numbers who can be a part of this amazing natural phenomenon.
Where is Tangalooma?
Here's a google map to help put the area into perspective. I have pinpointed the resort and Bulwer on Moreton Island, plus the 3 launch points for the various day tours, cruises and ferries to Moreton Island - Scarborough, Redcliffe and Holt Street Wharf at Pinkemba near Brisbane Airport.
You can zoom in and switch to satellite mode to get better views of the island and the area.
Custom Search
Home › Tangalooma Information