Travel Guide Gold Coast Australia
COVID-19 Pandemic & This Website
The COVID-19 Pandemic has had a huge impact on local Gold Coast businesses, which rely heavily on visitors from Queensland, interstate and overseas.
During this time, it is hard to keep the website fully up to date with all the changes. In the meantime here are some resources for visitors. Our main booking partners for hotels and for tours, tickets, theme parks and activities are keeping everything up to date, so please use those resources in the meantime.
Travel Information for Queensland Visitors - Queensland Tourist Safety Information - regularly updated, official website.
COVID-19 FAQ's For Activities, Tours, Cruises & Theme Park Tickets - General Ticket & Pass FAQs and COVID-19 Travel Update.
Thank you for your understanding and patience at this really difficult time.

Annie Rettie
Gold Coast Australia Travel Tips - Owner
Your Travel Guide to the Gold Coast
How To Plan A Trip To Gold Coast Australia?
A Note From Gold Coast Annie

A little bit of trip planning goes a long way! Trying to plan a holiday in the Gold Coast can be overwhelming with all those choices. My aim is to make your planning easier, but also show you the options that are possible, without overwhelming you.
You can use this website by itself, finding the information and recommendations in each of the different areas, using the drop down menus above to find what you are looking for, or the search boxes at the top and bottom of each page. I'd suggest bookmarking this page, you'll find it a great go to resource.
In addition, to make the process easier, and to direct you to the relevant parts of the information as you need it, I've created some Holiday Planning Sheets and other resources that are designed to make planning your holiday to the Gold Coast a bit easier.
Grab your copy, then please explore the website.
And one last thing, I am not a travel agent, so please don't ask me to send you quotes or book things for you, because I don't have the resources to do that! This is a do it yourself (DIY) travel website, created out of a passion to help visitors get the most out of their holiday to the Gold Coast. I hope to point you in the right direction, and if you grab my planning sheets, you'll also be able to contact me directly if you get stuck :)
Cheers, and happy planning....
Annie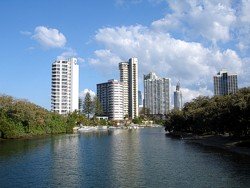 Surfers Paradise from
Macintosh Island bridge.
Common questions when planning a Gold Coast holiday are:
Where to go on the Gold Coast?
When to go to Gold Coast?
How long to stay?
How to get to Gold Coast?
Where to stay?
What type of accommodation?
What activities to do and how long will the take?
How much will it cost?
What to pack?

This Gold Coast travel guide tries to help answer these questions and many more that will spring to mind as you plan your trip (and a few that might not naturally spring to mind too). You will find information on the following areas.
What Time Of The Year To Visit?
There are many things that influence when you can visit. You may already know which month you want or have to visit to fit in with school holidays, work breaks or conferences. In which case you can skip straight to that month (below) to find a range of information about what the Gold Coast is like during that month, what to expect and special tips and suggestions for that month.
Wanting to find out what it is like to visit the Gold Coast in a certain month? Skip straight to the months below...
Alternatively, you may be researching the best times to visit and you might want to look up more general information about:
Public holidays - you can find that information on the pages about each month (see links above)
Major Events whether you plan to attend or to avoid!
What to pack - Bring or Buy?
General Travel Information About Gold Coast & Australia
This is where you will find out all those other useful pieces of information about travelling to the Gold Coast and Australia.
Facts About Australia & Gold Coast - All you need to know about Gold Coast from currency to electricity & driving to tipping.
Australian Tourist Visa Information - who needs one and how to get one
Map of Gold Coast - Interactive map of the Gold Coast plus links to other custom maps.
When To Visit Austalia - for those who are looking at visiting other parts of Australia
Map of Australia -
Australian Weather
Australian Attractions
Do I need Travel Insurance?
Travel Insurance is often on the top of my mind and can be easily overlooked. Whilst organising one of my many interstate trips I discovered a great insurance company that also saved me money when I hired a car! I had such a great experience, travel insurance has now been added to my personal trip planning checklist!
How To Get To Gold Coast?
Here's where you can find out all the information about ways to get to Gold Coast. The most popular being air travel.
Drive yourself
Campervan Touring
Buses
Trains
Where In The Gold Coast To Stay
Selecting where to stay and what type of accommodation are quite important, and very overwhelming when you look at all the options available. Here you will find links to help you narrow it down. I recommend first time visitors look at Surfers Paradise, Broadbeach or Main Beach, to make it easier. There is enough selection in those areas, and you will still be close to most of what you imagine the Gold Coast will be like.
What Type of Accommodation To Stay In Gold Coast?
How To Get Around The Gold Coast?
Once you have arrived on the Gold Coast (usually by flying into one of our airports), you then have to get from the airport to your accommodation and then get around.
There are many transport options including driving yourself through to airport and attraction transfer packages, using taxis, local buses and trams and trains. Below you will find links to help you with whichever mode of transport you choose.
Using the public buses and G:Link Trams
Train to Brisbane and Brisbane Airport
Travel Guide - Things To Do At Gold Coast
You might already have an idea what you want to see, do and experience on your Gold Coast holiday, this section is to help you plan it out and make sure that you know what is possible, so you don't leave with regrets at not realising you could see or do something.
Gold Coast Travel Guide To Weather
The Gold Coast has so much to offer come rain or shine. Generally, you can't go too wrong with the weather here. It is important to know how hot and humid it can be at times. Best to be prepared.
Gold Coast Weather covers the seasons, average and extreme temperatures, rainfall and humidity plus variations in weather along the coast and into the hinterland.
There's also the option to check out current weather conditions and forecasts, or on each of the monthly pages there's general weather information including what that means for packing, clothing and activities.
Gold Coast Travel Guide To School Holidays
It's very important to know when school holidays are on!
School holidays mean:
accommodation tariffs are their highest
best accommodation deals book out early
flights can be difficult to book especially at either end
best deals on hire cars are often booked out
tours are booked up
not all Australian States take their holidays at the same time
Generally, peak accommodation periods are during Queensland School holidays - check before you book.
Some quick tips...
Move your holiday to avoid the school holiday and save on airfares and accommodation.
Tourist hotspots on the Gold Coast are busy during school holidays - but compared to Europe or USA you'll always find a spot somewhere on the 57 kms of incredible sandy beaches!
Christmas and New Year through to late January are the busiest times - it's summer holiday time! It's a great time to really experience the buzz in the Gold Coast.
Gold Coast Travel Guide To Major Events
You may be planning your trip to coincide with an event on the Gold Coast, or equally, you may want to avoid Main Beach during Gold Coast 600 V8 SuperCars week. Either way, it's best to know in advance!

Some of the major events on the Gold Coast include:
Magic Millions Horse Carnivals
Gold Coast Sanctuary Cove International Boat Show
Gold Coast Marathon
Sydney Gold Coast Yacht Race
Gold Coast Super GP (replaces Gold Coast Indy)
Pacific Masters Games - November
Schoolies Week
Gold Coast Events By Month
Wanting to find out what events are on the Gold Coast in a certain month? Skip straight to the months below...
Custom Search