Gold Coast in June
COVID-19 Pandemic & This Website
The COVID-19 Pandemic has had a huge impact on local Gold Coast businesses, which rely heavily on visitors from Queensland, interstate and overseas.
During this time, it is hard to keep the website fully up to date with all the changes. In the meantime here are some resources for visitors. Our main booking partners for hotels and for tours, tickets, theme parks and activities are keeping everything up to date, so please use those resources in the meantime.
Travel Information for Queensland Visitors - Queensland Tourist Safety Information - regularly updated, official website.
COVID-19 FAQ's For Activities, Tours, Cruises & Theme Park Tickets - General Ticket & Pass FAQs and COVID-19 Travel Update.
Thank you for your understanding and patience at this really difficult time.

Annie Rettie
Gold Coast Australia Travel Tips - Owner
June is our first Winter month! It's cool and crisp and a great time to visit. Even the whales agree! With school holidays later in the month it is a popular time for holidays on the Gold Coast.

On this page and through the links you will find everything you need to know about visiting the Gold Coast at this time of the year.

If you are ready to start planning your holiday to the Gold Coast Click Here to find out about my planning cheat sheets, tips & tools to step you through!

Annie Rettie
Gold Coast Australia Travel Tips - Owner
Join the conversation or just check us out...
Select The Section You Are Interested In
Ready To Get Started? Travel Planning Guide & Sheets
Australian Gold Coast in June
Welcome to Winter on the Gold Coast! June is also the start of the whale watching season in Gold Coast.
Whale watching tour boats start heading out to find the whales in early June and runs to the end of October.
The best way to see the humpbacks is from a boat - you are more likely to see one and also get a closer view.
Sometimes there are excellent viewing opportunities from land in unexpected places! For instance a high rise in Broadbeach gave an excellent viewing platform for whales frolicking between the beach and sandbar!
Another good spot is the headland at Point Danger, you can see it in the photo above. Don't forget to pack your binoculars. And, if you are lucky you might even catch a glimpse of our famous Migaloo, a unique white humpback whale.
June isn't all about whales and you might notice that the season has ticked over to winter! Don't let that put you off.
Late in June there are school holidays, and early in the month a long weekend for the Queen's Birthday, both of which make our accommodation and attractions busy.
This is a popular time for visitors from the cooler southern states of Australia and New Zealand, escaping cold winter to enjoy our winter sun!
Winter in the Gold Coast is truly AWESOME!
Our winters on the Gold Coast are mild by most northern hemisphere standards. I get many questions about the weather in June and during the winter months on the Gold Coast.
Mostly, I get asked whether you can still visit the beach and the Gold Coast water parks (Wet n Wild and WhiteWater World). The answer is that the Gold Coast is a year round destination and you can enjoy most of our attractions throughout the winter months.
If you are coming from a northern hemisphere summer, you may find we are cooler than your summer, but we are certainly not a cold destination. The water temperature on the Gold Coast is on average 21°C so the beaches and water activities are pretty much an all year attraction!
Check out the other questions or read on to find out more about visiting the Gold Coast during June. All the information below is updated each year to keep it current. I recommend, if you haven't already, that you get a copy of my planning cheat sheets. Use the information on this page to fill them in, to help plan your holiday.
June Q & A
There's lots of information on this webpage about visiting the Gold Coast at this time of the year. However, sometimes there are questions that you are just itching to ask...
ASK A QUESTION
About Holidays In June
READ ANSWERS
Already Asked Questions & Answers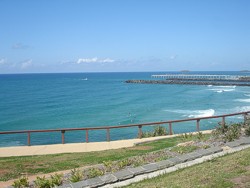 Point Danger
A great place to spot whales
Weather in Gold Coast in June
In the table below are averages for various weather indicators for Gold Coast in June. Click here for current weather information in Gold Coast.
Season
Winter
Average Temperatures
11°C to 20°C (52°F to 68°F)
Possible Extreme Temperatures
-1°C to 28°C (30°F to 82°F)
Average Sea Temperature
21°C (70°F)
Average Humidity
72%
Daylight Hours

Daylight Trend: Shortest Daylight Hours of the year.
Sunrise 6:30am - 6:40am
Sunset 5:00pm - 5:00pm
Daylight Saving &
Time Zone Information
Qld is GMT +10 hours
(Australian Eastern Standard Time AEST)
Typical Weather

Warm to hot during the day but the nights get cooler – particularly inland from the coast.

The humidity isn't so stifling at this time of the year because the temperatures are lower.

This is the start of the generally drier part of the year in Gold Coast. Around 6% of the annual total rain falls in June and on average less than 10 days of the month have rainfall.

Crisp clear days with blue skies the temperatures can get into the 20s, but you will feel that is "winter" by the late afternoon and evening temperatures when the sun drops out of sight.

I feel the cold, so I say pack some warmer clothes and a jumper or jacket for the evenings or visits to rainforest. Often at this time of the year, I wear shorts and t-shirts during the day and in the late afternoon slip on a fleece or put longer pants on.
Public and School Holidays in June
School Holidays
These dates are a rough guide to holidays in both NSW and Qld which have most influence on holidaying in the Gold Coast.

2019 - 29 June 2019 to 22 July 2019

2020 - 27 June 2020 to 19 July 2020

Public Holidays

None*
* Queens Birthday Holiday moved from June to October from 2016 onwards.
What's On In The Gold Coast In June?
Cooly Rocks On festival in Coolangatta (replaced Wintersun Festival) usually runs around the end of May through to early June.
More events and dates for June events on Gold Coast.
Tips for Travelers to Gold Coast in June
For Australian Visitors
A great time to escape from the cooler weather in the southern states! Early in the month without kids, later in the month to co-incide with school holidays.
Be careful this is when most people decide a move to the Gold Coast is the thing to do!
If you like swimming highly recommend accommodation with a heated swimming pool – it's easy to get caught out on this one!
Pack clothing for warm weather during the days and cool weather in the late afternoons and evenings. Pack light layers which are easy to carry and put on when it turns a bit cooler in the afternoon.
If you are heading inland, that is generally cooler than the coastal areas at this time of year and when the sun drops behind the mountain ranges it can get quite cold quite quickly up there. I pack my trusty rain mac as an extra layer of warmth and wind protection though you are less likely to need it for rain at this time of year, it cannot hurt to pack it!
For Visitors from Overseas
Any winter month in the Gold Coast is awesome – June is no exception. Days are generally warm with clear blue skies and nights are just a little crisp.
Highly recommend accommodation with a heated pool if you like to swim after a day's sightseeing - this will definitely make it more enjoyable.
If you have the luxury of picking your time, you will save money and avoid the crowds by coming in early June before the School Holidays start.
Most of our visitors (except you New Zealanders, but you know what you are in for here - warmth compared to NZ!) are coming from Summer weather to our Winter weather. Unless you are coming from a really hot country you are not likely to find the weather cold. Gold Coast Winters are mild. It does cause some confusion our topsy turvy seasons!
Pack light clothing for warm weather (shorts and t-shirts) during the day and warmer clothes with longer sleeves or pants for the evenings or if you plan to head out on a boat to whale watch or to our hinterland rainforest where it will be a bit cooler.
Layers, light jumper or fleece for cooler times and a light jacket for evening. You will want something to stop the wind if heading out on the water in case it is windy.
Warm clothes for visits to Gold Coast rainforest areas in hinterland - such as Mt Tamborine, O'Reillys, Lamington Plateau or Springbrook National Park.
Things to do in Gold Coast in June
Taste Lemonade Fruit and other exotic fruits at Tropical Fruit World
A day of rides and shows at MovieWorld.
It may be officially winter in the Gold Coast but 21C average sea temperature it is still warm enough to swim in the ocean, but always between the flags.
Wet n Wild has heated water at this time of year - go on I dare you the water is warm!
Why not try your hand at Snorkelling & Diving in Gold Coast?
Go game fishing on a fishing charter.
Game of golf at a resort course or one of the other 30 plus venues around the area.
Whale watching season highlight this month is spotting migrating whales from the beach or headlands.
Evening Entertainment
Best Time To Visit Gold Coast By Month
Your Questions About Gold Coast in June?
Do You Have A Question About June In The Gold Coast.?
Ask a specific question about June in the Gold Coast, Queensland or Australia is and I will try my best to point you in the right direction.
What Other Visitors Have Asked
Click below to see questions from other visitors to this page...

Ready To Get Started? Travel Planning Guide & Sheets
Latest Deals
Here's a selection of the hot deals at the moment. For a full selection including accommodation, activities, transport, tours, packages and more check out my main selection of deals or specific theme park deals check out Theme Park Passes ...

Unlimited Entry to Dreamworld WhiteWater World and SkyPoint over 3 consecutive days.
Plenty of time to visit for a full day each at Dreamworld and WhiteWater World and visit SkyPoint by day, night or both at your leisure over the 3 days.
$109* Adult | $99 Child (3 to 13 years)
$400 $360 Family 2A+2Ch
* SAVE $10 per person on gate prices
Use within 12 months of purchase date.
Unlimited entry to Dreamworld, WhiteWater World and SkyPoint over 3 consecutive days from first gate entry.
Discount Coupons to use in park.


Unlimited entry to Dreamworld, WhiteWater World and SkyPoint For 12 Months - Plus Bonus 12 Month Unlimited DreamPix PhotoPass valued at $99.
This pass is excellent value for visitors who plan to enjoy access to these theme parks for multiple visits.
$189 Adult | $169 Child (3 to 13 years)
Annual Pass with 12 months Unlimited entry to Dreamworld, WhiteWater World & SkyPoint and replaces the dated Season Passes.
12 months starts from date of first entry and tickets must be redeemed within 12 months of purchase.
BONUS - Unlimited DreamPix PhotoPass valued at $99.
There is a discounted locals pass but only valid for those who can prove they live in QLD or Northern NSW (post codes 2450-2490). Proof of residency required upon entry.
BONUS - Discount Coupons to use in park.


Visit Sea World, Movie World and Wet n Wild once each over 3 consecutive days.
Adults save nearly 50% over single entry tickets and these online prices are cheaper than at the gate.
$139 Adult | $139 Child (3 to 13 years)
Save $9 per person from gate prices
Cheapest option for Village Theme Park Passes.
Pass valid for single entry to each of the theme parks Sea World, Movie World & Wet n Wild over 3 consecutive days.
Cheapest way for entry to 2 or more theme parks.
Pass is valid for 12 months from purchase.


Spend a few hours or a whole day at Currumbin Wildlife Sanctuary.
Watch the shows. Hand feed the kangaroos. Get your photo taken with a koala. There's so much to see and do. Check out all the information about Currumbin and other activities.
TOP PICK for visitors who want to see, touch and get photos with some iconic Aussie animals.
$39.95! Adult | $39.95 Child (4 to 14 years)
! Adults @ Kids prices - normally $49.95 per adult save $10
$129 Family (2A+2Ch)
Single Day Entry Ticket To Currumbin Wildlife Sanctuary. Includes shows, excludes food for animals, photos with animals and other extra activities such as Segway Safari, Ropes Course etc.
Follow links for all pricing including special limited time deals and family options.

Great evening of entertainment. Enjoy a story of Australian outback life showcasing horsemanship & Aussie mateship.
Watch the show whilst enjoying your 3 course dinner. Fun night with lots of great memories and a souvenir bushman's hat.
$99.99!* Adult | $89.99* Child (3 to 13 years)

*LIMITED TIME ONLY AT THESE PRICES. Prices shown for Tuesday, Wednesday, Friday Night & Sunday Performances only. Add $10 per person for Saturday Nights.
Book now for all shows.
Child, Vegetarian & Halal meal options available.
MUST SEE Dinner & Show. SAVE on Tuesday to Friday Night & Sunday Matinee Shows.
DREAM IT
You'll find lots of photographs, descriptions and information to help you dream up your perfect Gold Coast Holiday.
Why not start with all that the Gold Coast has to offer.
PLAN IT
After many years of planning trips with my family both locally and overseas, I've created many resources to help you through creating an itinerary and plan that will have you seeing, doing and experiencing the best the Gold Coast has to offer you.
You can do it yourself using the resources on this website by starting here.
Or you can cut some corners and get my travel planning sheets and extra resources.
BOOK IT
When you are ready to book your Gold Coast travel arrangements I've hand picked the best resources for all aspects of your travel itinerary. You can feel confident that you are accessing the best local and global travel providers for your holiday.