Land Based Whale Watching in Gold Coast
COVID-19 Pandemic & This Website
The COVID-19 Pandemic has had a huge impact on local Gold Coast businesses, which rely heavily on visitors from Queensland, interstate and overseas.
During this time, it is hard to keep the website fully up to date with all the changes. In the meantime here are some resources for visitors. Our main booking partners for hotels and for tours, tickets, theme parks and activities are keeping everything up to date, so please use those resources in the meantime.
Travel Information for Queensland Visitors - Queensland Tourist Safety Information - regularly updated, official website.
COVID-19 FAQ's For Activities, Tours, Cruises & Theme Park Tickets - General Ticket & Pass FAQs and COVID-19 Travel Update.
Thank you for your understanding and patience at this really difficult time.

Annie Rettie
Gold Coast Australia Travel Tips - Owner
Land Based Whale Watching Tips
Yes - there is a free way to watch whales in Australia!

All you need is a great location and a good pair of whale watching binoculars!

What am I talking about? The alternative to the boat tours is of course watching whales from the land!

I have done both. My personal favourite is the boat tours, but you can't afford to do that every day!

Here are some of my tips for ways to see whales without going on a boat!

Chances are if you are reading this, you are getting pretty close to visiting Gold Coast. However, if you still planning your holiday Click Here for my planning cheat sheets, tips & tools to step you through the process and make sure you don't miss anything!

Annie Rettie
Gold Coast Australia Travel Tips - Owner
Join the conversation or just check us out...
Select The Topic You Are Interested In
Gold Coast Whale Watching Season is CLOSED FOR 2022!
2022 Whale Watching season is now CLOSED on Gold Coast.
Whale Watching Season from usually from late May and runs through to early November.
Check out the booking options for Whale Watching including current deals as they become available, often with huge savings.
Annie's Land Based Whale Watching Tips!
I know I sound like a broken record, but you need to be prepared on the Gold Coast!
What I mean by that, is during the whale watching season (late May to early November) you could be just about anywhere on the coast and experience some land based whale watching.
You will find all this covered on this page, if there is something you want to skip ahead to just use the links below.
High Rise Whale Watching
A few years ago I was in the Sofitel in Broadbeach, standing on the 17th floor, if I recall correctly, looking south towards Burleigh Heads and Coolangatta when I saw something moving very close to shore.
At first I didn't realise what it was.
One of the people who work in the Sofitel, told me that it happens from time to time that the whales come in close to the shore between the sand bar and the breaking waves.
So there I was 17 floors up in Broadbeach whale watching!
If I had been on Mermaid Beach that day, I am sure I would have been equally surprised, and probably equally unprepared for the show put on by the humpback!
I didn't have a camera with me and I didn't have any binoculars, so I had to watch from afar.
What a perfect opportunity for some quite unique whale watching.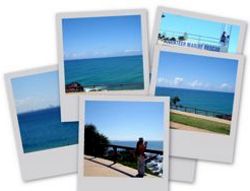 Land based vantage points along the Gold Coast.

Point Danger on the border between Queensland and NSW is a popular spot to view passing whales, but there are other viewpoints for watching whales along the coasts of Australia.
Whale Watching From Points And Headlands
Another example was the day I took the photos at the top of this page. It was Australian Father's Day - the first Sunday in September.
We went on a family outing and found ourselves at Point Danger. Whilst we were minding our own business up on the point, sitting and enjoying the sunshine the kids noticed some whale spouts in the ocean.
We watched the whales pass right by for about an hour we were transfixed! They spouted, and breached and played as they slowly made their way south.
I took photos, but my little camera was just not a match for the distance away from us they were. I remember saying: "I wish I had the binoculars with us".
Whale Watching From The Beach
Another great spot where I have often spied the whales frollicking is at the strip of beach between Main Beach and Surfers Paradise right over the road from the Macintosh Island Bridge.
At this point the road meets the beach. You are up a few meters from the beach so you get a good view. And you can park right there on the road. Or it's a short walk up the beach from Surfers Paradise.
O have stopped many a time there to see the whales just off shore
That is one of the many beaches you could do some land based whale watching from. Pretty much any beach is fair game at the right time of the year. Remember what I said about the whales off Mermaid that I spied from the high rise!
Southport Surf Life Saving Club at Main Beach is another place where I have sat on the balcony enjoying a breakfast and watching the whale spouts out to sea! It isn't the only SLSC that has great views and great food, try Kurrawa SLSC at Broadbeach.
Be Prepared For Land Based Whale Watching
Now, as I said before, this isn't a patch on being on the water and right up close with the whales.
I do understand there can be very good reasons why you cannot go on a whale watching tour:
Budget - it can be expensive taking the whole family on a boat tour.
Time - with so much to do in the Gold Coast, and only so much time, a half day tour may not work for you.
Fear of boats or bad seasickness - this happens. I have my moments too! My mother would LOVE to watch whales, but I know she would find it hard to overcome her fear of being on a smallish boat.
Accessiblity - perhaps it is hard for all your party to get on a boat.
Whatever the reason, it doesn't mean you won't see whales. Just a little preparation could save the day.
Take a camera with you wherever you go. Video camera too. The bigger the zoom the better!
Take binoculars with you. If you are going on a boat you will want waterproof binoculars.
Keep your eyes peeled.
Vantage Points For Land Based Whale Watching
Point Danger
Point Danger (Coolangatta/Tweed Heads border) is a pretty good spot to see the whales from land.
Byron Bay
Another good spot for land based whale watching is Byron Bay. Byron Bay lighthouse is the most easterly point in Australia. If you walk up to the lighthouse there are posters and museum with information about the whales.
The last time I went, they were recording the whale songs and there was a local university research student who was telling us all about what was going on and what we could hear.
It was actually live whalesong being recorded from the whales that were passing. Fascinating stuff.
That day, there was a lot of whale activity and we stayed at Byron Bay just enjoying the atmosphere for hours.
South Stradbroke Island
Although you are not high up on South Stradbroke Island you can be lucky with whales coming in close to shore on the ocean side. The beach is pristine there, so even if you don't see whales you can enjoy the solitude of the beach.
You can usually join a whale watching tour from Couran Cove Resort during the season.
North Stradbroke Island
I haven't been there yet during whale watching season but I understand that there can be some good whale watching from the northern tip of North Stradbroke Island. I have been in the summer and seen dolphins surfing the waves! So there's definitely marine life around here.
You can self drive to Cleveland and take a ferry across to Dunwich and then drive about 32 kms to the point. There's some great cafes there too.
North Stradbroke Island has an aptly named resort right at the point: Whale Watch Ocean Beach Resort!
---
I hope you have enjoyed these tips on land based whale watching. If you have any more tips or ideas you can leave your comments below and with your permission I can even add them to this list!
Please come back often, share this with your friends or even give us a plug on your social network.
Enjoy your Whale Watching,
Annie
PS: If you really want to get close to the whales you can't beat a whale watching tour.
Current Top Options Whale Watching In Gold Coast
Here's a selection of the best current deals at the moment for the whale watching in Gold Coast. Please check here for all whale watching options including Coolangatta option for those staying in southern Gold Coast.
Sea World Whale Watching
POPULAR OPTION

This cruise is ALWAYS POPULAR with a well respected cruise operator.

Morning cruise goes every day during season. Lots of parking close by and easy to get to using shuttle buses, or public transport.

Sea World Whale Watch

Great Value for Visitors

Adult

$99.00

Child

(3-13)

$79.00

Family

(2A 2C)

$300.00




Sea World Whale Watch

Sea World Whale Watching Cruise

This popular cruise is often fully booked, so it is worth booking ahead, especially during school holidays.

Sea World Whale Watch is a popular option, because it is easily recognisable, it has a large boat and is backed by the professionalism of Sea World.

Sea World Whale Watch Cruises are available in the morning from 10am to 12.30pm and sometimes in the afternoon from 2pm to 4pm (though you will need to check for dates and availability on the links provided).

You will need to arrange transfers to get to the Sea World Cruise Terminal - which is in the car park of Sea World. You can use the standard Sea World theme park transfer for the morning cruise.

This season there are two cruises daily. The morning cruise departs around 10am returning around 12.30pm. The afternoon cruise (not always available) departs around 2pm returning around 4.30pm. All cruises are dependent upon weather conditions, which is why I always recommend you plan your itinerary for your holiday beforehand and book in your cruise early in the vacation, in case it has to be rescheduled. It would be terrible to miss out on seeing the whales.

Sea World offers the following guarantee: 'Guaranteed sightings or full refund will be provided except during the months of May and November'

Sea World Whale Watching Cruise
Adult $99
Child (3-13 years) $79
Family (2A+2Ch) $300

Sea World Whale Watch

Outstanding Value - no credit card or booking fees. Print your own vouchers. Mobile Vouchers Accepted.

Surfers Paradise Whale Watching
EASY ACCESS - GREAT VALUE

These cruises go from the heart of Surfers Paradise, so you don't need transfers! Departs 4 times per day - two in the morning morning, a midday and an afternoon departure.

BE QUICK. Click for more info or BOOK NOW...

Surfers Paradise Whale Watching
3½ hours inc. Canal Cruise
Great Value & Options for Visitors

Adult

$99

Child

(0-14)

$69

Family

(2A 2C)

$267




Surfers Paradise Whale Watch

Surfers Paradise Whale Watching Cruises
4 Cruises Per Day For Great Flexibility

This is the only whale watching cruise that leaves from the centre of Surfers Paradise.

If you are staying in Surfers, Broadbeach, Main Beach or even Southport, you can either walk (Surfers Paradise only) or take the new G:Link or a bus to this cruise. No need to use an attraction transfer for this one!

If you need to drive, you can easily park across the road, under Circle on Cavill or Chevron Renaissance. Parking charges will apply.

There are a couple of great advantages for this whale watch including the convenience of the departure location, a bonus canal cruise to see the houses of the rich and famous from the Gold Coast before you head out to see the whales and the flexibility to choose one of 4 daily cruises to see the whales.

Cruises are just over 3 hours and depart at 8.30am, 10.30am, 12.30pm and 2.30pm daily. You need to be checked in at least 20 minutes before departure.

This whale watching company offers the following guarantee: 'Guaranteed whale sightings or free return cruise.'

All cruises are dependent upon weather conditions, which is why I always recommend you plan your itinerary for your holiday beforehand.

Book your cruise before you arrive in Gold Coast and make sure it is early in the vacation.

This is in case it has to be rescheduled due to weather conditions - it would be terrible to miss out on seeing the whales.

BE QUICK. Click for more info or BOOK NOW.

Whale Watching from Surfers Paradise
Adult $99
Child (0-14 years) $69
Family (2 Adults + 2 Children) $267

BOOK NOW

Outstanding Value - no credit card or booking fees. Print your own or use mobile vouchers.