Couran Cove Resort
COVID-19 Pandemic & This Website
The COVID-19 Pandemic has had a huge impact on local Gold Coast businesses, which rely heavily on visitors from Queensland, interstate and overseas.
During this time, it is hard to keep the website fully up to date with all the changes. In the meantime here are some resources for visitors. Our main booking partners for hotels and for tours, tickets, theme parks and activities are keeping everything up to date, so please use those resources in the meantime.
Travel Information for Queensland Visitors - Queensland Tourist Safety Information - regularly updated, official website.
COVID-19 FAQ's For Activities, Tours, Cruises & Theme Park Tickets - General Ticket & Pass FAQs and COVID-19 Travel Update.
Thank you for your understanding and patience at this really difficult time.

Annie Rettie
Gold Coast Australia Travel Tips - Owner
Currently Being Rejuvenated. Worth A Closer Look.
There is so much changing over at Couran Cove Resort, it's hard to keep up. But let me assure you, if you have heard it got run down... that is OLD NEWS!

My family took a bold decision to stay over Easter in 2017, and we had a fantastic time. We have since visited several times and it is just getting better and better.

However, if you don't have time to stay over for a few nights, there are several ways to day trip to Couran Cove Resort and that is also definitely worth it!

Read on to discover what Couran Cove Resort is like now.

If you are still in the process of planning your Gold Coast getaway, don't forget to check out my planning cheat sheets, tips & tools to help step you through planning out the things to do, where to stay and when to visit.

Annie Rettie
Gold Coast Australia Travel Tips - Owner
Join the conversation or just check us out...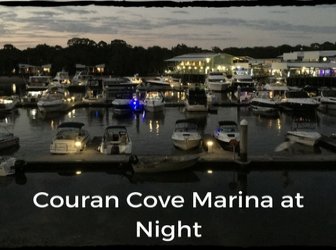 Marina At Couran Cove Resort
The
NEW

Couran Cove Resort

I say, NEW, because it is important to understand that there are some reviews on the internet from when the resort was quite run down.

Since late 2016 new management took over. There has been huge investment in rejuvenating and upgrading the resort facilities. It is certainly NOT FAIR to this resort to be saddled with the bad old reviews.

For Easter 2017, my family and I spent a fantastic 5 days at the resort. My children are older now, 14 and 19 years when we visited. And everyone had a great time. We also saw many families with much younger children also having a great time.

For us, there was a great mix of family activities and individual activities.

We are a competitive bunch and enjoyed stand-up paddleboarding and kayak races around the lagoon!

We saw some amazing wildlife. We hired bikes and rode around the bike tracks.

We enjoyed trivia night, the pools, the live entertainment, the food, the sunsets and the sunrises.

It was just what we all needed!

With all that said, read on to find out more about the the resort and what you can expect if you want to plan a stayover.
About Couran Cove Resort
What can you expect when visiting Couran Cove? How to get here? And tips for staying over on the island?
Those are the main questions I get about this destination. So I'll do my best...
Couran Cove Resort is a resort with all the activities and facilities you could want for your South Stradbroke Island holiday.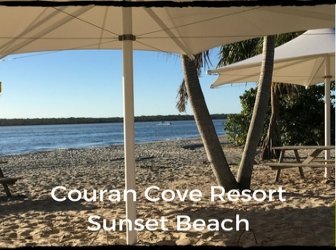 Located on the western broadwater side of South Stradbroke Island and based around a man-made marina. Check out the interactive map to get a better idea where it is. The resort is nestled between the native bush and the magnificent waterway.
There are several different accommodation options to suit just about any taste and family group combination you can think of.
Couran Cove Resort offers several food options including a restaurant, cafe, bar and poolside kiosk. For some pampering try the Day Spa and Rejuvenation Centre, they even have Couples Massage Room.
What I like most about this resort is that it truly is that, a base for your whole holiday you can really relax and enjoy an eco island resort enjoying fun activities and nature at the same time.
I highly recommend Couran Cove Resort for couples and families of any age.
Bookings for the resort can be made directly or through booking engines, such as my favourite Booking.com (because it often has free cancellation and reservations without credit cards, for extra flexibility!).
You can also book private residences or apartments directly with owners or through AirBnB. Sometimes these options may include extras thrown in, such as bikes to use (so you don't have to hire the resort ones), but be sure to read the fine print and make sure you are actually staying in the resort and therefore able to use the facilities.
As well as booking your accommodation, you will need to work out the best way for you to get to the resort. Check out my suggestions and tips below.
Types of Accommodation at Couran Cove Island Resort
You can choose from Studio apartments, 1 bedroom apartments with or without marina views or 2 or 4 bedroom self contained accommodation in lodges or villas.
I believe that all the accommodation is now air-conditioned. It didn't use to be, but part of the rejuvenation of the accommodation has brought it right up to standard.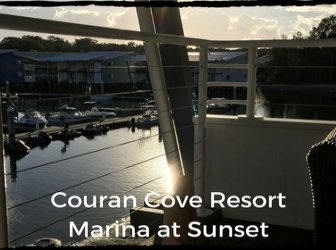 When we stayed, we never needed the air-con. Overall, we thought the accommodation was a really good standard (and I am super critical of accomodation).
We had a 1 bedroom apartment with a marina view. It had a good size living area, huge bathroom and a fabulous balcony area.
Studios are ideal for couples or singles but can accommodate up to 3 people.
One bedroom apartments are great for couples or small families and can accommodate up to 4 people.
Both the studios and one bedroom apartments are located closer to the marina and some have views whilst others do not.
2 bedroom self catering lodges are located around the sandy beaches of the lagoon and marina area. They have larger living spaces and are great for up to 6 people. These have more room in the kitchen areas and better facilities for self-catering than the apartments. But please note, you will need to bring your supplies with you, there's very little on the island in the way of fresh food shopping!
4 bedroom self-catering villas will accommodate up to 8 people. They are usually located on some waterfront. They have fully fitted out kitchens and other spacious facilities for families or larger groups to enjoy.
There are also eco cabins, they don't have air-conditioning and are located in the rainforest areas. Their decks are protected by fly screens. You are much more likely to encounter the smaller varieties of wildlife (midges, mozzies and sandflies) here. They are also further away from the main resort facilities.
It is getting more and more popular as word gets out about it's new management. I highly recommend booking early and if you cannot find what you want directly, do check out the private rental options too.
Extra Tips For Staying At Couran Cove Resort
When you plan to stay over at Couran Cove, you have to remember that this is an island. The only way to get to or from it is either by water or air.
You cannot easily hop over to the shops, head out for a McDonald's on a whim or even go to the other attractions on the Gold Coast.
You can still visit a theme park for a day - get a water taxi to and from Sanctuary Cove and then get to the theme park. But it is something that needs to be planned.
In my opinion, you are better to spend the time on the island, and if necessary shorten your trip to the island and stay a couple of days in one of the mainland accommodations to visit theme parks and other Gold Coast attractions.
If you are going to an eco resort to relax and enjoy, I don't see much point in spending most of the time at the other Gold Coast attractions!
Also, since it is an island and Couran is the most built up part, you are going to have to bring any extra supplies you need for your stay with you, or else rely upon the resort dining facilities.
There is a kiosk in the resort, but it is NOT very well stocked and certainly hard to get fresh fruit and veggies.
To mix it up for dining, you could take a walk up the beach or the inland road track up to Tippler's Cafe for a a change.
If you do bring supplies with you, make sure they are easy to pack. If you are staying in an apartment (studio or 1 bedroom in particular) the cooking facilities are quite limited and there isn't much space in the bar fridges. The other styles of accommodation have much larger kitchens with more facilities, so you can bring and store more.
The kitchen facilities in the apartment is limited to a microwave and 2 ring electric stove, and virtually no bench space for preparation. But this is a holiday anyway, so step a way from the kitchen and relax!
We took some high quality premade meals with us to supplement the resort cooking, which could be heated in the microwave. That worked well for our family and our odd dietary needs!
The other thing to consider is how you bring items over. On the Couran Cove Resort Ferry, which goes from Hope Island, it costs extra for large bags or Eskies. Sometimes it can be much better value to come via a Water Taxi. See below for more details.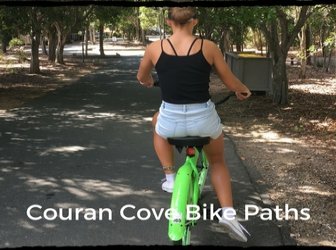 I highly recommend hiring bikes for everyone. It is a truly great experience for the family. It made getting to the surf beach for the sunrise even more fun. And my youngest daughter hadn't ridden a bike for many years, so it was a great place to learn with very little consequences.
The island is a sand island with lots of wildlife. Some of which bite! Although you always have to watch out for the poisonous kind, the more irritating ones for most people are the pesky small ones. I'm talking midges, mozzies and sand flies.
I hate having to put harsh chemicals on, and luckily for me, these little ones don't tend to like me. But they love my husband. Whilst I got away with wearing a Para K'Ito band (uses natural essential oils) with virtually no issues, my husband had to wear both band and spray himself with the highest strength Bushmans Insect Repellent to keep from being bitten.
Do not come to stay without suitable insect repellent.
Other than those main tips, just be sure to pack what you will need to wear for relaxing, swimming, going to beach, sports if you want to play them, riding bikes and dressing up a little for dinner if you want to.
How To Get To Couran Cove Resort
There are a couple of main ways to get to the resort, with your luggage. Resort Ferry and water taxis are probably the best options. Check the map to see which are the nearest options for you.
Couran Cove Resort Ferry
The resort ferry goes from Hope Harbour on Hope Island. If you are driving to this location, you will need to pay for parking at the marina directly to the marina management.
The resort ferry usually goes a couple of times a day between around 7.15am and about 5.30pm*. It may be longer during school holidays and peak holiday times. It takes about 40 minutes on the ferry. Return full fares are around $30* per adult. Approx. half fare for children 3 to 12 years and full fare for children 13 & overs. Infants 0 to 2 years free. You will also have to pay extra to take your own bike or large bags or eskies - around $40* return for each item.
Water Taxi
Water Taxis can be a great way to get over to Couran Cove. We found them more flexible and they charged us for trip and nothing extra for bags or eskies. We paid $150 return trip from Runaway Bay Marina for 4 of us and a huge amount of bags and supplies.
The closest point to Couran Cove is Sanctuary Cove Marina, next is Hope Harbour and then Runaway Bay. You can get water taxis from any of these locations. You just have to work out which is best for you. And also, just because it is closer doesn't mean it will be cheaper!
None of these locations are particulary easy to get to from airports or without cars. You could also take a water taxi from Main Beach, but you will pay a lot more for that convenience.
Don't forget to use the journey planner for public transport to get to the departure locations.
I highly recommend you book your water taxi in advance, especially at busy times and weekends. Most of them use mobile phone numbers, so be sure you are getting a bona fide operator.
This map of South Stradbroke shows the location of Couran Cove Resort, some of the other features of the island plus the launch options for getting to the island. It helps with planning and to put it into perspective where other things on the Gold Coast are in relation to the island.
Couran Cove Resort Facilities and Activities
Resort facilities include 25m lap pool, children's pool and playground, kids club, kayaks & Stand Up Paddle Boards in the lagoon sports, sports centre with a range of activities, VR World and bike hire. Bikes are a great way to get around this resort and surrounds.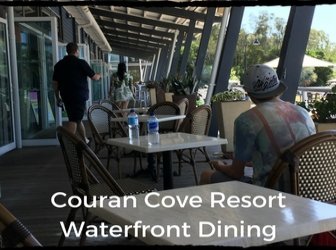 The marina is a focus for the resort with the reception and waterfront bar and dining.
Just behind that is the lagoon with its central Spa Island which includes the lap pool, kids pool, bar and poolside kiosk dining.
There is a lagoon sports zone where you can try out a kayak, SUP or go for a swim onto the giant play toys in the lagoon.
Behind the lagoon, you will find a rainforest boardwalk, sports centre, the bike hire shop and VR World.
You can catch the train over to the surf beach, or ride over on your bike. Walks along this beach are awesome and during peak seasons, the Surf Club opens for events. This beach is also awesome to catch the sunrise!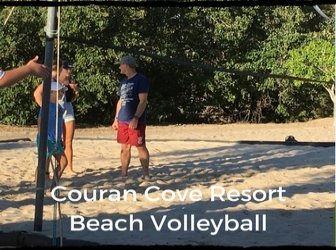 On the other side of the marina, you will find the sunset beach and a beach volleyball court - it's an amazing spot to relax and watch the sun go down over the water.
Half-court basketball
Tennis
Beach volleyball
Table Tennis (Ping Pong)
Lawn-bowls
Shuffleboard
Mini Putt putt golf course
Running Tracks
Kids playground
VR World State of the Art Indoor Games Centre including virtual sports such as golf, basketball and racing cars.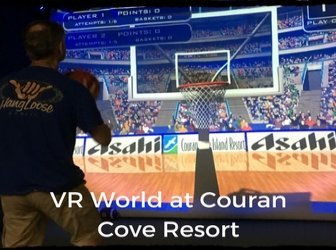 Couran Cove Resort sports and activities include:
During school holidays there may be special events run and extra activities daily, run by the resort sports team. You might find activities like Laser Tag, GeoCaching, games nights, movie nights or treasure hunts.
There are also activities that take you outside the resort that you can book on to for a fee such as:
Speed boat tours
4WD tour To Jumpin Pin
Waterskiing
Seaplane joy flights
Parasailing
Jet Ski's hire and tours
Fishing trips - Calm Water, Surf Beach, 4WD Fishing tours, Tackle and Tinnie Hire and Bait
Couran Cove can be used as a base for your Gold Coast holiday. As I mentioned above, it is possible but not recommended if you wanted to do all or some of the following as you need to transfer to the mainland for activities such as:
Golf Course excursions - closest and easiest option would be Sanctuary Cove.
Theme park family days - closest would be Dreamworld, Movie World & Wet n Wild.
Sanctuary Cove - Lunch or Dinner or village shopping excursions
Hinterland and Rainforest tours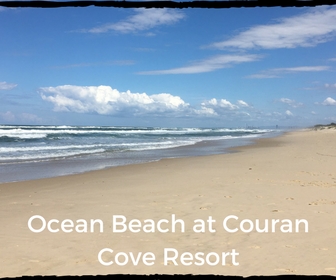 Ocean Beach At Couran Cove Resort
Deals & What's HOT!
Gold Coast Local Information
DREAM IT
You'll find lots of photographs, descriptions and information to help you dream up your perfect Gold Coast Holiday.
Why not start with all that the Gold Coast has to offer.
PLAN IT
After many years of planning trips with my family both locally and overseas, I've created many resources to help you through creating an itinerary and plan that will have you seeing, doing and experiencing the best the Gold Coast has to offer you.
You can do it yourself using the resources on this website by starting here.
Or you can cut some corners and get my travel planning sheets and extra resources.
BOOK IT
When you are ready to book your Gold Coast travel arrangements I've hand picked the best resources for all aspects of your travel itinerary. You can feel confident that you are accessing the best local and global travel providers for your holiday.