Latest Gold Coast Deals & Offers
COVID-19 Pandemic & This Website
The COVID-19 Pandemic has had a huge impact on local Gold Coast businesses, which rely heavily on visitors from Queensland, interstate and overseas.
During this time, it is hard to keep the website fully up to date with all the changes. In the meantime here are some resources for visitors. Our main booking partners for hotels and for tours, tickets, theme parks and activities are keeping everything up to date, so please use those resources in the meantime.
Travel Information for Queensland Visitors - Queensland Tourist Safety Information - regularly updated, official website.
COVID-19 FAQ's For Activities, Tours, Cruises & Theme Park Tickets - General Ticket & Pass FAQs and COVID-19 Travel Update.
Thank you for your understanding and patience at this really difficult time.

Annie Rettie
Gold Coast Australia Travel Tips - Owner
There are so many great Gold Coast Deals, Packages and Offers!

On this page you will find information and links to latest offers and hot deals for Gold Coast attractions, activities, cruises, whale watching, tours, theme parks, accommodation, transport and more.

There are suggested itineraries, deals for families and time sensitive current best deals for upcoming holidays.

Bookmark this page and come back when you are ready to book and want the best options, combinations and deals. Browse each section or use the buttons to jump to the area you are interested in.

If you are just at the stage of looking for what things you can do and need some help to plan out your activities then I recommend, if you haven't already done so, getting your own copy of my Gold Coast Planning Cheat Sheets, Tips & Tools.

Not only will they step you through the planning process, but you will find it much easier to work out which of the deals and combinations will be best for you.

Annie Rettie
Gold Coast Australia Travel Tips - Owner
Join the conversation or just check us out...
Upcoming Holidays - Gold Coast Deals
As you get close to your planned holiday, there can be special deals that are only available for a short time.
These time-sensitive deals come and go, but you can really pick up some bargains.
Below you will find links to the latest deals, combinations, packages and updates for the coming months.
Gold Coast Deals For Upcoming Holidays
The Gold Coast is a year round destination. Winters are mild and have the added attraction of the whales visiting. Summers are long and warm! Regardless of the time of the year, this destination is a favourite for creating great memories with family and friends whether on the beaches or at our many fantastic attractions.
Check out my top selection of activity and attraction deals for this time of year:
Remember, booking online through our ticket desk, you will often save money rather than paying higher prices at the gate and there are no credit card fees or booking fees.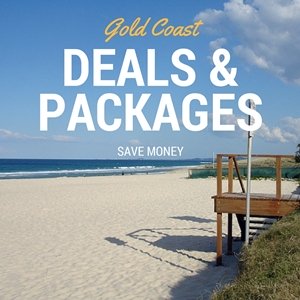 Top Gold Coast Deals For Theme Parks
Theme parks are such a popular choice for things to do on the Gold Coast and there are quite a few different options for tickets, passes and combination packages.
The main place on this website for suggestions about theme park entry options is Theme Park Passes Explained - there you will find a selection of the main options including suggestions for best use and how to combine and save.
If you are just interested in one or two of the theme parks, you can check out their tickets and passes by following these links.
Some of the deals on these pages are exclusive and cannot be purchased at the theme park gates, others are cheaper online than at the theme parks.
It certainly pays to purchase online before your visit.
Most of the theme parks accept mobile vouchers, be sure to double check otherwise you will need to print out your vouchers and present at the gates on your first visit for fast entry.
Booking online, you will often save money rather than paying higher prices at the gate and there are no credit card fees or booking fees.
Note: If you purchase directly from the theme park websites they will charge you booking fees and credit card fees on top of the price of the tickets and passes.
Top Gold Coast Deals For Attractions
There are many different attractions in the Gold Coast. Often the best value can be found in combination tickets and passes.
You can find a selection of the best Gold Coast attraction deals.
Here are selection of the most popular, you can check out their tickets, passes and packages by following these links.
Booking online through our ticket desk saves time and there are often exclusive deals which save money. You can find a full selection of attraction entry deals and there are no credit card fees or booking fees.
Top Gold Coast Deals For Tours & Activities
There are almost endless options for tours and activities on the Gold Coast and you can find a wide selection of the latest options for both Gold Coast activities and Sightseeing Tours.
Examples of tours include:
Day trips to Byron Bay, Brisbane, Australia Zoo or Sunshine Coast.
Wild Dolphin Feeding at Tangalooma
Rainforest Experiences at O'Reilly's Rainforest Retreat at Lamington National Park, Binna Burra or Springbrook National Park.
Sightseeing Cruises on the Broadwater, Catch a Crab Tours, day cruises to South Stradbroke Island and more.
Whale Watching during the season (June to late October)
One Day or Multi-Day Tours To Fraser Island or Great Barrier Reef
Some of the most popular Gold Coast Activities include:
Scenic Flights by Hot Air Balloon, Helicopter or even a stunt plane!
Segway Tours or the High Ropes Challenge at Currumbin Wildlife Sanctuary
Sky Diving
Jet Boat Rides
A range of water sports including Snorkelling & Diving, Learn to Surf, Kayak Tours, Jet Pack, Jet Ski & Jet Boat options.
There are so many options, it can be quite hard to work out what you want to do. Remember, to get a copy of my Holiday Planning Guide and Worksheets to help work out what you can fit in on your holiday.
Top Gold Coast Deals For Whale Watching
During the whale watching season (June through to end of October), I highly recommend including this activity on your holiday bucket list.
Choosing which whale watching deal you will take could be simply done by which has the biggest boat, which is closest to where I am staying or it could be the one that offers the best "package deal" with other activities.
The packages usually provide the best deals, but there are sometimes early season or late season specials to take advantage and make big savings.
Be sure to check out whale watching cruises and options and upcoming holidays deals for the latest information and packages.
Top Gold Coast Family Deals
The Gold Coast is very much a family holiday destination and to reflect that, there are some packages which have even bigger discounts for families.
The first thing to say is that Family Deals are usually for 2 Adults + 2 Children (2A + 2Ch) families. Sometimes there are 2 Adult + 3 Children (2A + 3Ch) deals, but they are not very common.
The second point is that the age range for children is not fixed. Sometimes it can be free for children under 3 years, with children's pricing from 3 to 13 years. Other activities or attractions may have children's pricing from 0 to 15 years. So, it is important to work out whether the family deals will cover your family or not.
There are a range of family friendly deals including: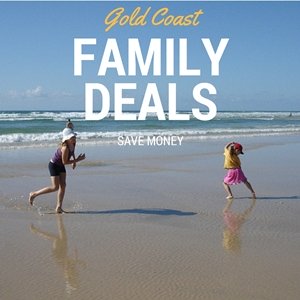 Top Gold Coast Deals For Hotels & Accommodation
I have some favourite ways to find the best deals for hotels in the Gold Coast. I don't think you can beat Booking.com as long as you know where you want to look and know how to use it well. There are tricks to everything!
One of the big issues I have with many of the main travel accommodation sites, is that the listings aren't always located where they are tagged. So be sure to double check.
Surfers Paradise is the most popular option, be sure to check where the accommodation you are looking for is on the map, to see where it is close to. Use the search box to search for Surfers Paradise or Gold Coast hotel deals and when you get to the results use the Map View to help you select.
As well as this suggestion, I have a few other accommodation tips and there are some other tools for finding great deals on the on the Gold Coast Accommodation Deals page.
As a family destination, the Gold Coast does not have a large selection of family resorts but there are a few options that offer kids clubs and inhouse entertainment and facilities.
Here are some other resources for finding the best options for places to stay in the Gold Coast:
Top Gold Coast Deals For Transport
Transport is a complicated area. For some a transport deal might be cheap parking or low cost hire car rental. For others it could be how to get the most out of the public transport system.
For those who don't want to use public transport nor hire a car, then the best deals are to be had by combining return shuttle transfers from the airport to hotels with attraction transfers.
Rather than go through all the options here, there's plenty of information over at attraction transfers.
After many years of planning trips with my family both locally and overseas, I've created many resources to help you through creating an itinerary and plan that will have you seeing, doing and experiencing the best the Gold Coast has to offer you.
You can do it yourself using the resources on this website by starting here.
Or you can cut some corners and get my travel planning sheets and extra resources.
When you are ready to book your Gold Coast travel arrangements I've hand picked the best resources for all aspects of your travel itinerary. You can feel confident that you are accessing the best local and global travel providers for your holiday.