Q1 Observation Deck - SkyPoint Observation Deck formerly Q Deck
COVID-19 Pandemic & This Website
The COVID-19 Pandemic has had a huge impact on local Gold Coast businesses, which rely heavily on visitors from Queensland, interstate and overseas.
During this time, it is hard to keep the website fully up to date with all the changes. In the meantime here are some resources for visitors. Our main booking partners for hotels and for tours, tickets, theme parks and activities are keeping everything up to date, so please use those resources in the meantime.
Travel Information for Queensland Visitors - Queensland Tourist Safety Information - regularly updated, official website.
COVID-19 FAQ's For Activities, Tours, Cruises & Theme Park Tickets - General Ticket & Pass FAQs and COVID-19 Travel Update.
Thank you for your understanding and patience at this really difficult time.

Annie Rettie
Gold Coast Australia Travel Tips - Owner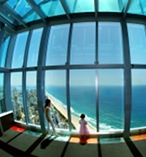 On a clear day from Q1 observation deck or SkyPoint as Q Deck was renamed in late 2010 you can see for miles.
And for those who are brave enough you can even now try the SkyPoint Climb!
Latest deals for SkyPoint Observation Deck Passes (14 day entry for price of single entry)
Best value SkyPoint combination deals include Dreamworld and WhiteWater World entry.
360 degrees of Gold Coast views. You can see down the coast past Coolangatta (this is the view you can see in this photo to the left). Up the coast towards Brisbane along South Stradbroke Island.
Inland you can see up to the mountain ranges that nestle Springbrook, O'Reilly's Plateau, Lamington National Park and Tamborine.
The views are breathtaking, spectacular, stunning! I find it hard to do justice to these views and they are truly unique as this is the highest point above the Gold Coast at 230m. The only other ways I know to get views like this is a bit more extreme and not for everyone - Sea World Helicopters!
You can enjoy a drink, coffee or cake in SkyPoint Cafe whilst you enjoy the views day or night. Opening hours vary and sometimes it is closed due to private functions etc. Generally it is open Sunday - Thursday - 7:30am - 7pm with (last entry 6:30pm) and Friday & Saturday - 7:30am - till late.
After 8pm, SkyPoint becomes an over 18's venue. Smart dress code applies after 8pm & 18+ ID required.
Some parking under the building in reserved spots (you have to sign in and can only stay as long as you are at SkyPoint - check all the details). There's also Hamilton Ave Public Car Park, Centro Surfers Paradise or street parking on the meters.
Q1 is the tallest residential tower in the southern hemisphere and the observation deck is on Level 77. Q1 is residential, but visitors can also book an apartment in Q1 and stay in the luxurious apartments, enjoying the facilities which include swimming pools, gymnasium and theatre.
Where is the Q1 Observation Deck, SkyPoint Observation Deck or Q Deck?
Q1 is a landmark you will not miss! The iconic blue glassed tower is the tallest building by far in the Gold Coast and stands out even amongst the other large skyscapers along the beachfront.
It is located at Hamilton Street, Surfers Paradise on the corner with Surfers Paradise Boulevard.
It is a short stroll of about 5 to 10 minutes from Cavill Mall.
To get to the observation deck in Q1 you need to go in the express lift up to the 77th floor. I love this bit, as it is so incredibly smooth and quick.
Whenever I have gone to Q Deck (sorry having a problem remembering to call it by the new name SkyPoint Observation Deck, QDeck is so much faster and easier!) I usually plan on spending an hour or so up there. You can walk around the deck taking in the panoramic views, take photos, zoom in closer on Gold Coast life passing by down below using one of the binoculars or sit enjoying the atmosphere with some coffee and cake during the day or something a little stronger in QBar at night.
Check out the latest deals for Q1 SkyPoint Observation Deck Passes
Quick Video Tour of SkyPoint Observation Deck (formerly QDeck) the Q1 Observation Deck Surfers Paradise
This should give you a taste of the experience of going to QDeck in Surfers Paradise. This video shows in photos the outside, the lift ride and what you can expect when you get to the top of the building! And afterwards a pink ferrari! Not my video, but I liked it, hope you do too.
That probably made you want to stay in Q1 apartment or at least enjoy the amazing views from Q1 SkyPoint Observation Deck.
Custom Search
Return to top of Q1 Observation Deck
Back to Main Gold Coast Attractions or Gold Coast Australia Home