Map of Australia
COVID-19 Pandemic & This Website
The COVID-19 Pandemic has had a huge impact on local Gold Coast businesses, which rely heavily on visitors from Queensland, interstate and overseas.
During this time, it is hard to keep the website fully up to date with all the changes. In the meantime here are some resources for visitors. Our main booking partners for hotels and for tours, tickets, theme parks and activities are keeping everything up to date, so please use those resources in the meantime.
Travel Information for Queensland Visitors - Queensland Tourist Safety Information - regularly updated, official website.
COVID-19 FAQ's For Activities, Tours, Cruises & Theme Park Tickets - General Ticket & Pass FAQs and COVID-19 Travel Update.
Thank you for your understanding and patience at this really difficult time.

Annie Rettie
Gold Coast Australia Travel Tips - Owner
Looking for a simple map of Australia?
On this page, you will find a large scale map of Australia plus interesting information and statistics.

If you are here researching Australia as a place to visit, I highly recommend Gold Coast in Queensland for at least a part of your visit.

If you want some help to plan out your stay in Gold Coast, you may find planning cheat sheets, tips & tools helpful in working out your itinerary and the things you want to do. Even though it is based around Gold Coast, the principals of planning are the same so you could use these as a basis to do more research for other parts of Australia.

If you have any questions about travelling to or around Australia, you can also check out question and answer section or you can contact me directly with a question if you cannot find your answer, and I will try to help.

Annie Rettie
Gold Coast Australia Travel Tips - Owner
Join the conversation or just check us out...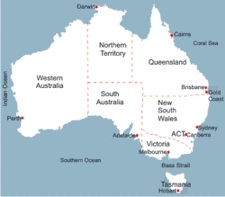 Small Map of Australia
About Australia
Australia is a huge country with a coastline of over 34,000kms or 21,000 miles.
You can fit nearly 32 UKs in to Australia!
The population of Australia is now over 24 million people (2016 data). Most of those people live in the capital cities or close to the coast.
Australia is made up of states and territories. Each one with their own capital city, state government and their own unique tourist attractions.
Looking at the map of Australia (below) doesn't really give much perspective.
Even after a long flight to Australia, most visitors don't quite realise how BIG this country is.
Flights in Australia are usually how you get around between the cities.
Perhaps these approximate flying times between some Australia cities might help.
Sydney to Perth - 5 hours
Sydney to Canberra - under an hour
Sydney to Melbourne - 1 hour 20 mins
Sydney to Adelaide - 2 hours
Sydney to Brisbane - 1½ hours
Sydney to Darwin - 4½ hours
Sydney to Cairns - 3 hours

As you can see on the map and from these flight times, Australia is a really big place! In comparison 24 million people isn't that many people compared to many other countries. This means that most visitors to Australia have expectations of the country which are not necessarily true.
Being so big means several things to visitors to Australia.
Climate and weather is quite different from top to bottom and from east to west.
Australia spans different time zones.
Travel planning is essential because of the large distances between places in Australia.
Outback travel planning is especially vital because getting it wrong can mean life or death in the harsh Australian outback. Outback guided tours are recommended for novice outback travellers.
Each state or territory has its own government. Public holidays, school holidays and even laws and road rules are different across the country!
Map of Australia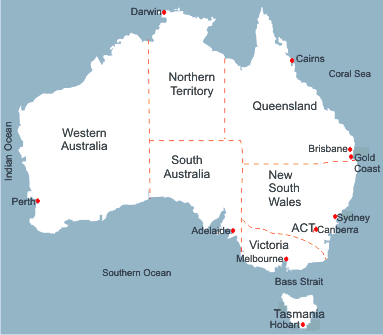 You can experience just about anything in Australia.
Simply decide what you want to do!
Australian States and Territories
Name
Australian Capital Territory
(ACT)
Canberra
(Australian Capital)
Australian Parliament
Floriade annual flower festival
New South Wales
(NSW)
Bondi Beach - Sydney
Sydney Harbour Bridge
Sydney Opera House
Sydney Harbour
Mardi Gras -Sydney
Blue Mountains
Hunter Valley for fine NSW wines
Coffs Harbour home of the Big Banana!
Byron Bay and Cape Byron most easterly point in Australia
Bathust 1000 Motor Race
Thredbo, Perisher and NSW Snowfields for skiing, cross country skiing and snowboarding.
Sydney to Hobart Yacht Race
Sydney Olympic Park & ANZ Stadium for Sporting Events
Best New Year's Eve Party on the Harbour
Northern Territory
(NT)
Kakadu National Park
Uluru National Park (Ayers Rock, The Olgas and more)
Alice Springs
Outback Australia
Queensland
(QLD)
Gold Coast 600
Great Barrier Reef
Sunshine Coast
Port Douglas
Cairns
Town of 1770
Whitsunday Islands
Fraser Island - largest sand island in the world and home to the purest australian dingos
South Australia
(SA)
Adelaide City of Churches
Coober Pedy - Outback Australia
Opal Mining
Barossa Valley fine South Australian wine
Tasmania
(TAS)
The Apple Isle!
Port Arthur
Cradle Mountain
Tasmanian Devil
Victoria
(VIC)
Shopping in Chapel Street and Bridge Road
Melbourne Theatre, Culture and Arts
Australian Open Tennis
Australian Formula 1 Grand Prix at Albert Park
Melbourne Cricket Ground
Home of Australian Rules Football (AFL)
Great Ocean Road
Mt Hotham, Mt Buller and Victorian snowfields
Yarra Valley for fine Victorian wine
Ballarat Gold Rush country
Bendigo for pottery and gourmet foods
Daylesford - Natural Spa Country
Houseboats on the Euchuca River
Western Australia
(WA)
Fremantle (Americas Cup Sailing)
Broome
The Kimberleys
Monkey Mia (dolphins)
Nigaloo Reef (whale sharks)
Margaret River (fine WA wines)
Kalgoorlie gold mining town
The Indian Pacific Railway
Karri Forests
Nullabor Plain
Australian Outback
After many years of planning trips with my family both locally and overseas, I've created many resources to help you through creating an itinerary and plan that will have you seeing, doing and experiencing the best the Gold Coast has to offer you.
You can do it yourself using the resources on this website by starting here.
Or you can cut some corners and get my travel planning sheets and extra resources.
When you are ready to book your Gold Coast travel arrangements I've hand picked the best resources for all aspects of your travel itinerary. You can feel confident that you are accessing the best local and global travel providers for your holiday.