Gold Coast Australia Food Guide
COVID-19 Pandemic & This Website
The COVID-19 Pandemic has had a huge impact on local Gold Coast businesses, which rely heavily on visitors from Queensland, interstate and overseas.
During this time, it is hard to keep the website fully up to date with all the changes. In the meantime here are some resources for visitors. Our main booking partners for hotels and for tours, tickets, theme parks and activities are keeping everything up to date, so please use those resources in the meantime.
Travel Information for Queensland Visitors - Queensland Tourist Safety Information - regularly updated, official website.
COVID-19 FAQ's For Activities, Tours, Cruises & Theme Park Tickets - General Ticket & Pass FAQs and COVID-19 Travel Update.
Thank you for your understanding and patience at this really difficult time.

Annie Rettie
Gold Coast Australia Travel Tips - Owner
Eating, Dining & Food Guide For Gold Coast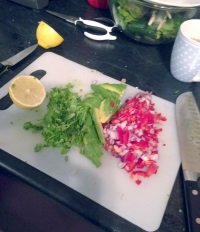 Make Eating Easy On Holidays!
I'm a huge fan of making eating easy whilst on holidays!
For some that might mean dining out at every meal - especially if you are staying in a hotel. But many visitors to the Gold Coast enjoy a mix of dining out and eating in their holiday apartment.
Whilst this website does not have an enormous list of places to eat, there are a good selection of cafes and restaurants around the main areas to give you at least some ideas.
More than that, there are resources to help you find places to buy fresh food, local markets and supermarkets.
You can also find suggestions for eating out with children, Christmas Lunch & Dinner options and special food requirements such as gluten-free, vegetarian, halal and vegan options. There are certainly plenty of places to eat out for Breakfast, Lunch, Dinner, Drinks & Snacks on the Go!
Places To Eat Around Gold Coast
Where To Buy Food & Supplies Around Gold Coast
Eating Out With Kids
I get asked this question by many parents travelling with young children. Firstly, there is no need to panic, there are many places around the Gold Coast that are child friendlywith facilities such as high chairs and baby change facilities right through to children's menus.
There are a few places to eat where children are definitely NOT welcome - such as the fine dining restaurants - but I think you can figure that out for yourself.
An expert on this topic has kindly written an article to guide you through some of the great places on the Gold Coast to take your kids to eat and some of our visitors have also offered up their own suggestions. Definitely worth checking out before you visit.
Christmas Meal Planning
There are a few key things to know about eating out in the Gold Coast. For example, you need to have your eating in or eating out organised ahead of time on days such as Christmas Day - as there are not many opportunities to walk in off the street and get breakfast, lunch or dinner on that day, and running to the supermarket won't be an option as they are closed!
If you want to eat out for Christmas Lunch or Christmas Dinner check out the selections and book ahead.
Special Food Needs
For those who need vegan, vegetarian, Halal, gluten free or other special requirements, you can generally find something to eat in most places. Many restaurants and cafes have special symbols on their menus to indicate foods appropriate for Vegans or Vegetarians or offer Gluten-free options.
I find that using an app on my smart phone such as Happy Cow (Vegan/Vegetarian) or Halal Square for Halal, can be a place to start. I have tried a few apps personally when travelling and the information is sometimes out of date and the reviews are at times unreliable. But it is somewhere to start if you cannot find something here that suits your needs.
Making It Easy To Eat In Your Holiday Apartment
I'm all for making it easy on holidays - especially when it comes to eating. There are definitely savings to be made by eating in or preparing one or two meals a day in your holiday apartment.
Usually, we eat breakfast in and then get lunch out and some dinners out when we stay in apartments. However, dinners at the apartment are usually very simple ones - such as grab a steak and pre-made salad and that's it!
Many of the supermarkets have a range of fairly simple to cook options and pre-made salads, but if you want something a little less commercial there are some amazing places to get great, simple to cook pre-prepared meals. If you have a car, then I recommend venturing out to Ferry Road Markets in Southport or Cav's Butchery in Labrador to pick up awesome fresh produce that is easy to cook and makes a sensational dinner.
If you are staying longer, then produce can also be bought at the various farmers markets usually held over the weekends.
Don't forget, you can, with a little planning ahead, order your shopping online and have it delivered to your holiday apartment. This is a trick I do quite often when travelling myself. Just make sure you order and have it delivered after you arrive and order early enough that you actually get the time slot you want.
If you are in need of some healthier options, you can take advantage of home delivered juices and smoothies from companies such as Schkinny Maninny or Sol Cleanse (a local Burleigh based business). Again, you need to pre-plan this as they often only deliver on certain days. I must admit this is one of my saviours when travelling to keep up a semi-good diet whilst away!
I hope these have given you some ideas for places to eat around the Gold Coast, and ways to make eating in a little easier. And if you haven't found what you are looking for try a search (use boxes at top or bottom of each page) you may be amazed at all the different food and eating related things I have written about around this website!
Annie
PS: If you need some help planning out your holiday, I recommend you check out the Travel Planning Cheat Sheets & resources. You'll find lots of great resources, to help you plan out and enjoy the best holiday!
Custom Search
Home › Eating & Food Guide