Best Time To Visit Australia
COVID-19 Pandemic & This Website
The COVID-19 Pandemic has had a huge impact on local Gold Coast businesses, which rely heavily on visitors from Queensland, interstate and overseas.
During this time, it is hard to keep the website fully up to date with all the changes. In the meantime here are some resources for visitors. Our main booking partners for hotels and for tours, tickets, theme parks and activities are keeping everything up to date, so please use those resources in the meantime.
Travel Information for Queensland Visitors - Queensland Tourist Safety Information - regularly updated, official website.
COVID-19 FAQ's For Activities, Tours, Cruises & Theme Park Tickets - General Ticket & Pass FAQs and COVID-19 Travel Update.
Thank you for your understanding and patience at this really difficult time.

Annie Rettie
Gold Coast Australia Travel Tips - Owner
When is the best time to visit Australia?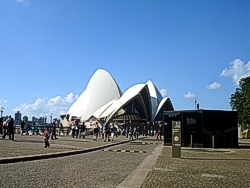 Sydney Opera House
One of many icons in Australia
Some of the factors to consider when trying to work out the best time to visit Australia are:
Welcome to Australia
Planning a trip to Australia is really exciting and daunting. So much to discover and plan.
I know because back in early 1989 I was planning my first trip to Australia from London, UK. That first trip to Perth in Western Australia was so eye opening, by the end of 1989 I was back in Australia living and working in Sydney!
What are my credentials to help you with this question? I've
Been in your shoes! Trying to plan a trip to Australia that is!
Lived in Australia for 25 plus years.
Visited or lived in Western Australia, South Australia, Victoria, New South Wales, ACT, Queensland and Northern Territory.
So I've seen quite a bit of Australia but not all of it by any stretch. Sadly, I've still not been to Tasmania. Still got that one to plan!
I hope this guide helps you to figure out the best time to visit Australia for you.
I'm not a travel agent, I don't do bookings! However, do contact me if you have any questions I haven't answered here.
Happy holidays in Australia! Oh, and I do hope you add the Gold Coast to your list of places to visit in Australia.
Annie
When is the best time to visit Australia?
I hate to say it but that sort of depends! You see the question is really only half a question...
When is the best time to visit Australia to...
DO ...

SEE ...

EXPERIENCE ...
Whilst you think about what other half of your question is, I shall try to guide you through some common considerations. Including resources to help answer those fundamental questions.
Is there a best season to visit Australia? Or a best month to visit Australia? I don't think there is one answer to that, you'll have to read on and research a bit more!
About Australia!
Australia is a vast country, often that size is totally underestimated by visitors. I fell into that category myself. I came to Perth in 1989 and I thought I would just go to the Great Barrier Reef for the weekend!
If you look at a map of Australia you can see that wouldn't have been the little weekend trip I was thinking of! The Great Barrier Reef is off the northern coast of Queensland, almost diagnoally opposite Perth and about a 6 hour flight each way!
Australia is made up of 5 states and 2 territories, each has its own capital city. Canberra is the capital of Australia, not Sydney! However, Sydney is probably the place most people associate with Australia. Australia has just over 20 million people, so it really isn't that populated. You will find that what we think is crowded isn't compared to USA or Europe. You will always be able to find your piece of beach!
Getting To Australia
Pretty much the main way most people arrive in Australia is by flying to Australia! Usually into one of the major captial cities. However, you could arrive by cruise boat!
All visitors to Australia who do not hold an Australian passport require a valid Australian visa to enter Australia.
Visas must be obtained before arrival. You usually cannot even board a plane to come to Australia without a visa.
For some passports you can get an electronic visa for your passport which can be issued online without the need to go to an Australian Embassy or Australian High Commission Office.
Getting Around Australia
There are many ways to get around Australia. Popular options to get around Australia are:
take an internal flight within Australia and fly between the capital cities or the many smaller regional cities and towns. When you are on holiday this can be a good option if you are strapped for time and want to pack in a lot of sightseeing.
take a package tour that takes in the major sights, you see what they want to show you, but you will cover a lot of ground.
hire a campervan and drive yourself around from place to place, very flexible but needs lots of planning and if time is tight don't be too ambitious.
School Holidays and Your Australian Holiday
One of the big tricks to finding the best time to visit Australia for you is working around the Australian school holidays, if you can.
If you can't then it is really important to plan your trip and book everything beforehand. That way you get the pick of accommodation, lock in your hire car and the accessories you need, save time at the tourist attractions with pre-bought tickets or pre-booked tours.
Australian Weather and Seasons
Weather may have the most influence on determining the best time to visit Australia. We all want the perfect weather for our holiday!
Regardless of what you expect the weather to be like, you should be prepared for other outcomes. I always pack a windcheater or waterproof jacket wherever I go. I find it doubles as an extra layer to keep me warm if it is unexpectedly cool and also keeps me dry if it shower. It doesn't take up much room either in my suitcase or in my travel backpack that I use when doing day trips and tours.
Also check out the local websites for any tips and tricks for wet weather. On this website about the Gold Coast I have a whole section on things you can do in the Gold Coast when it is raining. Because, it does sometimes rain, but that doesn't mean the enjoyment of your holiday should stop!
Have I Covered Everything?
I am quite sure I haven't quite managed to cover everything about working out the best time to visit Australia on this webpage. If you have a burning question and I haven't asked it, feel free to ask a question and I will try to help out. Just remember though, I am not a travel agent! So please don't ask me to book something for you!
If you are planning a trip to Australia, I hope you found these few pages on Australia helpful, and I also hope that you consider adding the Gold Coast into your itinerary, we are after all only an hour flight from Sydney! As you can see I think the Gold Coast is great, and more than meets the eye on a first look.
Good luck working out when to visit Australia, hope to see you on the Gold Coast sometime soon!
Gold Coast Annie
Do You Have A Question Or Story About Travelling To or In Australia?
Do you have a question about travelling to Australia or travelling around Australia? Or do you have a story about your travels within Australia?

Whether you want to share or ask, this is the place!
What Other Visitors Have Asked or Written About
Click below to see questions or stories about travelling to or in Australia from other visitors to this page...

Custom Search