Main Tourist Attractions in Australia
COVID-19 Pandemic & This Website
The COVID-19 Pandemic has had a huge impact on local Gold Coast businesses, which rely heavily on visitors from Queensland, interstate and overseas.
During this time, it is hard to keep the website fully up to date with all the changes. In the meantime here are some resources for visitors. Our main booking partners for hotels and for tours, tickets, theme parks and activities are keeping everything up to date, so please use those resources in the meantime.
Travel Information for Queensland Visitors - Queensland Tourist Safety Information - regularly updated, official website.
COVID-19 FAQ's For Activities, Tours, Cruises & Theme Park Tickets - General Ticket & Pass FAQs and COVID-19 Travel Update.
Thank you for your understanding and patience at this really difficult time.

Annie Rettie
Gold Coast Australia Travel Tips - Owner
What are the main tourist attractions in Australia?
For me the Great Barrier Reef was the top of my wish list of places to see and experience in Australia.
I have been back several times yet it still holds the same excitement and enjoyment.
It is one of those places everyone should see.
This photo is of fish you can see from the surface.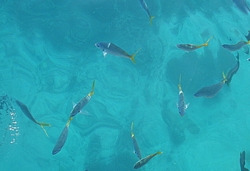 Fish on Great Barrier Reef
You should see the colours and variety when you snorkel or scuba on the Great Barrier Reef.
What are the main tourist attractions in Australia?
There are so many things to do in Australia, where do I start?
From beaches to animals and landmarks to events there are so many things to see, do and experience in Australia.
Follow these quick links to your areas of interest.
Main Tourist Attractions in Australia - Beaches
Australia is certainly famous for its beaches. Writing a list suggests that these are the only beaches worth visiting. That is certainly not true. There are too many to list here. Here are some of the more famous Australian beaches.
Bondi Beach - Sydney, NSW
Surfers Paradise Beach - Gold Coast, Queensland
Cable Beach - Broome, Western Australia
Cape Tribulation - Far North Queensland where the reef meets the rainforest
Bells Beach - Victoria (not the prettiest of beaches but famous for surfing
Main Tourist Attractions in Australia - Natural Landmarks
Much of the appeal of Australia comes from its diverse natural landscape. There are so many interesting natural landmarks, these are only a handful.
Main Tourist Attractions In Australia - Man Made Landmarks
Here are some of the great man made icons of Australia.
Sydney Opera House - NSW
Sydney Harbour Bridge - NSW
Gold Coast Theme Parks, Dreamworld, MovieWorld, Sea World, Wet n Wild and WhiteWater World - Queensland
Sydney Olympic Park, built for the 2000 Olympics - Homebush, NSW
Main Tourist Attractions in Australia - Animals
You know you've really seen Australia when you can tick off each of these native Australian animals. There are many places to see them in various sanctuaries but seeing them in the wild is even more exciting:
Koala
Kangaroo
Wallaby
Emu
Cassowary
Platypus
Echidna
Wombat
Tasmanian Devil
Kookaburra
Humpback whale migration - East Coast from Gold Coast to Hervey Bay and West Coast.
Southern Wright whales in southern ocean.
Quokkas - Rottnest Island, Western Australia
Dolphins - Monkey Mia, Western Australia and Tangalooma, Queensland
Stingrays - Great Barrier Reef, Queensland
Main Tourist Attractions in Australia - Things to Try
Experience something different whilst you are in Australia. These are some of the many things you can do whilst in Australia. Explore and you will find so much more do to than you ever imagined.
Take The Ghan from Adelaide to Alice Springs
Do Cradle Mountain Walk
Snowboard in the ski resorts of NSW and Victoria during the Australian ski season.
Charter a boat in the Whitsundays, Queensland
4WD to Cooktown, Queensland
Snorkel or Scuba dive on the Great Barrier Reef, Qld
Main Tourist Attractions in Australia - Festivals and Events
Annual events and major festivals around Australia.
Bathurst 1000 Super V8 Cars Race - October each year in Bathurst, NSW
Tamworth Country Music Festival - January each year in Tamworth, NSW
Australian Tennis Open - January each year Melbourne, Victoria
Melbourne Cup Horse Racing Carnival - November each year in Melbourne, Victoria
Melbourne F1 Grand Prix - March each year in Albert Park, Melbourne, Victoria
Gold Coast SuperGP Motor Sport Carnival (replaces Gold Coast Indy in 2009) - October each year in Surfers Paradise, Queensland.
Main Tourist Attractions in Australia - Wine and Wineries
Tour the wineries and taste the wines where they are made.
Barossa Valley South Australia
Hunter Valley NSW
Margaret River Western Australia
Yarra Valley Victoria
Some of The Most Embarrassing Tourist Attractions in Australia
I have to list them, because I find them so amusing. But maybe they are just embarrassing. These are some of the more bizarre tourist attractions I have seen around Australia! They often have me muttering: ONLY in Australia!

Whispering Wall - Barossa Valley, South Australia
Big Banana - Coffs Harbour, NSW
Big Golden Guitar - Tamworth, NSW
Opal Mine - The Rocks, Sydney, NSW (you go, you'll find out what I mean!)
This list is wide open! If you have any you think should be added, why don't you fill in the form below and tell me about it! I bet you can uncover some gems! You can even add some photos and describe why it is so embarrassing!
Tell Us About The Most Embarrassing Tourist Attraction You've Been To In Australia
Do you have a great story about this tourist attraction? Tell me why you think it is embarrassing or amusing! Go on share it!
What Other Visitors Have Nominated As Embarrassing Australian Tourist Attractions!
Click below to see contributions from other visitors to this page...

Gnamma Holes, WA

Gnamma Holes, WA tourist attraction I remember visiting as a kid in 1983 or so. We had to walk a way to get there...and I remember being really excited …
The Big Apple Not rated yet
The big apple - it is just so cool and massive so it makes it amusing. I wasn't sure which of the Australian Big Apple's you were referring to, …
Custom Search