Rainy Day Activities Gold Coast
COVID-19 Pandemic & This Website
The COVID-19 Pandemic has had a huge impact on local Gold Coast businesses, which rely heavily on visitors from Queensland, interstate and overseas.
During this time, it is hard to keep the website fully up to date with all the changes. In the meantime here are some resources for visitors. Our main booking partners for hotels and for tours, tickets, theme parks and activities are keeping everything up to date, so please use those resources in the meantime.
Travel Information for Queensland Visitors - Queensland Tourist Safety Information - regularly updated, official website.
COVID-19 FAQ's For Activities, Tours, Cruises & Theme Park Tickets - General Ticket & Pass FAQs and COVID-19 Travel Update.
Thank you for your understanding and patience at this really difficult time.

Annie Rettie
Gold Coast Australia Travel Tips - Owner
You are probably reading this because you find yourself on the Gold Coast and it's raining! The good news is, it doesn't rain forever. Even better news is there is PLENTY TO DO even when it is a rainy day on the Gold Coast.

Read on, for suggested activities or places to visit plus some tips about visiting theme parks and other attractions when it is showery or raining. You can also skip right to areas of interest by clicking on the links in the Options Menu.

If you are just at the stage of planning out your holiday to the Gold Coast then the first step is to get my Gold Coast Planning Cheat Sheets, Tips & Tools. There are heaps of tips and extra information to help you plan out all aspects of your visit.

Annie Rettie
Gold Coast Australia Travel Tips - Owner
Join the conversation or just check us out...
Rainy Day Activities Guide For Gold Coast
SHOCK, HORROR!!! It rains on the Gold Coast!
Don't panic! This rainy day activities guide will save the day!
This list was created out of necessity for my own sanity during rainy holidays and weekends here on the Gold Coast.
There is something for the kids and a few experiences for us adults too!
The first thing to realise is that many of the Attractions and Theme parks can still be on the list of things to do in the Gold Coast even when it is raining!
The trick is to know things to look out for and plan ahead.
If you wake up in the morning and it's showery, the chances are most people, especially the locals, will stay at away. You can still have lots of fun on a rainy day at many of the outdoor attractions as long as you are prepared.
And the BONUS? Even if it starts out raining, quite often the sun comes out part way through the day, and those who stayed away don't bother to come out... so you can have a fantastic day with little competition for the rides and activities.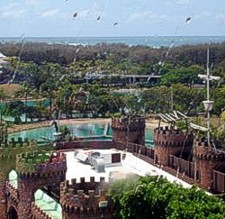 Theme Parks Can Be Quiet & Still FUN on Rainy Days. The Sun Came Out Right After THIS Photo Was Taken At Sea World!
Gold Coast Cinemas
There are various cinemas all over the Gold Coast. I have listed the main ones but the absolute pick is the one most locals don't even know about or consider, but a great option especially if you like to save money and are prepared to do a little driving to get there... Nerang Cinemas
Where To Shop On Rainy Days
There are two ways to look at shopping on rainy days! One way is go for the dry shopping experience and the other is to look for the less busy shopping opportunity!
Gold Coast Children's Indoor Playgrounds
Here are some ideas for burning off that excess energy on a rainy day try one of the Gold Coast's Indoor Playgrounds for kids. Most have play areas where you can sit and watch them from the comfort of a cafe whilst enjoying a coffee or snack!
These are good options to help them burn off their energy, but not leave you frazzled!
Gold Coast Indoor Playgrounds are great rainy day activities for younger children.
Surfers Paradise Indoor Attractions
Surfers Paradise has a few indoor attractions that are great for rainy days. These all weather entertainment venues often offer something for all members of the family.
Indoor venues are great on rainy days as well as hot humid days. That is if you want to have a break from the beach and sunshine!
Gold Coast Theme Parks In the Rain
When it rains at the Theme Parks it can actually be good!
The key is to be prepared so make sure you take your own rain coat. You can buy one use thin plastic capes but they are expensive and very annoying once you have unpacked them! Try getting them back into their bag!
Light rain or showers usually indicates there will be less people at the theme parks.
Some of the rides close when it rains or in high winds. This is more important at Movie World and Dreamworld where there are more rides and the experience is to do the rides.
Movie World has a 4000sqm roofed area as of mid-September 2008 that covers quite a bit of the park, making it a more of an all weather venue, but you still need to be prepared.
I find Sea World is pretty good as there is lots of animal action and shows to see if the rides close and there is less emphasis on the rides at Sea World anyway.
A real bonus is when it rains in the morning early but clears up by around 11am. That can be a great time to be in the Theme Parks as most people have made other plans!
By the time they realise that the weather is okay to go to the theme parks, they either don't bother or come later. Either way you get to do more and have more fun with less people!
Ah, my kind of day!
So my pick for Gold Coast theme parks on a rainy day (showers and little or no wind) is definitely Sea World.
Latest Deals
Here's a selection of the hot deals at the moment. For a full selection including accommodation, activities, transport, tours, packages and more check out my main selection of deals or specific theme park deals check out Theme Park Passes ...

3 days of Entry to Dreamworld, WhiteWater World and SkyPoint Observation Deck within 7 consecutive days.
Plenty of time to visit these theme parks & Surfers Paradise attraction SkyPoint Observation Deck for up to 3 full days at your leisure over the 7 days.
Use within 12 months of purchase date.
Entry to Dreamworld, WhiteWater World and SkyPoint over 3 days within 7 consecutive days from first gate entry.
Check for special bonuses.
 

Visit Sea World, Movie World and Wet n Wild once each over 5 consecutive days.
Big savings over single entry tickets and online prices are cheaper than at the gate.
Cheapest option for Village Theme Park Passes.
Pass valid for single entry to each of the theme parks Sea World, Movie World & Wet n Wild over 5 consecutive days.
Cheapest way for entry to 2 or more theme parks.
Pass is valid for first use within 12 months from purchase.


Spend a few hours or a whole day at Currumbin Wildlife Sanctuary.
Watch the shows. Hand feed the kangaroos. Get your photo taken with a koala. There's so much to see and do. Check out all the information about Currumbin and other activities.
TOP PICK for visitors who want to see, touch and get photos with some iconic Aussie animals.
TICKET OPTIONS:
Adult | Child (3 to 13 years) | Family (2A+2Ch)

Single Day Entry Ticket To Currumbin Wildlife Sanctuary. Includes shows, excludes food for animals, photos with animals and other extra activities.
Follow links for all pricing including special limited time deals and family options.

Great evening of entertainment. Enjoy a story of Australian outback life showcasing horsemanship & Aussie mateship.
Watch the show whilst enjoying your 3 course dinner. Fun night with lots of great memories and a souvenir bushman's hat.
Book now for all shows.
Child, Vegetarian & Halal meal options available.
MUST SEE Dinner & Show.
Gold Coast Indoor Entertainment
Surfers has a wealth rainy day attractions, but it isn't the only place on the Gold Coast to visit. Here are some more rainy day activities that are scattered around the Gold Coast.
Gold Coast Indoor Activities and Entertainment
Other Rainy Day Activities and Ideas
I just couldn't cover all the rainy day activities that abound in the Gold Coast above - I have tried to put together various ideas for things to do when it's raining in Gold Coast, including tips for families travelling with children, and here are some other ideas.
Try a Day Spa - there are plenty to choose from around the Gold Coast.
Stay in a resort with a good Kid's Club - then they can be entertained rain or shine! My pick for best family resort with a kids club is Paradise Resort, Surfers Paradise.
Take them to Wet 'n' Wild or WhiteWater World - they're wet already, so what's the difference! Seriously, in the winter the water is heated and in the summer it's hot even when it rains and you'll have the place to yourself! Especially if it clears up during the day!
Go for a walk in O'Reilly's Rainforest. Or for an even bigger experience why not stay for a few days at O'Reilly's Rainforest Retreat where you'll get the real rainforest feel!
Take the kids to one of the Gold Coast Libraries where you can read or use the computers.
If you are prepared for the rain with raincoats and closed in shoes. You can still enjoy visiting attractions such as:
Tropical Fruit World
O'Reilly's
Springbrook National Park
Tamborine Art Galleries on Gallery Walk or a walk to Curtis Falls.
You can still enjoy some of the usual Gold Coast attractions and tours if it is raining. Obviously if it is very heavy rain you have to consider things like water visibility if you are going diving or snorkelling or general visitibility for views if you are going sightseeing. But a little rain shouldn't put you off.
After many years of planning trips with my family both locally and overseas, I've created many resources to help you through creating an itinerary and plan that will have you seeing, doing and experiencing the best the Gold Coast has to offer you.
You can do it yourself using the resources on this website by starting here.
Or you can cut some corners and get my travel planning sheets and extra resources.
When you are ready to book your Gold Coast travel arrangements I've hand picked the best resources for all aspects of your travel itinerary. You can feel confident that you are accessing the best local and global travel providers for your holiday.