Rainy Days Shopping Guide Gold Coast
COVID-19 Pandemic & This Website
The COVID-19 Pandemic has had a huge impact on local Gold Coast businesses, which rely heavily on visitors from Queensland, interstate and overseas.
During this time, it is hard to keep the website fully up to date with all the changes. In the meantime here are some resources for visitors. Our main booking partners for hotels and for tours, tickets, theme parks and activities are keeping everything up to date, so please use those resources in the meantime.
Travel Information for Queensland Visitors - Queensland Tourist Safety Information - regularly updated, official website.
COVID-19 FAQ's For Activities, Tours, Cruises & Theme Park Tickets - General Ticket & Pass FAQs and COVID-19 Travel Update.
Thank you for your understanding and patience at this really difficult time.

Annie Rettie
Gold Coast Australia Travel Tips - Owner
Rainy Days and Mondays Always Get Me Down! Except When I Am Shopping!
You're on the Gold Coast for a holiday and its raining! It isn't the end of the world! After all there is always shopping!
Don't worry, I'll soon have you smiling and enjoying your shopping in the rain! After all retail therapy is good, rain or shine!
There are two ways to look at shopping when it is raining! Both equally valid, you will have to chose for yourself!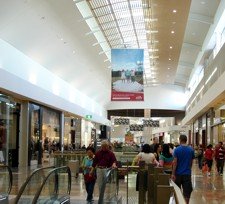 Retail therapy can be a great way
to get rid of those rainy day blues!
Personally, I am a fan of the less busy version. I tend to go to the places where no-one else goes! But if I have the kids, you will find me in the dry shopping centres!
Marina Mirage stands out from the crowd as being different from the standard big Australia shopping centres, but is not everyone's taste.
Pacific Fair, Australia Fair, Westfield Helensvale and Robina Town Centre are by far the largest shopping centres on the Gold Coast.
You will find combinations of the usual Australian brands.
Harbour Town offers outlet shopping with a wide selection of local and international brands. Not much undercover here, so falls into great for the bargain hunters on rainy days!
If you are after outlet shopping you have to be prepared to get a bit wet, but there may be even better bargains for those who venture out!
Gold Coast Shopping Centres For Rainy Days
This map gives you a rough idea where selected indoor shopping centres are. Not all shopping centres are listed, just a few choice ones!
Click on the map or the links below to discover more about the larger shopping centres.
Note: Harbour Town is NOT an indoor shopping centre - you'll need an umbrella and be prepared to get wet!
Indoor Shopping Centres
Smaller Indoor Shopping Centres
Outdoor Gold Coast Shopping Centres
I find the outdoor shopping centres are quieter on wet days. If visitors go and don't realise what it is like, they soon get grumpy and leave especially if they are not prepared for it.
A good raincoat, umbrella and some closed in shoes in the winter will prepare the real bargain hunters for a great day of shopping and maybe even some extra discounts if you are lucky!
Custom Search