Air Travel to Gold Coast Australia
COVID-19 Pandemic & This Website
The COVID-19 Pandemic has had a huge impact on local Gold Coast businesses, which rely heavily on visitors from Queensland, interstate and overseas.
During this time, it is hard to keep the website fully up to date with all the changes. In the meantime here are some resources for visitors. Our main booking partners for hotels and for tours, tickets, theme parks and activities are keeping everything up to date, so please use those resources in the meantime.
Travel Information for Queensland Visitors - Queensland Tourist Safety Information - regularly updated, official website.
COVID-19 FAQ's For Activities, Tours, Cruises & Theme Park Tickets - General Ticket & Pass FAQs and COVID-19 Travel Update.
Thank you for your understanding and patience at this really difficult time.

Annie Rettie
Gold Coast Australia Travel Tips - Owner
Air travel to Gold Coast Australia is via either Brisbane Airport or Gold Coast Airport at Coolangatta. You will need to weigh up which is the most suitable airport for you.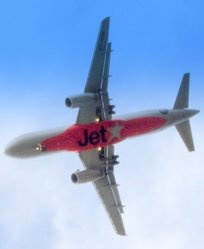 JetStar flights to the Gold Coast
Local Australian low cost airline
& division of QANTAS.
How Do I Choose Which Airport For The Gold Coast?
When planning your air travel to Gold Coast Australia choose the airport which gives you the best combination of:
Cost of airfare based on your budget
Cost of transfers to your accommodation
Class of service - first and business class are not available on all domestic flights particularly into the Gold Coast Airport
Flight availability, frequency, arrival and departure times
Location of your accommodation - northern, central, southern or hinterland Gold Coast
Where you are coming from - within Australia or from Overseas
When booking flights in or out of the Gold Coast or Brisbane I like to make it simple for myself! I tend to search the main domestic airlines websites directly (Qantas, Jetstar and Virgin Australia). It can take a bit of time, but then I am happy I have the best options.
I used to use the look for it all in one place websites, but I have not found one that I am consistently happy with and comfortable to recommend.
Airport Information
Brisbane International and Domestic Airport and Gold Coast International and Domestic Airport pages include:
Airport Facilities and Services
Airlines using each airport
Direct destinations
Airport transfer options
General Tips for Air Travel to Gold Coast Australia
Air travel to Gold Coast Australia is the most common form of transport for visitors, both international and domestic. Most international visitors are quite surprised by the distances between cities in Australia - so don't think you can easily drive from Sydney to the Gold Coast - it is a good 10 hour car trip, not including rest stops!
Domestic flights from the major Australian cities of Sydney, Melbourne, Adelaide, Hobart, Darwin or Perth are available to both Brisbane and Gold Coast Airports.
Brisbane Airport is usually best for international flights from Asia, Europe or US - unless you stopover in another Australian city first. In which case you can fly on a domestic route to either Brisbane or Gold Coast Airports.
Flights to and from New Zealand go to both Brisbane and Gold Coast Airport. Check with the airlines to see which NZ destinations are serviced by each airport, I does change so no point in me trying to keep it up to date here!
Scoot flies to and from Singapore and connects to many asian destinations to the Gold Coast. Tiger Airways has no direct Asian flights from Gold Coast.
Gold Coast Airport is also within easy driving distance of areas in northern NSW including Byron Bay - approximately 1 to 1½ hours. If you don't want to driving yourself there are several other transfer options.
Brisbane Airport is approximately1 to 1½ hours drive south to the Gold Coast, 2½ hours to Byron Bay and 1 hour's drive north to the Sunshine Coast. The Sunshine Coast regional domestic airport is at Maroochydore. And, if you don't want to drive, you can select another transfer option to get you to your accommodation.
Sometimes when arriving late at night into Brisbane Airport you may want to consider staying at a local hotel and then travelling down to Gold Coast in the morning. Here are some more resources that may help you.
Important Information About Air Travel To Gold Coast Australia From Overseas
Unless you hold an Australian or New Zealand passport you will need some kind of Visa when travelling to Australia. ETA Visas are Electronic Travel Authority Visas for business and tourist purposes which will save you time and hassle.
You can apply online if you are from an ETA Visa approved country. The online application process is fast, simple, secure and available 24/7. Check out more information about Visas for Australia.
Requirements for overseas visitors to Australia are quite strict.
It is best to learn about visa, quarantine and customs regulations before travel. The following links to Australian Government websites cover most of the main topics for travel to Australia.
Each link opens in a new window.
Australian Immigration and Visa Information
Check out all the detailed information about visa requirements for visitors to Australia. Visa requirements depend upon the country you hold a passport for, so check your requirements here.
Australian Visa Information and Requirements for Visitors.
Guide for Travellers to Australia
This is the main page for information about what you can bring into Australia and what items have restrictions along with just about everything else for individuals. I highly recommend you read the section on Prohibited and Restricted Imports. This information does change so if you have been here before it is still worth reading to avoid embarrassment on arrival.
Australian Customs Information and Requirements for air travel to Gold Coast Australia
Australian Customs Information
Arrivals, departures, quarantine, customs, duty free and other useful information.
Tourist Refund Scheme
Tourist Refunds on Goods and Services Tax (GST) and Wine Equilisation Tax (WET)
Overseas visitors buying items in Australia to take home, may be eligible to claim the GST or WET back upon departure. GST is Australia's version of Value Added Tax or VAT - similar schemes operate in other countries. This information explains how and what you can claim.
Gold Coast Holiday Planning Information
There are plenty of reasons to make the Gold Coast your next holiday destination and there is more than enough to keep you busy... or relaxed.
Here is more information to help plan your trip or you can grab our planning cheat sheets to give you a framework to plan with...
Custom Search
Home › Flights & Airports