Best Time To Visit Gold Coast
Best Time To Visit Gold Coast Queensland Australia
When Is The BEST Time To Visit Gold Coast?
This section is designed to help answer your general questions, and help you find the best time to visit the Gold Coast for YOU!

If you are ready to start planning your holiday to the Gold Coast Click Here to find out about my planning cheat sheets, tips & tools to step you through!

Annie Rettie
Gold Coast Australia Travel Tips - Owner
Join the conversation or just check us out...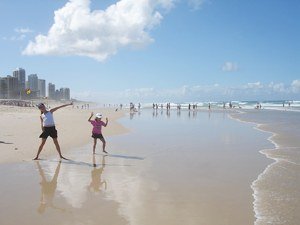 Gold Coast on the beach no matter the time of year
When's the best time?
That is definitely one of the most frequently asked questions I get!
The hard part is, that there is no right answer, because it depends upon many different factors.
Wanting to find out what it is like to visit the Gold Coast during a certain month? Skip straight to the months below...
One of the main things I want to know when planning a holiday, is what the weather will be like.
That helps me decide what to pack, what to expect and what sorts of activities we can do.
Of course there are never any guarantees when it comes to weather, but at least you can be prepared.
And one of the great things about the Gold Coast is that there is always plenty to do even if it is raining! Yes, shock, horror! It does rain here sometimes, which is why we have such beautiful rainforest up in the hinterland.
There are two different reasons you could be looking for this information about what time of the year is best to visit:
You are trying to decide when the best time to visit the Gold Coast and need some guidance in choosing the right time for YOU.


You already have dates organised (e.g. work or school holidays pin you down to certain times) and want to know more about what to expect during that particular month of the year.
The information for each month is to help you fine tune your dates to visit. This way you can maximise your enjoyment or even save you some money.
For each month I have tried to summarise what you can expect each month - select the months above and click to get more detailed information.
School holiday dates, public holidays, events and other information are conveniently listed for each month.
If you need to dig a little deeper you can find out more about specific events or activities.
Discover the best time for YOU to visit the Gold Coast in sunny Queensland!
Best Time To Visit Gold Coast By Month
How to Choose the Best Time To Visit Gold Coast for YOU!
If you are planning an Australian holiday from the Northern Hemisphere - you will find we are upside down with the seasons, as well as the time of day!
Therefore, it is really important to know what to expect when it comes to the weather - I still get confused and I have lived in Australia for over 20 years!

If you have a choice for when you visit the Gold Coast Australia, you might want to weigh up these different aspects to work out your best time to visit Gold Coast Australia.
Expected weather conditions - no guarantees with the weather, but it is worthwhile checking out average temperatures and likely weather patterns so you know what to pack!


School holidays - Australian and Queensland you need to check out the dates as they do differ from State to State in Australia. This page gives you rough dates to look out for, plus there's a link to a regularly updated one page that has all the Australian School holiday dates in it - very useful, I'm always checking this one myself!


Public holidays - Public holidays are different around Australia which can provide opportunities for long weekends without the crowds! Each monthly page gives a list of the expected Queensland public holidays.


Major events - attend or avoid them! Some of the events on the Gold Coast include Gold Coast Indy, Schoolies, Magic Millions Racing and Horse Sales, Tennis, Golf, Surfing.


Activities - the Gold Coast is the theme park capital of Australia. There are many holiday activities, places to see, things to do and experience. Many are available year round, but some are seasonal such as whale watching. You name it, you can probably do it here - okay there isn't any snow skiing, but you can ice-skate! Beaches, theme parks, rainforests, cuddling koalas, markets, shopping, day tours, sightseeing, sky-diving, hot air ballooning, theatre, whale watching, snorkelling... the list goes on. You are bound to find something you would love to see, do or experience.
As I said at the beginning, I get asked alot about when to visit and I have answered a quite a few different questions about the best time to visit Gold Coast! Some examples are, when is the best time in Spring, or when should I visit to see the whales - so if you have a question, that's a great place to start.
Need Ideas For The Best Time To Visit Gold Coast Australia?
Here are some ideas for your next Gold Coast Australia holiday, whether it is a family holiday, a romantic weekend getaway or you just want to play some Gold Coast golf!
There are plenty of reasons to make the Gold Coast your next holiday destination and there is more than enough to keep you busy... or relaxed - Whatever is your style!
Why Holiday in Gold Coast?
Discover what the Gold Coast Australia has to offer for a holiday in Queensland. Find out if the common myths are true or false!
When To Visit Other Parts of Australia?
Australia is a massive country, and there are many good times of the year to visit different parts of the country.
If you are more interested in what are the best times to visit different parts of Australia, then head over to discover when to visit AUSTRALIA for more information.
Latest Deals
Here's a selection of the hot deals at the moment. For a full selection including accommodation, activities, transport, tours, packages and more check out my main selection of deals or specific theme park deals check out Theme Park Passes ...

3 days of Entry to Dreamworld, WhiteWater World and SkyPoint Observation Deck within 7 consecutive days.
Plenty of time to visit these theme parks & Surfers Paradise attraction SkyPoint Observation Deck for up to 3 full days at your leisure over the 7 days.
Use within 12 months of purchase date.
Entry to Dreamworld, WhiteWater World and SkyPoint over 3 days within 7 consecutive days from first gate entry.
Check for special bonuses.
 

Visit Sea World, Movie World and Wet n Wild once each over 5 consecutive days.
Big savings over single entry tickets and online prices are cheaper than at the gate.
Cheapest option for Village Theme Park Passes.
Pass valid for single entry to each of the theme parks Sea World, Movie World & Wet n Wild over 5 consecutive days.
Cheapest way for entry to 2 or more theme parks.
Pass is valid for first use within 12 months from purchase.


Spend a few hours or a whole day at Currumbin Wildlife Sanctuary.
Watch the shows. Hand feed the kangaroos. Get your photo taken with a koala. There's so much to see and do. Check out all the information about Currumbin and other activities.
TOP PICK for visitors who want to see, touch and get photos with some iconic Aussie animals.
TICKET OPTIONS:
Adult | Child (3 to 13 years) | Family (2A+2Ch)

Single Day Entry Ticket To Currumbin Wildlife Sanctuary. Includes shows, excludes food for animals, photos with animals and other extra activities.
Follow links for all pricing including special limited time deals and family options.

Great evening of entertainment. Enjoy a story of Australian outback life showcasing horsemanship & Aussie mateship.
Watch the show whilst enjoying your 3 course dinner. Fun night with lots of great memories and a souvenir bushman's hat.
Book now for all shows.
Child, Vegetarian & Halal meal options available.
MUST SEE Dinner & Show.
After many years of planning trips with my family both locally and overseas, I've created many resources to help you through creating an itinerary and plan that will have you seeing, doing and experiencing the best the Gold Coast has to offer you.
You can do it yourself using the resources on this website by starting here.
Or you can cut some corners and get my travel planning sheets and extra resources.
When you are ready to book your Gold Coast travel arrangements I've hand picked the best resources for all aspects of your travel itinerary. You can feel confident that you are accessing the best local and global travel providers for your holiday.