Gold Coast in July
COVID-19 Pandemic & This Website
The COVID-19 Pandemic has had a huge impact on local Gold Coast businesses, which rely heavily on visitors from Queensland, interstate and overseas.
During this time, it is hard to keep the website fully up to date with all the changes. In the meantime here are some resources for visitors. Our main booking partners for hotels and for tours, tickets, theme parks and activities are keeping everything up to date, so please use those resources in the meantime.
Travel Information for Queensland Visitors - Queensland Tourist Safety Information - regularly updated, official website.
COVID-19 FAQ's For Activities, Tours, Cruises & Theme Park Tickets - General Ticket & Pass FAQs and COVID-19 Travel Update.
Thank you for your understanding and patience at this really difficult time.

Annie Rettie
Gold Coast Australia Travel Tips - Owner
July is a Winter month, but our milder Winters make it popular for those from New Zealand or other parts of Australia coming to enjoy all the Gold Coast has to offer.

IOn this page and through the links you will find everything you need to know about visiting the Gold Coast at this time of the year.

If you are ready to start planning your holiday to the Gold Coast Click Here to find out about my planning cheat sheets, tips & tools to step you through!

Annie Rettie
Gold Coast Australia Travel Tips - Owner
Join the conversation or just check us out...
Select The Section You Are Interested In
Australian Gold Coast in July
July is our second month of Winter on the Gold Coast!
It's a popular month to visit the Gold Coast, with Australian schools on mid year breaks and our northern hemisphere friends on summer vacation!
We get many visitors from the south seeking warmer weather and others from the north escaping summer heat. The best thing is, it is a month where you can enjoy just about all the Gold Coast has to offer, including whale watching!
Another popular reason to visit the Gold Coast in July is the annual Gold Coast Marathon!
You can do full or half marathon or a 10km walk. Other options for the kids to - make it a family outing. The Gold Coast Marathon starts and ends near Australia Fair in Southport.
The routes are different depending upon how far you are going, but they go as far south as the Gold Coast Airport at Coolangatta and north to Labrador.
Early in July there are school holidays, which makes accommodation and attractions busy at this time, but not as busy as our peak summer holiday period.
July is a great month to visit the theme parks - even our water parks Wet n Wild and WhiteWater World can be enjoyed as the water is usually heated at this time of the year to keep the temperatures around a nice 25°C!
You will find you can linger on the sand longer at this time of the year, because it isn't too hot - however make sure you still put on the sunscreen. The water is on average an amazing 19°C! It's also a great time to learn to surf and wetsuits will keep you warm enough.
The humpback whales are busy heading north to their breeding grounds at this time of the year and it is a perfect opportunity to check them out on one of the whale watching cruises.
Many of the questions I get asked about July are about our winter weather, here are a selection of questions (and answers) about visiting the Gold Coast during July:
Read on to find out more about visiting the Gold Coast during July. All the information below is updated each year to keep it current. I recommend, if you haven't already, that you get a copy of my planning cheat sheets. Use the information on this page to fill them in, to help plan your holiday.
July Q & A
There's lots of information on this webpage about visiting the Gold Coast at this time of the year. However, sometimes there are questions that you are just itching to ask...
ASK A QUESTION
About Holidays In July
READ ANSWERS
Already Asked Questions & Answers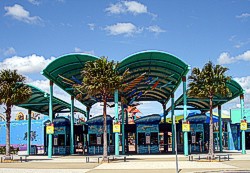 WhiteWater World Entrance
Open Through Winter
Weather in Gold Coast in July
In the table below are averages for various weather indicators for Gold Coast in July. Click here for current weather information in Gold Coast.
Season
Winter
Average Temperatures
9C to 20C (48F to 68F)
Possible Extreme Temperatures
-4C to 29C (25F to 84F)
Average Sea Temperature
19C (66F)
Average Humidity
68%
Daylight Hours

Daylight Trend: Days slightly lengthening.
Sunrise 6:40am - 6:30am
Sunset 5:00pm - 5:20pm
Daylight Saving &
Time Zone Information
Qld is GMT +10 hours
(Australian Eastern Standard Time AEST)
Typical Weather

Clear blue skies and warm during the day with cooler nights.

Particularly cool in the hinterland as the sun starts to go down.

Relative to other times of the year humidity is low for the area.

Usually very little rain with less than a quarter of the days in July having any rainfall and only around 5% of the annual rain falls in July.

Daytime temperatures can get into the 20°s, but you will feel that is "winter" by the late afternoon and evening temperatures when the sun drops out of sight.

July can be quite cool when you cannot see the sun, pack some warmer clothes and a jumper or jacket for the evenings and for visits to rainforest.

I tend to wear capri or three quarter length pants and t-shirts during the day when it is sunny. If there is cloud cover or it is windy and in the latter part of the afternoon I put on a fleece and longer pants.
Public and School Holidays in July
School Holidays
These dates are a rough guide to holidays in both NSW and Qld which have most influence on holidaying in the Gold Coast.

2019 - 29 June 2019 to 22 July 2019

2020 - 27 June 2020 to 19 July 2020

Public Holidays

None
What's On In The Gold Coast In July?
1st Sunday in July – Gold Coast Marathon
More events and dates for July events on Gold Coast.
Tips for Travelers to Gold Coast in July
For Australian Visitors
You really can't beat winter in the Gold Coast! It is a great time to escape cooler weather around Australia. The weather is warm enough to enjoy everything but not so hot that you get tired with the heat.
Many people make the decision to move to the Gold Coast when they are holidaying here during the winter months!
Accommodation with a heated swimming pool is highly recommended.
In my experience July is probably the coldest month in the Gold Coast, especially the last part of the month and into August. Pack a mix of clothing for warm weather during the days and cooler weather in the late afternoons and evenings. You will need some warmer clothes for days when it isn't sunny, when it is windy (the wind can pack a bite sometimes) or if you plan to head inland to the rainforest areas.
Personally, I like to pack layers which are easy to carry and put on when it turns a bit cooler. For me being cold is horrible, but so is sweltering in heavy clothes on a sunny winters day!
When the sun drops behind the mountain ranges it can get quite cold quickly.
A rain mac can be used as an extra layer of warmth and wind protection and is very useful if you plan to go whale watching for protection against the wind over the ocean or some stray whale spray!
For Visitors from Overseas
You simply can't beat winter in the Gold Coast. Days are warm with clear blue skies and nights are crisp.
Highly recommend accommodation with a heated pool if you like to swim after a days sightseeing - this will definitely make it more enjoyable.
If you have the luxury of picking your time, you will save money and avoid the crowds by coming after the middle of July when the School Holidays end.
Most of our northern hemisphere visitors are coming from Summer weather to our Winter weather. Unless you are coming from a really hot country you are not likely to find the weather cold. Gold Coast Winters are mild.
July is one of our coldest times and I would pack a mix of clothes for both warm weather (sunny days with temperatures sometimes getting into the the 20°s) and for cold weather.
If you plan to visit our inland rainforest areas such as Mt Tamborine, O'Reillys, Lamington Plateau or Springbrook National Park. These can be cold during the day, and the temperature from the coast to the top of Mt Tamborine can be 5°C different or more. The temperature drops rapidly after the sun goes down up here too, so make sure that you are prepared.
Layers, light jumper or fleece for cooler times and a light jacket for evening. You will want something to stop the wind if heading out on the water in case it is windy.
Things to do in Gold Coast in July
Try the world's largest fruit - Jakfruit at Tropical Fruit World and see if you think it tastes like bubblegum!
Watch the native birds being fed at Currumbin Wildlife Sanctuary
Try one of the many golf resorts for a relaxing golf holiday in July
Polar Bear Shores at Sea World
Bring some warmer clothes and enjoy rainforest walks at Springbrook National Park
Walks along the beach
See a platypus at David Fleay Wildlife Park
Take a whale watching tour
Evening Entertainment
Best Time To Visit Gold Coast By Month
Your Questions About Gold Coast in July?
Do You Have A Question About July In The Gold Coast.?
Ask a specific question about July in the Gold Coast, Queensland or Australia is and I will try my best to point you in the right direction.
What Other Visitors Have Asked
Click below to see questions from other visitors to this page...

Latest Deals
Here's a selection of the hot deals at the moment. For a full selection including accommodation, activities, transport, tours, packages and more check out my main selection of deals or specific theme park deals check out Theme Park Passes ...

3 days of Entry to Dreamworld, WhiteWater World and SkyPoint Observation Deck within 7 consecutive days.
Plenty of time to visit these theme parks & Surfers Paradise attraction SkyPoint Observation Deck for up to 3 full days at your leisure over the 7 days.
Use within 12 months of purchase date.
Entry to Dreamworld, WhiteWater World and SkyPoint over 3 days within 7 consecutive days from first gate entry.
Check for special bonuses.
 

Visit Sea World, Movie World and Wet n Wild once each over 5 consecutive days.
Big savings over single entry tickets and online prices are cheaper than at the gate.
Cheapest option for Village Theme Park Passes.
Pass valid for single entry to each of the theme parks Sea World, Movie World & Wet n Wild over 5 consecutive days.
Cheapest way for entry to 2 or more theme parks.
Pass is valid for first use within 12 months from purchase.


Spend a few hours or a whole day at Currumbin Wildlife Sanctuary.
Watch the shows. Hand feed the kangaroos. Get your photo taken with a koala. There's so much to see and do. Check out all the information about Currumbin and other activities.
TOP PICK for visitors who want to see, touch and get photos with some iconic Aussie animals.
TICKET OPTIONS:
Adult | Child (3 to 13 years) | Family (2A+2Ch)

Single Day Entry Ticket To Currumbin Wildlife Sanctuary. Includes shows, excludes food for animals, photos with animals and other extra activities.
Follow links for all pricing including special limited time deals and family options.

Great evening of entertainment. Enjoy a story of Australian outback life showcasing horsemanship & Aussie mateship.
Watch the show whilst enjoying your 3 course dinner. Fun night with lots of great memories and a souvenir bushman's hat.
Book now for all shows.
Child, Vegetarian & Halal meal options available.
MUST SEE Dinner & Show.
DREAM IT
You'll find lots of photographs, descriptions and information to help you dream up your perfect Gold Coast Holiday.
Why not start with all that the Gold Coast has to offer.
PLAN IT
After many years of planning trips with my family both locally and overseas, I've created many resources to help you through creating an itinerary and plan that will have you seeing, doing and experiencing the best the Gold Coast has to offer you.
You can do it yourself using the resources on this website by starting here.
Or you can cut some corners and get my travel planning sheets and extra resources.
BOOK IT
When you are ready to book your Gold Coast travel arrangements I've hand picked the best resources for all aspects of your travel itinerary. You can feel confident that you are accessing the best local and global travel providers for your holiday.