Gold Coast in May
COVID-19 Pandemic & This Website
The COVID-19 Pandemic has had a huge impact on local Gold Coast businesses, which rely heavily on visitors from Queensland, interstate and overseas.
During this time, it is hard to keep the website fully up to date with all the changes. In the meantime here are some resources for visitors. Our main booking partners for hotels and for tours, tickets, theme parks and activities are keeping everything up to date, so please use those resources in the meantime.
Travel Information for Queensland Visitors - Queensland Tourist Safety Information - regularly updated, official website.
COVID-19 FAQ's For Activities, Tours, Cruises & Theme Park Tickets - General Ticket & Pass FAQs and COVID-19 Travel Update.
Thank you for your understanding and patience at this really difficult time.

Annie Rettie
Gold Coast Australia Travel Tips - Owner
May is our last Autumn month and has some great weather as well as events such as the boat show at Sanctuary Cove and music festivals in Broadbeach with the added bonus of no school holidays, it can be a great time to visit if you can.

On this page and through the links you will find everything you need to know about visiting the Gold Coast at this time of the year.

If you are ready to start planning your holiday to the Gold Coast Click Here to find out about my planning cheat sheets, tips & tools to step you through!

Annie Rettie
Gold Coast Australia Travel Tips - Owner
Join the conversation or just check us out...
Select The Section You Are Interested In
Ready To Get Started? Travel Planning Guide & Sheets
Australian Gold Coast in May
May is the last month of Autumn and is a popular time to visit the Gold Coast for our overseas visitors.
The weather in the Gold Coast during May can be glorious. Warm during the day and often very little wind. This photo of boats on the broadwater was taken in the middle of May. A great time to be out on the water!
You can enjoy all the Gold Coast has to offer this month and usually a little quieter at the theme parks and attractions, so shorter queues! No whale watching this month though, but they'll be here by next month.
As well as the amazing weather in May there are no school holidays. Labour Day falls on the first Monday in May creating a long weekend. In addition, there are great Gold Coast events such as the Sanctuary Cove International Boat Show, Gold Coast Fashion Week and Blues on Broadbeach.
All GREAT excuses to make a trip the Gold Coast in May.
The boat show is a fantastic opportunity to look at the boats and accessories. Or you can just get out on or in the water with options such as kayak, snorkel, scuba, learn to surf or jet-ski, take one of the many cruise options, or try your hand at deep sea fishing.
And, if you are after open water the Pacific Ocean is calling just through the Gold Coast Seaway!
When you've finished on the water there'll be plenty of time to check out some Blues at Broadbeach, galleries on Mount Tamborine or just chilling on one of the fabulous Gold Coast beaches!
Although the weather is turning a little cooler, it is still not cold at all. Gold Coast water theme parks can still be enjoyed at this time of the year and I find it is good time to visit our theme parks and not too crowded on weekdays.
So many great reasons to visit this month! All the information below is updated each year to keep it current. I recommend, if you haven't already, that you get a copy of my planning cheat sheets. Use the information on this page to fill them in, to help plan your holiday.
May Q & A
There's lots of information on this webpage about visiting the Gold Coast at this time of the year. However, sometimes there are questions that you are just itching to ask...
ASK A QUESTION
About Holidays In May
READ ANSWERS
Already Asked Questions & Answers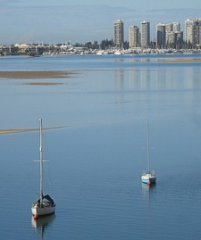 Great To Be On Water In May.
Weather in Gold Coast in May
In the table below are averages for various weather indicators for Gold Coast in May. Click here for current weather information in Gold Coast.
Season
Autumn
Average Temperatures
13°C to 22°C (55°F to 72°F)
Possible Extreme Temperatures
1°C to 32°C (34°F to 90°F)
Average Sea Temperature
21°C (70°F)
Average Humidity
72%
Daylight Hours

Daylight Trend: Days shortening - later sunrises earlier sunsets
Sunrise 6:15am - 6:30am
Sunset 5:15pm - 5:00pm
Daylight Saving &
Time Zone Information
Qld is GMT +10 hours
(Australian Eastern Standard Time AEST)
Queensland DOES NOT observe daylight saving.
Typical Weather

Usually a warm month with temperatures overnight getting a bit cooler as we move towards our Gold Coast winter.

As the temperatures drop the humidity becomes less noticeable – perhaps just to us locals!

We can still get some rain and very occasionally some storms - but not as much as the main summer months. Less rainy days in May than April, but we still have on average 10% of our annual rainfall during this month.

I'd pack an umbrella or rain jacket and a light jumper or jacket for the evenings or vists to rainforest.

You can still enjoy the Gold Coast and theme parks on most days when it is raining. Check out my rainy day tips.
Public and School Holidays in May
School Holidays
These dates are a rough guide to holidays in both NSW and Qld which have most influence on holidaying in the Gold Coast.
None
Public Holidays

2019 - Labour Day - Monday 6 May 2019

2020 - Labour Day - Monday 4 May 2020
What's On In The Gold Coast In May?
Early May – Prime Minister's Cup – Horse Racing
3rd Week – Blues on Broadbeach Festival
Late May – Sanctuary Cove International Boat Show
Wintersun Festival at Coolangatta (moved to NSW from 2011) has been replaced by Cooly Rocks On festival in late May to early June.
More events and dates for May events on Gold Coast.
Tips for Travelers to Gold Coast in May
For Australian Visitors
Weatherwise May is a great time to visit the Gold Coast. Accommodation with air-conditioning is recommended but not essential.
Swimming pools best if heated or indoor especially if you are travelling with younger children. Great travelling opportunities this month if you don't have to stick to school holidays.
Pack clothing for warm to cool weather, and have a couple of layers handy for any cooler times or if visiting the hinterland which can be much cooler than the coastal areas. Pack a rain jacket just in case it showers, and they don't take up much room.
For Visitors from Overseas
May is a great month to visit the Gold Coast. The weather is mostly perfect!
Air-conditioned accommodation in a good location is still the best pick. Some good deals to be had as not a major local tourist time. Definitely on the short list for overseas visitors!
Adults and kids of most ages can still enjoy the water fun on the Gold Coast with great ocean temperatures and fun at water parks such as Sea World Resort Water Park or Wet n Wild. Most of our visitors are coming from late Spring weather to our Autumn weather - unless you are coming from a really hot country you are not likely to find the weather cold. Gold Coast Autumn and Winters are mild.
Pack clothing for warm weather (shorts and t-shirts) and have some cool weather options. I pack layers and a light jumper or fleece for cooler times or a light jacket for evening.
You'll need warmer clothes for visits to Gold Coast rainforest areas in hinterland - such as Mt Tamborine, O'Reillys, Lamington Plateau or Springbrook National Park.
Pack a rain jacket (which doubles as an extra layer when it is cooler) or umbrella for rain showers too. Neither take up much room and it is much nicer not to get wet!
Things to do in Gold Coast in May
Watch horse racing at Gold Coast Turf Club
A round or two of Golf on a resort or championship course
Enjoy Custard Apples and other tropical fruits at Tropical Fruit World
Flowboarding at Dreamworld
Relax and enjoy the Blues at Broadbeach
Go on a seal adventure at Sea World
With average sea water temperature in Gold Coast in May 21°C it is still warm enough for swimming between the flags!
Totally Wild show at Currumbin Wildlife Sanctuary
Craft Shops and Galleries on Mount Tamborine
Walks along beach
Wine tasting, Mt Tamborine, Brisbane, islands & adventures. So much to do! You can drive yourself to many or sit back and relax someone else dealing with the details and the traffic! Choose from our selection of Gold Coast Tours.
Evening Entertainment
Best Time To Visit Gold Coast By Month
Your Questions About Gold Coast in May?
Do You Have A Question About May In The Gold Coast.?
Ask a specific question about May in the Gold Coast, Queensland or Australia is and I will try my best to point you in the right direction.
What Other Visitors Have Asked
Click below to see questions from other visitors to this page...

Holiday In May at Gold Coast Water Parks

Is weather warm enough to enjoy a holiday in May at Gold Coast water parks? We are a couple with 9 year old boy wanting to visit GoldCoast around …
Air Conditioning In Apartment In May Not rated yet
Do we need air conditioning in apartment in May on the Gold Coast? If travelling in late May to the Gold Coast, do we need air conditioning for the apartment …
Ready To Get Started? Travel Planning Guide & Sheets
Latest Deals
Here's a selection of the hot deals at the moment. For a full selection including accommodation, activities, transport, tours, packages and more check out my main selection of deals or specific theme park deals check out Theme Park Passes ...

Unlimited Entry to Dreamworld WhiteWater World and SkyPoint over 3 consecutive days.
Plenty of time to visit for a full day each at Dreamworld and WhiteWater World and visit SkyPoint by day, night or both at your leisure over the 3 days.
$109* Adult | $99 Child (3 to 13 years)
$400 $360 Family 2A+2Ch
* SAVE $10 per person on gate prices
Use within 12 months of purchase date.
Unlimited entry to Dreamworld, WhiteWater World and SkyPoint over 3 consecutive days from first gate entry.
Discount Coupons to use in park.


Unlimited entry to Dreamworld, WhiteWater World and SkyPoint For 12 Months - Plus Bonus 12 Month Unlimited DreamPix PhotoPass valued at $99.
This pass is excellent value for visitors who plan to enjoy access to these theme parks for multiple visits.
$189 Adult | $169 Child (3 to 13 years)
Annual Pass with 12 months Unlimited entry to Dreamworld, WhiteWater World & SkyPoint and replaces the dated Season Passes.
12 months starts from date of first entry and tickets must be redeemed within 12 months of purchase.
BONUS - Unlimited DreamPix PhotoPass valued at $99.
There is a discounted locals pass but only valid for those who can prove they live in QLD or Northern NSW (post codes 2450-2490). Proof of residency required upon entry.
BONUS - Discount Coupons to use in park.


Visit Sea World, Movie World and Wet n Wild once each over 3 consecutive days.
Adults save nearly 50% over single entry tickets and these online prices are cheaper than at the gate.
$139 Adult | $139 Child (3 to 13 years)
Save $9 per person from gate prices
Cheapest option for Village Theme Park Passes.
Pass valid for single entry to each of the theme parks Sea World, Movie World & Wet n Wild over 3 consecutive days.
Cheapest way for entry to 2 or more theme parks.
Pass is valid for 12 months from purchase.


Spend a few hours or a whole day at Currumbin Wildlife Sanctuary.
Watch the shows. Hand feed the kangaroos. Get your photo taken with a koala. There's so much to see and do. Check out all the information about Currumbin and other activities.
TOP PICK for visitors who want to see, touch and get photos with some iconic Aussie animals.
$39.95! Adult | $39.95 Child (4 to 14 years)
! Adults @ Kids prices - normally $49.95 per adult save $10
$129 Family (2A+2Ch)
Single Day Entry Ticket To Currumbin Wildlife Sanctuary. Includes shows, excludes food for animals, photos with animals and other extra activities such as Segway Safari, Ropes Course etc.
Follow links for all pricing including special limited time deals and family options.

Great evening of entertainment. Enjoy a story of Australian outback life showcasing horsemanship & Aussie mateship.
Watch the show whilst enjoying your 3 course dinner. Fun night with lots of great memories and a souvenir bushman's hat.
$99.99!* Adult | $89.99* Child (3 to 13 years)

*LIMITED TIME ONLY AT THESE PRICES. Prices shown for Tuesday, Wednesday, Friday Night & Sunday Performances only. Add $10 per person for Saturday Nights.
Book now for all shows.
Child, Vegetarian & Halal meal options available.
MUST SEE Dinner & Show. SAVE on Tuesday to Friday Night & Sunday Matinee Shows.
DREAM IT
You'll find lots of photographs, descriptions and information to help you dream up your perfect Gold Coast Holiday.
Why not start with all that the Gold Coast has to offer.
PLAN IT
After many years of planning trips with my family both locally and overseas, I've created many resources to help you through creating an itinerary and plan that will have you seeing, doing and experiencing the best the Gold Coast has to offer you.
You can do it yourself using the resources on this website by starting here.
Or you can cut some corners and get my travel planning sheets and extra resources.
BOOK IT
When you are ready to book your Gold Coast travel arrangements I've hand picked the best resources for all aspects of your travel itinerary. You can feel confident that you are accessing the best local and global travel providers for your holiday.