Gold Coast Transport Guide
COVID-19 Pandemic & This Website
The COVID-19 Pandemic has had a huge impact on local Gold Coast businesses, which rely heavily on visitors from Queensland, interstate and overseas.
During this time, it is hard to keep the website fully up to date with all the changes. In the meantime here are some resources for visitors. Our main booking partners for hotels and for tours, tickets, theme parks and activities are keeping everything up to date, so please use those resources in the meantime.
Travel Information for Queensland Visitors - Queensland Tourist Safety Information - regularly updated, official website.
COVID-19 FAQ's For Activities, Tours, Cruises & Theme Park Tickets - General Ticket & Pass FAQs and COVID-19 Travel Update.
Thank you for your understanding and patience at this really difficult time.

Annie Rettie
Gold Coast Australia Travel Tips - Owner
Guide to Gold Coast transport options
Are you looking for information about transport around the Gold Coast? Whilst, there are other resources on this website for flying to the Gold Coast. but this is all about local transport such as public transport (buses, trams and trains), transfers and self driving options including hiring cars.

Use the quick links to find out more about each topic, or read on to get an overview of the transport options around the Gold Coast.

If you are still in the process of planning your Gold Coast getaway, don't forget to check out my planning cheat sheets, tips & tools to help step you through planning out the things to do, where to stay and when to visit.

Annie Rettie
Gold Coast Australia Travel Tips - Owner
Join the conversation or just check us out...
Select The Topic You Are Interested In
Questions about Gold Coast Transport
These are some of the many questions I get asked about getting around and about Gold Coas transport options.
How do I get from the airport to my hotel?
How to get to theme parks ?
Should I drive myself? And what about parking?
Should I take a taxi?
Will theme park transfers be the fastest option?
Can I use public transport to get to the theme parks?
The geography of the Gold Coast is a little unusual for a tourist destination.
Attractions and tourist hubs are located along the entire coast from Coolangatta in the south, to Sanctuary Cove in the north. That's a distance of around 45 kms (about 28 miles). I
f you have a car, it is reasonably easy to get around, but if you rely on public transport, taxis or shuttle transfers, you NEED to have a good plan.
Many Gold Coast tourist attractions are away from the main tourist accommodation.
That is why it is important to get GOOD answers to questions about Gold Coast transport options, because there are a few ifs and buts! You certainly don't want to make a bad choice and end up frustrated, pay more than you need to or not have the flexibility you want.
On this page you will find a selection of options with links to more information.
Gold Coast Transport - Hire A Car And Drive Yourself
You can hire a car for all or part of your holiday. Some visitors get transfers to and from the airport and then hire a car for any special trips that aren't easily done with shuttles or taxis.
Hiring a car is more about convenience than anything else, especially for families and groups. Driving gives you flexibility to arrive early, leave when you want and possibly even do more than one attraction in a day.
You can rent all sorts of vehicles on the Gold Coast from budget or compact cars right through to people movers. Cars can be hired at either Brisbane Airport or Gold Coast Airport or locally near your accommodation.
When you hire a car there are a few things to consider.
If you are from overseas, you may be unfamiliar with our road rules, or even driving on the left side of the road in a right hand drive car.
Other things to consider include whether you feel you can easily navigate our roads and parking - both at the places you go to and at your accommodation.
Most major tourist attractions outside Surfers Paradise including the Gold Coast theme parks, Dreamworld, MovieWorld, Sea World, Wet n Wild and WhiteWater World, all have their own parking which is free and there is lots of it. At other locations you might have to pay on exit, or use a parking meter.
When hiring a car, I highly recommend you consider a GPS to help assist in the navigation and help keep your holiday happy and free from map reading stress! If you have a smart phone you could also use a maps app to guide you around - but you will need data to do that.
However, if you are not used to driving in Australia or just want to relax and enjoy your holiday, you can consider several different door to door transfer services available. Read on to see the most popular with their pros and cons.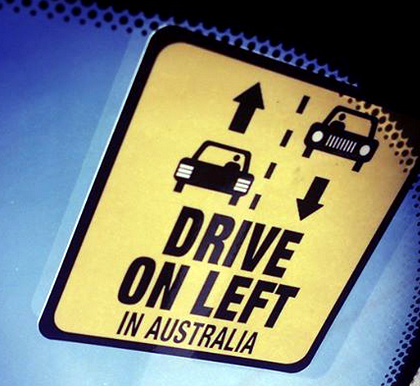 Did you know we drive on the Left Hand Side of the Road?
Deals & What's HOT!
Gold Coast Transport - Theme Park Shuttle Bus Transfers
A fast and efficient way to get to the main theme parks, Currumbin Wildlife Sanctuary or HarbourTown for discount shopping is to use the theme park shuttles. These buses pick up at major hotels and resorts around Gold Coast and take you directly to the theme parks - door to door.
Theme park and attraction transfers can be quite confusing, check out the guide which includes all the options and tips about how to get the best value.
As well as the theme parks, there are other attractions or day trips you can be picked up from your accommodation and transported to Brisbane, Australia Zoo, Byron Bay or other locations, so you don't have to worry about driving to those places yourself if you don't want to.
Gold Coast Transport - Taxis
Taxis can be useful for getting around the Gold Coast. For example if you are staying in Surfers Paradise or Main Beach and want to go to Sea World and there are 4 of you, then a taxi could be a very cost effective and flexible option.
Hotels will be able to hail you a taxi cab, or if you are staying in an apartment resort the front desk should be able to get one. Put Gold Coast Cabs phone number in your phone 131 008, just in case you get stuck.
Taxis on the Gold Coast are booked through that number. Always use a name they can confirm with you to make sure it is your taxi.
I find them pretty good, and you can book ahead with a time and place for them to pick you up. You pay a little bit more for the booking, but it isn't much for the convenience.
You can also book larger taxis and ones that can take wheelchairs. Taxis on the Gold Coast usually have what is called CabCharge or credit card facilities, but you may pay a surcharge for that convenience.
When you are thinking of using a taxi, it is best to make sure you have an idea how much it will cost you. Getting from Coolangatta to Dreamworld in a taxi could give you an unexpected and unpleasant surprise. This link should take you to their hard to find taxi fare estimate page. You will need to know suburb name from where you are leaving to where you are going but it will give you an idea.
Gold Coast Public Transport - Buses, Trams & Trains
Public transport in the Gold Coast includes local buses, G:Link Trams and trains for connections through to Brisbane.
I get a quite a few questions about getting to and getting around Gold Coast using public transport, however, I always issue this warning:
Using Public Transport whilst on holiday in Gold Coast is a compromise between cost and your precious holiday time.
Whilst public transport is usually the cheapest option, especially if you get a GoCard to save money, it can take a long time to get between places. For example the trip from Surfers Paradise to Movie World takes about 20 to 30 minutes by car but about 1 hour to 1 hour 20 minutes on public transport depending upon what time you leave.
A few basics about the public transport system in Gold Coast.
G:Link tram is now the backbone of the network for tourists, however, you will still need to use the bus network to get to most places. Sadly, my experiences with the buses are NOT great. I have been left waiting for buses that don't run on time or don't even turn up - including once leaving Sea World early to get on a bus, and having to wait an hour :(
The Gold Coast is quite a large area and you often have to catch more than one bus to get from your location to where you want to go. When buses are late or don't turn up and you have to catch a second or a third, you end up having to allow plenty of extra time - time I'd rather enjoy relaxing or doing another activity.
If you happen to be staying close to a main bus stop, that may not be as big a problem, especially if you only need to take one bus. Any routes where you need to change buses once or more times, is going to take you quite a while to get to your destination.
G:Link tram is fantastic in comparison to using the buses, but it is all stops. So if you have to go from one end to the other, it is going to take quite a while and there aren't any expresses! It now connects Helensvale Station through to Broadbeach South (Pacific Fair).
The tram service has made a huge difference to the connections between Broadbeach, Surfers Paradise, Main Beach and Southport. It's now easy to stay in one location and head out for dinner or entertainment in one of the other locations.
Trains do not run along the coastal strip, but along the inland route with stations being at Varsity Lakes, Robina, Nerang, Helensvale (for connections via Express Bus to Movie World, Wet n Wild, Paradise Country, Australian Outback Spectacular, Dreamworld & WhiteWater World) and Coomera Station.
I don't recommend using the train system to get to the theme parks unless you happen to be staying very close to Varsity Lakes, Robina or Nerang Stations. You are better to look for bus and/or tram options.
Trains are useful for travelling up to Brisbane for a day trip, or for connecting through to Brisbane Airport.
How To Get From Hotel To Theme Parks & Other Locations Around Gold Coast?
There are too many options to write about here. My go to resource for public transport - buses, trams, trains and ferries (Brisbane only) - is the Translink Journey Planner. It's quirky, so you need to know a few things before trying to use it, but once you get the hang of it, you will find it quite useful.
When you are ready to use the journey planner, you will need to know the street address you are starting from, and the destination address (or landmark) you want to get. You can set how much distance you are prepared to walk, your prefered types of transport, date you are travelling (they have dates about 2 to 3 weeks in advance) and the time you want to arrive at your destination by, or the time you want to leave from your starting location.
It will then give you several options around the times you set. Some routes will be quicker with less changes. I tend to pick the ones with the least amount of changes, as they are more likely to deliver me where I want to get to without missing a connection.
I hope that brief introduction to the journey planner makes it easier for you to use and get useful information out of. As for fares, those are far too complicated to go through here, check them out on the website.
Most locals use GoCards, which are pre-paid cards that you simply tap on and off at the entrance and exits on buses, trains, trams and ferries. If you are going to be using public transport system quite a bit, then that can be a good option as you save at least 30% than a single paper ticket, get extra discounts when you travel off peak times and once you make a certain number of journeys* within a 7 day period from Monday to Sunday your travel is further reduced regardless of the zones travelled excluding AirTrain. Make sure you check all the terms and conditions which you will find through the links on the journey planner.
You can buy GoCards online and have them sent you before your holiday, or buy them when you arrive. Any unused money on the card can be refunded after your trip (check all the terms and conditions).
You need a card or ticket for every member of your family or group travelling (except Children under 5 years, who travel free). They call children's fares Concession Fares - however age 15 years and over it becomes a little more complicated as you need to prove you are a Queensland student. For visitors from overseas or interstate, 15 years and over is considered to be an adult.
If you are travelling from or to Brisbane Airport - there are additional fares for the Airtrain that can be paid with the GoCard, but these journeys are on a privately owned railway and are always charged. Children between ages 5 and 15 years travel for free on AirTrain, when travelling with a paying adult to any Brisbane city station.
Gold Coast Transport - Resort Bus
Very few, if any of the resorts offer this service for free anymore. Usually a small mini bus that takes guests to the major attractions only.
Usually organized through the concierge at your accommodation or resort. You should check if it is a courtesy bus service or if there is charge.
They usually run to a schedule with only one pick up or drop off from each location every day. Therefore you will have to fit in with their schedule.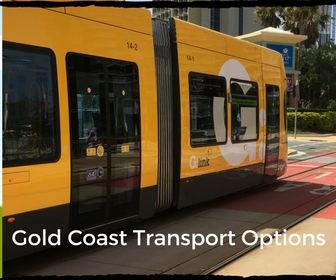 Public Transport has changed in Gold Coast since G:Link tram arrived.
Gold Coast Local Information
First Class Gold Coast Transport
Imagine the decadence of turning up in a Limo!
If you are used to travelling first class, why would your ground transport be any different? Arrive in first class style with a luxury personalized limousine pick up service or tour. Total flexibility and comfort.
There are several options for standard limo transfers to and from airport or attractions, which are great for groups. For groups this transport option could be surprisingly affordable.
There are alternatives such as stretch hummers also available. Ultimate in decadence with leather seat, 3 LCD screens, bar area and 14 seats. These bad boys will to take you to your destination with attitude! If you want to sneak in to a venue, this isn't the mode of transport for you! Heads turn when Hummers arrvie!
Business Class Gold Coast Transport Options
Business class style people movers or limos are not just for the wealthy. They can actually be a great option for families travelling around the Gold Coast and offer more flexibility than the big buses. BCT used to offer this service, however they are now focussed on airport transfers.
Pegasus Gold Class is a local Gold Coast operation that offers a range of transfers services in luxury Mini Buses, Taragos, Caprice Limousines, Stretch Limousines and Super Stretch Limousines catering for up to 22 passengers in their larger mini buses.
Gold Coast Transport By Helicopter
For ultimate speed, convenience and decadence try a helicopter transfer.
You could sample 12 Gold Coast wineries in one day on a heli-tour – now wouldn't that be a blast! Or what about a trip to Fraser Island for the day? Visit a golf course in style!
There are some limitations on where they can land, so not every Gold Coast tourist attraction can be reached this way.
Gold Coast HeliTours, for example, have a range of tours, sightseeing scenic helicopter rides and transfers to suit. Helicopters can take up to 6 passengers.
DREAM IT
You'll find lots of photographs, descriptions and information to help you dream up your perfect Gold Coast Holiday.
Why not start with all that the Gold Coast has to offer.
PLAN IT
After many years of planning trips with my family both locally and overseas, I've created many resources to help you through creating an itinerary and plan that will have you seeing, doing and experiencing the best the Gold Coast has to offer you.
You can do it yourself using the resources on this website by starting here.
Or you can cut some corners and get my travel planning sheets and extra resources.
BOOK IT
When you are ready to book your Gold Coast travel arrangements I've hand picked the best resources for all aspects of your travel itinerary. You can feel confident that you are accessing the best local and global travel providers for your holiday.