Gold Coast Tram - G:Link
COVID-19 Pandemic & This Website
The COVID-19 Pandemic has had a huge impact on local Gold Coast businesses, which rely heavily on visitors from Queensland, interstate and overseas.
During this time, it is hard to keep the website fully up to date with all the changes. In the meantime here are some resources for visitors. Our main booking partners for hotels and for tours, tickets, theme parks and activities are keeping everything up to date, so please use those resources in the meantime.
Travel Information for Queensland Visitors - Queensland Tourist Safety Information - regularly updated, official website.
COVID-19 FAQ's For Activities, Tours, Cruises & Theme Park Tickets - General Ticket & Pass FAQs and COVID-19 Travel Update.
Thank you for your understanding and patience at this really difficult time.

Annie Rettie
Gold Coast Australia Travel Tips - Owner
The Good & The Bad of This Transport Option
Before the Gold Coast tram, we had to use buses. Buses, in my experience, were a bit frustrating. The buses were often late or cancelled without notice - not very reliable. The tram now provides a great, frequent backbone to some of the local north/south trips in the Gold Coast.

On this page, I'll give you a bit more information about planning trips and using the G:link tram, the stations, the ticket options as well as what it is good for and what it is NOT good, in my opinion. Another great resource for planning how to get around Gold Coast is my Best Ways To Get Around Gold Coast.

If you are still in the process of planning your Gold Coast getaway, don't forget to check out my planning cheat sheets, tips & tools to help step you through planning out the things to do, where to stay and when to visit.

Annie Rettie
Gold Coast Australia Travel Tips - Owner
Join the conversation or just check us out...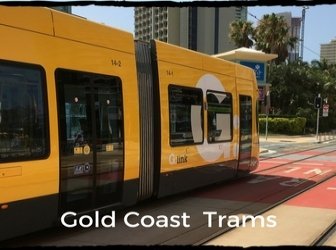 Modern G:Link Trams on Gold Coast
Gold Coast Tram G:Link
The G:Link tram system, is also known as a light rail system. It currently links to the Helensvale Train Station in the north through to the station called Broadbeach South just in front of Pacific Fair Shopping Centre in Broadbeach.
Helensvale Train Station is the link between the heavy railway lines. The Gold Coast rail line runs north to Brisbane and Brisbane Airport and currently, south to Varsity Lakes, where you can then take a bus south to Gold Coast Airport.
Taking the train north to Brisbane stations, you can also connect to other rail networks both within Queensland and interstate.
The G, as it is called locally, is very convenient for short trips between the your accommodation and locations in the main centres, such as Broadbeach, Surfers Paradise and Southport.
It's never been easier to stay in Broadbeach and hop on the tram to go into Surfers for the evening, or head up to Australia Fair in Surfers Paradise for some shopping or a movie. The trams are regular and frequent.
However, if you are staying away from the tram route, want to go to an attraction not on the line, you will often have to endure an all stops tram trip plus one or more bus trips to your location.
Before the tram, there were Express Buses from certain Bus Stops to the Gold Coast theme parks. Now, you are directed to ride the G to Helensvale Station to connect to Dreamworld, WhiteWater World, Movie World, Wet n Wild, Paradise Country and Australian Outback Spectacular. Depending on the time of day, these trips can take from about 1 hour up to 1½ hours each way from the main holiday accommodation spots.
Gold Coast Tram Map
In the interactive map below, you will see the Gold Coast Tram stations locations.
I've also included the locations of some of the main Gold Coast theme parks and attractions.
You can see how the tram can ge helpful in some situations, but it won't take you directly to the theme parks or other major attractions.
Sometimes, you will need to take a bus, walk or a taxi to complete your journey. Which means there may be better options.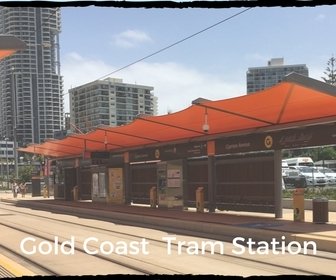 Tram Station
Deals & What's HOT!
What Gold Coast Tram Is Good For
The G:link tram has replaced quite a few bus services. It is a great way to get along the coastal strip of the Gold Coast from Broadbeach through to Southport and beyond.
In my opinion, the tram is best for these short trips between Broadbeach, Surfers Paradise, Main Beach and Southport.
In the past, even getting from Broadbeach to Surfers Paradise or Surfers to Broadbeach to visit attractions or restaurants was complicated or expensive. Now, you simply find your closest tram station, buy a ticket or tap n go with a pre-paid card.
Whilst the trams don't run from Midnight through to 5am, during the main part of the day (7am to 7pm) they tend to run approximately every 7½ minutes. At the other times, you may have to wait around 15 minutes between services.
It has certainly made Southport and Broadwater Parklands more accessible for visitors.
Another option for visitors who fly in from Brisbane Airport is to use the AirTrain Service directly from the Brisbane Airport to Helensvale Station and then transfer from the heavy rail to the G:Link tram and continue the journey right into the heart of Surfers Paradise or Broadbeach.
The journey from Brisbane Airport to the Gold Coast takes about 2½ hours (if you pick the option to take the fast train and then the tram) and costs just under $40 per adult if you buy a one paper ticket. If you have a GoCard, it will cost around $32.50 each way.
If you are flying into Gold Coast Airport at Coolangatta, the tram isn't much use (at the moment) to help you get to your accommodation. There are other options for transport from this airport.
What Gold Coast Tram Is NOT Good For
The G:link tram has replaced some of the Express bus services that used to be a fast and convenient way to get to the theme parks out at Oxenford and Coomera (Movie World, Wet n Wild, Paradise Country, Australian Outback Spectacular, Dreamworld & WhiteWater World).
The Express bus services (TX services - Theme Park Express) had limited stops and ran at times to co-incide with the opening and closing times of the theme parks.
There is now only one express service the TX7 service, which connects Helensvale Station to Dreamworld, WhiteWater World, Movie World, Australian Outback Spectacular and Wet n Wild and short extra walk from here to Paradise Country.
So, visitors need to make their way to Helensvale Station. It is easy for Brisbane Visitors, however, for those staying in Surfers Paradise or Broadbeach for example, the trip which takes about 20 to 30 minutes in a car, will take from an hour to 1½ hours each way.
Using these trams and public transport is the cheapest way to get to the theme parks, but that's a lot of wasted holiday time travelling!
Whilst the tram is great for many of the short trips along the coastal strip, it is not really suited to getting you to the theme parks and main attractions of the Gold Coast. One of the better ways is to look at a shuttle bus, which offers a door to door service, family options and combination airport and attraction transfers.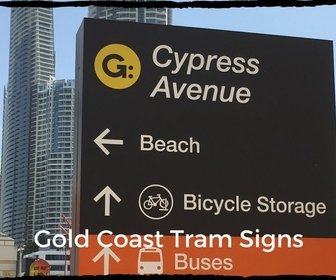 Tram Station signage shows what's near.
Gold Coast Local Information
Planning Your Tram Journeys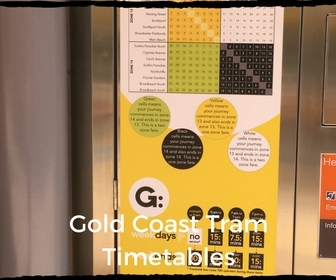 Tram Timetables Can Be Found At Each Station
There are a couple of ways to plan your tram journeys. One is to download the timetable and familiarise yourself with the stations close to you and the places you want to go.
The other, is to either use the Journey Planner on the web, or download the Translink Journey Planner App to your smart phone.
The Translink Journey Planner is my go to for up to date information on planning a trip using public transport. The app is useful for up to date information about changes to timetables, delays or detours. I use it, but I do find it a bit slow at times. I usually, check out the routes using the web based journey planner before I leave so that I at least have a rough idea of what my journey will look like.
Gold Coast Tram Tickets
In South East Queensland (including Brisbane and Gold Coast areas) you can use a single card to pay for your trips. It's called a GoCard and you load it up with some money and tap and go on public buses, trains, trams and ferries. You can buy them at many outlets including newsagents and 7/Eleven Stores and even some fare machines at stations.
You need to have one card for each person travelling and pre-load with money for your trips. All visitors 15 years and over are considered to be Adults,. Children are 5 years to 14 years inclusive. 4 year olds and under can travel free.
There are also Senior cards for Australian Senior Card Holders. Concession Cards are available for Australian Pensioners, Queensland Gold card veterans and Queensland Secondary School Students 15 years. Please note these distinctions.
GoCards give you a reduced fare over the single paper ticket option. Usually the discounts are around 30% per trip. There are other discounts you can get depending upon when you travel (eg Off Peak) and how many trips you do in a week (Monday to Friday).
For tourists, there are a couple of other options that are suggested. I describe them below with my comments about when they are good, and when they are not so good.
seeQ Cards
seeQ Card covers a wide range of areas but is quite expensive for short trips within the Gold Coast. It costs approximately $79 Adult for 3 consecutive days travel at March 2018 prices. It includes 2 trips on the AirTrain service as well as access to the entire Translink network of buses, trains, trams and ferries.
GoExplore Cards
The other option, often suggested for visitors is the GoExplore Card. It is limited to just buses and trams in Gold Coast and Sunshine Coast areas and costsaround $10 per day per adult (March 2018 prices).
Paper Tickets
If you don't have a GoCard, or any of these other types of cards, you can buy tickets at the ticket machines at tram stations for each person and trip you take.
Paper tickets usually last for 2 hours with prices based upon the zones travelled. You can use them across the Greater Brisbane network - which includes Sunshine Coast and Gold Coast destinations. Most importantly, these tickets are NOT return tickets, you will need to buy another ticket for your return trip.
Ticket machines usually have an option to pay by cash (coins and notes) as well as by tap and go credit or debit cards. If you use cash, you may not always get correct change if the machine has run out of coins. So it is always best to have correct change if buying these tickets.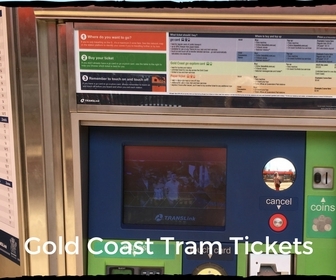 Tram Ticket Machine
Deals & What's HOT!
After many years of planning trips with my family both locally and overseas, I've created many resources to help you through creating an itinerary and plan that will have you seeing, doing and experiencing the best the Gold Coast has to offer you.
You can do it yourself using the resources on this website by starting here.
Or you can cut some corners and get my travel planning sheets and extra resources.
When you are ready to book your Gold Coast travel arrangements I've hand picked the best resources for all aspects of your travel itinerary. You can feel confident that you are accessing the best local and global travel providers for your holiday.