Queensland Holiday -
Why Choose Gold Coast?
COVID-19 Pandemic & This Website
The COVID-19 Pandemic has had a huge impact on local Gold Coast businesses, which rely heavily on visitors from Queensland, interstate and overseas.
During this time, it is hard to keep the website fully up to date with all the changes. In the meantime here are some resources for visitors. Our main booking partners for hotels and for tours, tickets, theme parks and activities are keeping everything up to date, so please use those resources in the meantime.
Travel Information for Queensland Visitors - Queensland Tourist Safety Information - regularly updated, official website.
COVID-19 FAQ's For Activities, Tours, Cruises & Theme Park Tickets - General Ticket & Pass FAQs and COVID-19 Travel Update.
Thank you for your understanding and patience at this really difficult time.

Annie Rettie
Gold Coast Australia Travel Tips - Owner
Why have your Queensland holiday in the Gold Coast?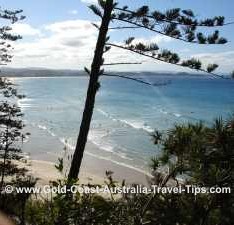 The beaches for families and surfers.
So many options on the Gold Coast.
Not sure whether to choose Gold Coast for your next holiday? Probably the best way to answer that question is to tell you what the Gold Coast is and is not!
The Gold Coast is well known for its:
glitzy nightlife
Surfers Skyline
These are some of the things that entice visitors to take their holidays in the Gold Coast and here is why I love the Gold Coast...
Why I Love The Gold Coast
The Gold Coast is so much more than meets the eye. It is a cliché, but there is just about something for everyone. Here are some of the reasons I love the Gold Coast, and I reckon most people would find something to love - Queensland holiday or not! It's an easy read with lots of photos!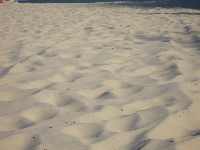 Main Beach Sand
Just about as good as it gets!
The ocean beaches from Coolangatta to The Spit – the sand is just about the best there is! There is nothing like getting out there early in the morning when the sun is coming up. Walking, running or just playing with the kids in the sand. And Surfers Paradise wasn't called that for nothing! So of course there is the surf!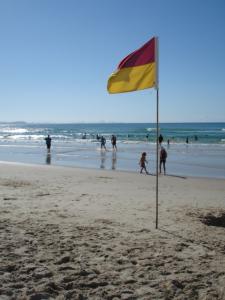 There are 42 patrolled Gold Coast Beaches.
Stay safe by swimming between the red and yellow flags.
The broadwater – I am biased, I have lived on the broadwater, and would wake up every morning to see the shining calm water. It's a place to take the younger kids for an introduction to beach life and water. It's great for jet skiing, water skiing, hiring a boat and just enjoying being on the water.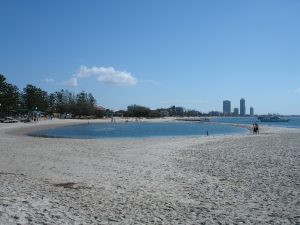 Ian Dipple Lagoon at Labrador is opposite The Grand Hotel.
It is excellent for young families or those who want to
enjoy fish and chips on the beach from Charis Seafoods.
The hinterland – the backdrop of the volcanic hills is a great contrast to the coast. I love seeing the coast from high up on one of the hills – the view is to die for. It is cooler in the summer, lush and refreshing – it is a retreat away from the hustle and bustle of the coast.
Theme Parks – love them or hate them – they keep both the kids and adults entertained. Sea World, Wet 'n' Wild, Movie World, WhiteWater World and Dreamworld – well that's 5 days of your holiday!
Places to stay – the choice of accommodation runs to over 600 in the Gold Coast region – the trick is finding the right one for you!
Weather – the weather had me at "Hello"! But it is variable and no one can guarantee what it will be like when you visit. Generally the weather is tops! It gets humid in the summer months, but hey that's what the beach is for and in the winter it isn't really cold.
Us locals think it gets cold in the winter! Here's a great winter holiday game - spot the local. You can tell how long someone has lived on the Gold Coast by how much they are wearing – seriously! All the visitors are in shorts and we're in longs, jackets and jumpers!

Different ways to view the Gold Coast. Rollercoaster at Movieworld, Helicopter Tour,
Sea Plane Flight and Sea World Eye (removed 2008).

Day Trips And Activities
You can..
watch whales in the ocean (June to November)
watch birds in the rainforest
go deep sea game fishing
visit Tangalooma (one of my personal favourites)
drive to Byron Bay
explore South Stradbroke Island
tour the local hinterland wineries
relax in a resort spa and be pampered
learn to surf or kite board
cuddle a koala or feed a kangaroos and birds at Currumbin
There's always something more to do or see - that's why people come back time after time!
So What Is The Gold Coast NOT?
Apologies to those who want to entice you to the Gold Coast under false pretences! I firmly believe that you have to give a fair appraisal. But first I have to dispel the biggest Gold Coast Myth for our international visitors!
The Great Barrier Reef – the Gold Coast is NOT on the Great Barrier Reef. It's about a 7 hour drive north to the reefs most southerly point and two hours on a jet plane to Cairns the most popular launching point to the reef.
A place to shop till you drop – there are shops, outlet shopping and great markets. But don't expect it to be like Hong Kong or even Melbourne for shopping!
A place of unparalleled dining experiences! – you can find really great places to eat, but there's a lot of very average ones too. Choose carefully – and a word of warning, what was good on the last trip may have changed ownership and could be disappointing.
A place for arts, history and culture – there is art and culture, but we're not talking National Gallery or Broadway here! Brisbane has the edge over our little city on this one. As do any of the other Australian cities like Sydney, Melbourne or Adelaide. As for history – the history of the Gold Coast is predominantly as a getaway for Brisbane families – the seaside town on the end of the railway! There is a wax museum – does that count?
Queensland Holiday On The Gold Coast
Now you know what I like, and what the Gold Coast is not... So what type of holiday is Queensland's Gold Coast great for?
Family holidays since you can please every member of the family here!
Beach holidays not just on Surfers Paradise beach. We know there are miles of beaches, but there are also secluded ones, family friendly ones, island beaches we have a few to choose from!
Theme Park holidays see how many theme parks you can fit in on a visit to the Theme Park Capital of Australia. Dreamworld, MovieWorld, SeaWorld, Wet n Wild and WhiteWater World.
Summer breaks for Aussies November to March!
Winter breaks for our international friends from October to April!
Short stays are popular, weekends, long weekends and 5 day stays. Get a taste of the Gold Coast.
Stopovers en route to another Queensland holiday destination are popular, particularly for international visitors. There isn't anything else like the Gold Coast in Australia.
Romantic getaways in luxury spa resorts, rainforest hideaways or bed and breakfasts.
Winter warmers from the Southern States and New Zealand are very popular. School holidays in June and July are great times to get a way from the cooler climates for a bit of warmth.
Golfing holidays stay on a golf course or try out as many as you can during your visit. Brush up on your technique with some lessons.
Surfing holidays come and watch the pros, learn to surf or see what you can surf whilst you are here.
When Is The Best Time To Visit The Gold Coast For Your Queensland Holiday?
When is the best time for that holiday you have been promising yourself in Queensland?
That depends upon what you want to do!
Check out my guide to the best time for your Gold Coast, Queensland, Australia holiday. This will step you through month by month on what is happening, what kind of weather you can expect and what are great activities for that time of the year. One of the best places to start when planning your Gold Coast, Queensland holiday.
Other Awesome Queensland Holiday Destinations
Other holiday destinations in Queensland to consider:
Brisbane – a City holiday, stopover or base for Gold Coast, Sunshine Coast or Queensland holiday.
Sunshine Coast – Laid back Noosa, Australia Zoo, Glasshouse mountains, Maroochydore, Mooloolaba and Caloundra.
Whitsunday Islands – Island resorts, water sports, sailing holidays and diving.
Hervey Bay and Fraser Island – Whales in the winter, dingos, sand 4WD tours, relaxing retreats.
Great Barrier Reef – Cairns and Port Douglas, Rainforest and Reef Trips.
You can see some of these amazing Queensland holiday destinations as well as shots of the Gold Coast in this new Queensland Tourism video Queensland, Where Australia Shines...
Doesn't that make you want to put a Queensland holiday on your calendar!
How about this though to get you excited about visiting the Gold Coast! I love this video...
Gold Coast Holiday Planning Information
There are plenty of reasons to make the Gold Coast your next holiday destination and there is more than enough to keep you busy... or relaxed.
Here is more information to help plan your trip or you can grab our planning cheat sheets to give you a framework to plan with...
Custom Search