Discount & Factory Outlets
Discount Shopping Gold Coast Guide
COVID-19 Pandemic & This Website
The COVID-19 Pandemic has had a huge impact on local Gold Coast businesses, which rely heavily on visitors from Queensland, interstate and overseas.
During this time, it is hard to keep the website fully up to date with all the changes. In the meantime here are some resources for visitors. Our main booking partners for hotels and for tours, tickets, theme parks and activities are keeping everything up to date, so please use those resources in the meantime.
Travel Information for Queensland Visitors - Queensland Tourist Safety Information - regularly updated, official website.
COVID-19 FAQ's For Activities, Tours, Cruises & Theme Park Tickets - General Ticket & Pass FAQs and COVID-19 Travel Update.
Thank you for your understanding and patience at this really difficult time.

Annie Rettie
Gold Coast Australia Travel Tips - Owner
If you are looking for Discount Shopping Gold Coast Including Outlet Shopping, Factory Outlets and DFOs then this is the place for you!

Read on, or use the links to skip right to what you are interested in. The Gold Coast certainly offers lots of options for shopping that are popular with our visitors!

If you are just planning out your holiday to the Gold Coast then I recommend you get a copy of my Gold Coast Planning Cheat Sheets, Tips & Tools. There are heaps of tips and extra information to help you plan out all aspects of your visit.

Annie Rettie
Gold Coast Australia Travel Tips - Owner
Join the conversation or just check us out...
Discount Shopping Gold Coast Guide
Here is a guide to discount shopping on the Gold Coast. There are some great bargains to be had if you know where to go.
The top pick for discount shopping is Gold Coast icon Harbour Town. Everything in the one spot! Even a non-shopper, like me, enjoys Harbour Town!
Whilst shopping for a bargain is always fun, don't forget there are many other shopping options on the Gold Coast including our markets, where you can also pick up great bargains and locally made souvenirs.
Harbour Town Factory Outlets & Discount Shopping
Harbour Town is one of the most popular destinations for shopping on the Gold Coast for visitors. I get the most questions about Harbour Town!
Harbour Town is hwere you will find a wide range of brand name factory outlet and discount shopping opportunities and is well worth putting on your itinerary.
Shopping is such a personal thing, but I see many families and couples enjoying an outing here. You can spend a half to a full day browsing and shopping with over 129 National and International outlet stores to choose from!
When you get bored of shopping you can catch a movie at the Reading Cinemas 14 screen Cinemaplex, grab a bite to eat in the range of fast food outlets and cafes or get an ice-cream - you are on holidays after all . More information about HarbourTown including information about how to get some extra special deals and discounts just for you .
Harbour Town Shopping Centre
Cnr Brisbane Road and Oxley Drive, Biggera Waters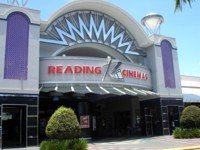 Reading Cinema Harbour Town
Trade Secret
Located in the Brickworks Centre in Southport this is a little gem. They have great clothing and other bargains. Whenever I go in there I am always blown away by what they have and the prices.
Trade Secret is a big brand name outlet where you can save heaps of money. They say you can save up to 60% off RRP.
Their slogan is:
BIG Brands, Cheeky Prices!
I don't like tacky outlet stores with sorry looking merchandise. And this store is not at all tacky - it is just like your everyday store - except the prices are very low.
They sell:
Homewares
Kids
Ladies Fashion Brands
Lingerie
Mens
Surf brands
Youth Fashion
Trade Secret at Southport is open 7 days a week. Monday to Fridays 9am to 5.30pm with late night trading Thursday till 8pm. Saturdays 8.30am to 5pm. Sundays and Public Holidays 10am till 4.30pm.
And you don't have to just bring cash. They accept most major credit cards!
The location is great because when you have picked up your bargains you can head to the opposite end of the carpark and Ferry Road markets.
Ferry Road Markets are completely the opposite! Let me assure you there is nothing discount here! Expect to find fabulous gourmet cafes, sweet treats, deli, excellent coffees, juices and ice creams plus other gourmet foods.
Brickworks Centre
107 Ferry Road, Southport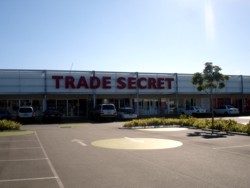 Trade Secret at Brickworks Southport
Billabong Factory Outlet at Central Park, Ashmore
Billabong seconds shop and factory shop for all your Billabong stuff - great prices and bargains to be had.
There are two Billabong shops in this complex, both are worth a look and there are other discount stores in the same precinct called Central Park Outlet Shops. Worth a trip.
Central Park Plaza is a little gem in amongst the semi-industrial areas of Ashmore. Central Park Plaza is off Nerang-Southport Road just before you get to Nerang.
Central Park Outlet Shops
Central Park Avenue off Nerang Southport Road, Ashmore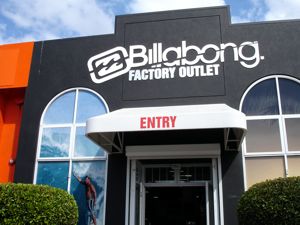 Billabong Factory Outlet Gold Coast
Rivers Clearance Store
A few years ago there was a huge Rivers clearance shop in Harbour Town but this has now gone.
There are two Rivers Clearance stores located in the Gold Coast one in Robina at the Robina Super Centre (not Robina Town Centre) and the other one on Scarborough Street, Southport just outside Australia Fair.
Rivers often have great bargains and I find their quality pretty good.
Sporty's Warehouse
Sporty's is made up of several stores in one. Great sport clothing, footwear, camping, exercise equipment, golf, tennis, camping and sports nutrition.
Sportys Warehouse
Strathaird Road, Bundall
Direct Factory Outlets - DFO Brisbane Airport
It may not be a discount shopping on the Gold Coast, however, I get a lot of questions about DFO.
DFO is right next to Brisbane Airport! By car it is about 1½ hours drive from Surfers Paradise.
They advertise up to 70% off and 100 big name brands all under the one roof.
Children's wear
Footwear
Handbags
Homewares
Jewellery
Ladies Fashion
Lingerie
Luggage
Men's fashion
and more...
There are food courts, cafes and juice jars to keep you replenished ready for more shopping. Parking is plentiful and free. Across the road are some more conventional shops including a Woolworths Supermarket which is 24 hours - very useful to know! Especially on a Saturday when the supermarkets close at 5pm!
If you drive to DFO from Gold Coast, the direct route takes you over the Gateway Motorway Toll* and simply follow the signs for Brisbane Airport. Once you turn off follow the signs for DFO & SkyGate.
Rather than just drive to DFO for the day, you can make it part of a Brisbane Day Tour. Suggested itinerary - coming soon.
You can take the AirTrain from the Gold Coast and then catch a taxi to DFO if you don't have a car - but remember you will have to carry your purchases on the train with you so avoid peak work day week hours!
Open 7 days from 10.00am to 6.00pm
Brisbane Airport DFO
Ninth Avenue, SkyGate
Which is located at 1 Airport Drive, Brisbane Airport
Gateway Motorway tolls in Queensland make sure your car or hire car has an electronic toll tag as there is no option to pay by cash. If you use the tolls and don't have an electronic toll tag you can pay for the tolls by phone or visit GoVia to pay for the tolls within 3 days. The phone numbers are clearly signed before and after the tolls. If you don't do this, your hire car company and GoVia will slug you with very hefty administration charges that could run into the hundreds of dollars for what should be a few dollar toll fee each way.
It is possible to get to DFO without using tolls, but to be honest it is such a waste of your holiday time, I'd just pay the tolls! Use the Google Maps app and select the option without tolls for how to do this.
Discount Shopping Gold Coast Tours
Over the years there have been a few shopping tours offered that combined shopping and sightseeing - taking in sights such as Burleigh Beach, Jupiters Casino (now known as The Star Gold Coast), the Gold Coast Exhibition Centre, 6* luxury hotel Palazzo Versace and our tallest building Q1.
As for the shopping they would give a small amount of time at Pacific Fair, Marina Mirage and then finishing off with time for shopping at Harbour Town Discount Outlet Shopping Centre.
I'm not a great fan of these shopping tours, mostly because you really don't get much time for shopping in any of the locations.
I have found most visitors would rather spend between half a day to whole day at Harbour Town, unless they want to visit some of the more specific discount shopping options shown on this page.
Many of the discount shopping tours are also really aimed at locals, taking them to places where you can get some more consumable or perishable items which are not as interesting to visitors.
If you want to do shopping tour, I suggest you work out where you want to visit (you can use the map to see where they are) and then take a transfer to HarbourTown or catch a taxi or public transport to the other shopping centres such as Pacific Fair, Marina Mirage or Robina Town Centre.
DREAM IT
You'll find lots of photographs, descriptions and information to help you dream up your perfect Gold Coast Holiday.
Why not start with all that the Gold Coast has to offer.
PLAN IT
After many years of planning trips with my family both locally and overseas, I've created many resources to help you through creating an itinerary and plan that will have you seeing, doing and experiencing the best the Gold Coast has to offer you.
You can do it yourself using the resources on this website by starting here.
Or you can cut some corners and get my travel planning sheets and extra resources.
BOOK IT
When you are ready to book your Gold Coast travel arrangements I've hand picked the best resources for all aspects of your travel itinerary. You can feel confident that you are accessing the best local and global travel providers for your holiday.