Gold Coast Travel Information
COVID-19 Pandemic & This Website
The COVID-19 Pandemic has had a huge impact on local Gold Coast businesses, which rely heavily on visitors from Queensland, interstate and overseas.
During this time, it is hard to keep the website fully up to date with all the changes. In the meantime here are some resources for visitors. Our main booking partners for hotels and for tours, tickets, theme parks and activities are keeping everything up to date, so please use those resources in the meantime.
Travel Information for Queensland Visitors - Queensland Tourist Safety Information - regularly updated, official website.
COVID-19 FAQ's For Activities, Tours, Cruises & Theme Park Tickets - General Ticket & Pass FAQs and COVID-19 Travel Update.
Thank you for your understanding and patience at this really difficult time.

Annie Rettie
Gold Coast Australia Travel Tips - Owner
Gold Coast Travel Information and Quick Facts
Planning to travel to Gold Coast? Need to know the facts? Here's the need to know information.

As well as the usual local information and statistics, you will find some helpful links and information to make your stay in the Gold Coast easier. There's some that is for everyone and some that is most useful to our overseas visitors.

Use the links below to quickly jump to the sections of interest. Or read through the information which I have organised in sections to make it easier.

If you are still in the process of planning your Gold Coast getaway, don't forget to check out my planning cheat sheets, tips & tools to help step you through planning out the things to do, where to stay and when to visit.

Annie Rettie
Gold Coast Australia Travel Tips - Owner
Join the conversation or just check us out...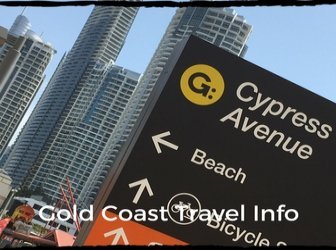 Gold Coast Travel Information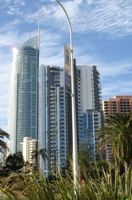 Q1 in Surfers Paradise,
Gold Coast
On this page you will find a range of local information and statistics, as well as helpful links and tips to make your stay in the Gold Coast easier.
There is also information just for visitors from overseas. It helps to answer some of the main questions about the logistics of visiting the Gold Coast and Australia.
If you cannot find the information you are looking for on this page, you might want to try a search using the search box at the top of this page to locate the information on other pages of this website.
If you still cannot find the information, you can contact me with your question, as I am sure it will be useful for other people who are looking to travel to Gold Coast. But please search first :-) Thanks,
Annie
Gold Coast Travel Information Sections
General Info for Gold Coast Travel
Gold Coast Transport & Mobility
Gold Coast Medical Information
Australian Government Information
Gold Coast Travel Quick Reference Guide
555,721 as of 2016 Census. Census data is collected every few years with next one due in 2021. Population on the Gold Coast is generally growing each year.
Gold Coast is located on:
East Coast Australia in the Southern Hemisphere
It is also refered to as part of South East Queensland, which includes Sunshine Coast, Brisbane and Gold Coast.
Latitude: 28° 0' 0 S
Longitude: 153° 25' 60 E
Useful maps include: Gold Coast and Australia
Australian Eastern Standard Time (AEST): GMT +10 hours
Queensland does NOT observe daylight savings.
Summer - December to February
Autumn - March to May
Winter - June to August
Spring - September to November
250 to 300 days of sunshine per year.
Seasons tend to merge during the cross over months.
Weather is also relative to where you are coming from. You need to consider the season, temperature and humidity of your departure point relative to Gold Coast, when planning your Gold Coast travel.
These weather considerations will help you work out what to pack for your visit.
Warmer months September through to May.
Cooler months June, July & August.
More detailed information can be found on the monthly pages and on the weather pages. In addition there are some tips about what to pack depending on the time of the year.
Average Summer Temperatures: 19° to 29° Celcius (or Centigrade) or 66° to 83° degrees Fahrenheit.
Average Winter Temperatures: 9° to 21° degrees Celcius or 48° to 69° degrees Fahrenheit.
Gold Coast Weather Information
Australian Dollar (AUD) Symbol $ or A$
$1 = 100 cents
Coins: 5c, 10c, 20c, 50c, $1, $2
Notes: $5, $10, $20, $50, $100
Currency conversion information.
Cash and Travellers Cheques (checks) can be exchanged at banks and Bureau de Change. You will be required to bring your passport for identification.
General Banking hours:
Monday to Thursday 9.00am to 4pm,
Friday 9.30am to 5.00pm
ATMs available 24 hours various locations.
Debit cards, credit cards and EFTPOS accepted at most locations.
Major credit cards accepted are Visa & Mastercard. American Express is accepted at many locations but not as widely as Visa and Mastercard. Diners Card is now not very common. Check each establishment for exact methods of payment allowed and any charges or surcharges payable.
Metric measurements:
Weights in kilograms (kg)
Volumes in litres (l)
Distances in kilometres (km)
Limited Public Phones can be found around the cities, airports and shopping areas. International dial cards are available.
Mobile/Cell: Use GSM standard.
There are 3 main networks in Australia: Telstra, Optus and Vodaphone. Any other plans you see for sale will be resellers of these networks. Each network uses slightly different frequencies, so you need to check if your phone can utilise these.
If you are visiting from Japan or USA check if your phone is CMDA-only. CMDA-only phones will not work on Australian 3G (talk and text) Mobile Networks, however they may work on the 4G (data only) Networks.
Country Code for Australia: +61
Fixed lines: 000
Mobile/Cell phones: 112
220-240V 50Hz
Australian sockets have holes for two flat angled blades and one vertical grounding blade. Plugs may have all 3 blades, or just two flat angled blades.
Universal 110V shaver sockets are usually available in bathrooms of most accommodation.
Australian Sockets look like this below. If travelling from overseas, you may be able to use a travel plug for your electrical items, unless they are 110V.

Australian Electrical Socket
If you are flying to the Gold Coast travel by air needs a bit of planning. There are two main airports that can be used, each has advantages and disadvantages.
Gold Coast Airport - Bilinga, Qld
Also known as Coolangatta Airport - domestic and limited international flights
Code: OOL
Distance to Surfers Paradise: 22.5kms
Information about transfers from Gold Coast Airport to Gold Coast accommodation.
Brisbane Domestic and International Airport
Full international airport
Code:
BNE
Distance to Surfers Paradise:
81 kms
Information about Brisbane Airport
transfers
to Gold Coast accommodation.
Many facilities, accommodation and tours have some wheelchair and disability access.
Check with the individual locations for more information.
The Gold Coast City Council has a range of information about accessibility on their website Gold Coast Accessibility Information.
There are many medical facilities around the Gold Coast including doctors, dentists, specialists, chemists, public and private hospitals.
The largest hospital with the latest facilities is the Gold Coast University Hospital found just inland of Southport, but there are other options. For more information about services in Gold Coast check out Queensland Health website.
Medical and Travel insurance are highly recommended for travel in and to Australia. Medical treatments in Australia are on a user pays basis for most overseas visitors.
Legal drinking age is 18 and over.
ID is required to prove age.
Alcohol is only sold in licensed liquor outlets (bottle shops, pubs and hotels).
Alcohol is not sold in supermarkets.
Smoking is not permitted in indoor public places and in many outdoor public spaces. There are buffer zones outside buildings, so you cannot stand in the doorway and smoke. You cannot smoke in restaurants and there may be designated smoking areas where you can smoke.
There are even restrictions on smoking in cars for example it is prohibited where there are persons under 16 years in the car.
Cigarettes, and other tobacco products are restricted for sale. You must be 18 years old and over to purchase.
E-cigarettes (also known as personal vapourisers) are generally treated with the same rules as cigarette smoking.
Australia Post is the postal service carrier.
Australia Post shops can be found in most major centres. Stamps and pre-paid postage bags and envelopes may be found in licensed outlets.
Red post boxes are for general post, whilst the yellow post boxes are for the Express Post and Premium services as indicated on the boxes.
Australia Post outlets are generally open 9am to 5pm Monday to Friday with some open 9am to 12pm Saturdays.
Australia is multicultural and there are many religions represented.
Temples, mosques, synagogues, prayer rooms and Christian churches can be found across the Gold Coast.
Some restaurants and attraction venues also cater for dietary requirements including halal and kosher.
Some restaurants in the key tourist areas add halal menus during the months of July and August.
Tipping is not compulsory, but to some extent is expected within the Gold Coast travel industry and in Australia in general.
However, if you get good service then tipping 10 to 15% of the bill would be appropriate.
Obviously, if you are in a self serve establishment without table service, then tipping is not usual.
I once heard TIP described as : To Insure Perfection!
If you are looking for a great service, why not try tipping beforehand and letting them know what your expectations are!
It's not a guarantee, but the theory is they will be wondering what you might give them afterwards and so will bend over backwards to give them what you want!
Most restaurants charge a surcharge on Public holidays - this will be noted on the menu and often on the counter near the cash register.
Every traveller to Australia except (Australian and New Zealand Citizens with passports) require some kind of Australian travel visa.
Certain visitors are eligible for Electronic Visas or ETA's.
More information about Australian Visas
Australia has limits on imports and exports of certain items. Please check the Australian Customs website for more detailed information.
Some general areas to consider are:
Customs declarations need to be made on entry to and exit of Australia.
Quarantine declarations are also made at point of entry.
If travelling from a Yellow Fever infected zone such as Africa or South America you may be required to have had vaccinations. Check this information.
Some heritage items may be protected against export so check before you buy.
There are duty-free limits on imports.
Permits are required for commercial goods.
Medications - make sure you bring a letter or prescription from your doctor and declare through customs.
Foods including anything you are bringing in for your children or babies (infant formula etc) will need to be declared and may not be allowed in. Make sure you have a back up plan in case, but check the website below for more details.
Official Australian Border information including what you can bring in and any procedures.
There is a Goods and Services Tax (GST) of 10% payable on most goods and services. Travellers from overseas may be eligbile for a GST refund on goods purchased during their visit on departure through customs.
DREAM IT
You'll find lots of photographs, descriptions and information to help you dream up your perfect Gold Coast Holiday.
Why not start with all that the Gold Coast has to offer.
PLAN IT
After many years of planning trips with my family both locally and overseas, I've created many resources to help you through creating an itinerary and plan that will have you seeing, doing and experiencing the best the Gold Coast has to offer you.
You can do it yourself using the resources on this website by starting here.
Or you can cut some corners and get my travel planning sheets and extra resources.
BOOK IT
When you are ready to book your Gold Coast travel arrangements I've hand picked the best resources for all aspects of your travel itinerary. You can feel confident that you are accessing the best local and global travel providers for your holiday.