Brisbane Airport Transfers
COVID-19 Pandemic & This Website
The COVID-19 Pandemic has had a huge impact on local Gold Coast businesses, which rely heavily on visitors from Queensland, interstate and overseas.
During this time, it is hard to keep the website fully up to date with all the changes. In the meantime here are some resources for visitors. Our main booking partners for hotels and for tours, tickets, theme parks and activities are keeping everything up to date, so please use those resources in the meantime.
Travel Information for Queensland Visitors - Queensland Tourist Safety Information - regularly updated, official website.
COVID-19 FAQ's For Activities, Tours, Cruises & Theme Park Tickets - General Ticket & Pass FAQs and COVID-19 Travel Update.
Thank you for your understanding and patience at this really difficult time.

Annie Rettie
Gold Coast Australia Travel Tips - Owner
Brisbane Airport Transfers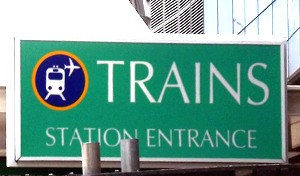 Train from Brisbane Airport
to Gold Coast.
Most people are surprised by the distance between Brisbane Airport and Gold Coast. It's nearly 90kms (about 55 miles) from the airport in Brisbane to Surfers Paradise on the Gold Coast.
What it means is that you really need to work out ahead of time how you are going to get from Brisbane to the Gold Coast when you arrive and from the Gold Coast to Brisbane Airport when you leave!
Sometimes flying into Brisbane Airport is the only option (mostly for overseas visitors) but it can also be a more convenient or cheaper option from other Australian cities.
It takes just over an hour (about 65 minutes) by car or bus to get to Surfers Paradise if you get a good run with the traffic. Depending on the time of day, accidents along the way and general traffic you should allow more time when going to the airport.
AirTrain from Brisbane to Gold Coast accommodation takes at least 2 hours, as you have to get from the station to your accommodation.
Can I Take a Taxi From Brisbane Airport To Gold Coast?
Taking a taxi isn't really an economic option from Brisbane Airport to the Gold Coast - but I am sure you will find a taxi driver who will be happy to drive you - just make sure you agree the fare before you get in the cab.
Why would I want to use a transfer? Transfers are great if you are:
tired or jet lagged
relaxed and ready to start your holiday
don't want to drive
plan to start your holiday on the plane with a drink or two!
Sit back, relax and enjoy watching someone else battle with the traffic and directions!
Brisbane Airport Transfers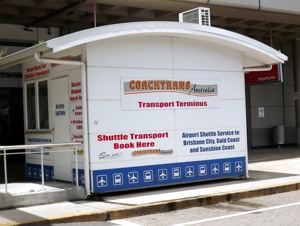 Brisbane Airport Shuttle Bus
Kiosk outside terminal
Transfers from Brisbane Airport cater for budget to luxury, all you need to do is decide, book, arrive and relax!
There are many different ways to get from Brisbane Airport to Gold Coast accommodation (or Brisbane City).
From shuttle buses to limos or even helicopters, there are certainly plenty of options.
I have tried to narrow it down a bit to a couple of the most popular options...
Brisbane Airport Transfers By Shuttle Bus
Shuttle buses from Brisbane Airport to Gold Coast have pick ups from both international and domestic terminals.
The Brisbane Airport to Gold Coast hotels and accommodation transfer service is reasonably priced and has a family option. They cover transfers to Gold Coast accommodations in Main Beach, Surfers Paradise, Broadbeach, Mermaid Beach, Nobbys Beach, Miami and Burleigh Heads.
Book Brisbane Airport to Gold Coast Accommodation Transfers
If you use a Brisbane Airport shuttle transfer you may also be interested in attraction transfers and getting around the Gold Coast using the local bus service.
Another shuttle bus option to and from Brisbane Airport is with Con-X-ion who offer transfers to most areas of the the Gold Coast. Prices depend upon destination in the Gold Coast. Discounts for children, pensioners and a family ticket. Also they offer a Roo Pass which can be a cost effective way of wrapping up your Gold Coast theme park, attractions, shopping and airport transfers.
Buying tickets online should be cheaper. You can then relax as it is all organised!
Return to top Brisbane Airport Transfers
AirTrain From Brisbane Airport To City To Gold Coast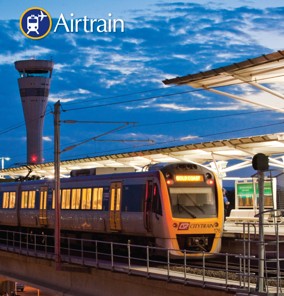 Airtrain is a private train that goes from Brisbane Airport through the city of Brisbane and then down to the Gold Coast.
Airtrain usually takes about 20 minutes to the city and about 90 minutes to the Gold Coast stations. #
During the busiest times of the day there are usually trains about every 15 minutes.
At other times they may only run every half hour, so you may have to sit around and wait for a train.
The main times the trains run are as follows:
Gold Coast Stations To Brisbane Airport between 4.30am and 7.45pm Monday to Friday and 5.45am to 7.45pm Saturdays and Sundays*
Brisbane Airport to Gold Coast Stations from just before 6.00am to around 10pm everyday* (hours were extended in late 2011)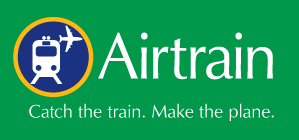 * Please note these are approximate times, please check the timetables.
# - Airtrain says it takes 90 minutes, but you need to leave plenty of time for catching planes because that is the train time and does not include the time to get to and from the station in the Gold Coast. These trains get extremely busy during peak weekday commuter times to and from the Gold Coast and you may have to stand for trip.
Based on these times, it may not be an option for you depending upon your flight arrival and departure times, unless you like hanging out at the airport!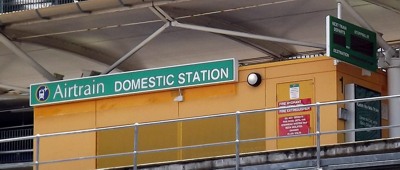 Domestic Terminal Station of the Airtrain at Brisbane Airport
Airtrain stops at Coomera, Helensvale, Nerang, Robina and Varsity Lakes stations on the Gold Coast.
All of these locations are inland from the main tourist accommodation areas.
Using the Airtrain Connect service gives visitors a great option for travel from the airport, chauffeured pick up service is available to take you to your hotel.
You'll need to check which suburbs are serviced, but it is quite a big list.
Alternatively, buses connect the train stations to Surfers Paradise, Southport, Broadbeach and Coolangatta - Guide to station for Gold Coast travel destinations.
A bit of research is necessary to work out the best stop for where you are going if you are going to travel just on the train, or if you want to use Airtrain Connect you will need to book before you travel and be met at the station!
Return to top Brisbane Airport Transfers
Car Hire at Brisbane Airport
You can rent a car from Brisbane Airport and drive yourself to the Gold Coast.
If you do I highly recommend you book before you arrive to make sure you have a car available especially at peak times.
Driving to the Gold Coast from Brisbane Airport will take between 1 to 1½ hours, depending upon where in the Gold Coast you are staying, the traffic and the time of day.
It is a reasonably easy drive and is mostly by motorway (3 lane highway). Signposted to the Gold Coast via the M1 from the airport. If you are concerned about getting lost, I highly recommend including a GPS in your car hire - well worth the peace of mind!
On the journey to and from Brisbane Airport to the Gold Coast, there is a toll point on the Gateway Motorway on the southside of the Sir Leo Hielscher Bridges (formerly Gateway Bridge and its new twin).
You will need to organise a pre-paid eToll pass if you hire a car. You can do this through the GoVia website who operate the Queensland Road toll network. If you don't do this, you will get a fine from the toll operator and a huge handling fee from the hire car company! So it is worth organising this before you arrive.
Other considerations when hiring a car from Brisbane Airport on arrival are:
airport surcharge levied on cars hired at the airports
reconsider driving yourself if you are tired, jet-lagged or likely to have had any alcohol before driving
be prepared for different driving rules and conditions, especially if you are not used to driving on the left-hand side of the road in a right-hand drive car
don't forget to either book a GPS or make sure they give you a street directory covering both Gold Coast and Brisbane!
In Australia there is random breath testing for drink driving. Long distance flights can play havoc with your system. I highly recommend you get someone else to do the driving when you arrive - and whenever else you think you might like to enjoy some of the great local wines and beers!
Return to top Brisbane Airport Transfers
Limousine Transfers
Limousines are the ultimate Brisbane Airport meet and greet service!
Gold Coast Limousines or United Limousines are two options for Brisbane Airport transfer to your Gold Coast accommodation.
Return to top Brisbane Airport Transfers
Brisbane Airport Transfers By Chauffeur Driven Cars
Chauffeur driven people mover or luxury sedans are another Brisbane Airport meet and greet option. After a long trip, the extra speed and comfort of a direct transfer to your accommodation can be quite welcome! Business Class Tours and Transfers (BCT) are a reputable and reliable company with well kept vehicles.
BCT have two offerings for transfers between Brisbane Airport and Gold Coast. The main one is a personalised door to door service to or from Brisbane Airport and Gold Coast accommodation. This one is great for families and is quite cost effective as the price is not per person but for the whole transfer of up to 6 people.
If you are travelling by yourself or with one other person then the BCT Express Shuttle to Brisbane Airport from Gold Coast accommodation will save you on the exclusive service but you will have to share with up to one other pick up location.
BCT have the option to carry sporting equipment on roof racks or in a trailer. They offer a great service and are very helpful.
Return to top Brisbane Airport Transfers
Helicopter Transfers from Brisbane Airport To Gold Coast
Helicopter transfers from Brisbane Airport to the Gold Coast are the ultimate, fast, luxury transfer!
Gold Coast HeliTours offer a corporate and luxury service from both Gold Coast and Brisbane Airports. They are experienced in getting you to where you need to be fast and in luxury! This is just about as door to door transfer as you can get!
Custom Search