Broadbeach Gold Coast Queensland
COVID-19 Pandemic & This Website
The COVID-19 Pandemic has had a huge impact on local Gold Coast businesses, which rely heavily on visitors from Queensland, interstate and overseas.
During this time, it is hard to keep the website fully up to date with all the changes. In the meantime here are some resources for visitors. Our main booking partners for hotels and for tours, tickets, theme parks and activities are keeping everything up to date, so please use those resources in the meantime.
Travel Information for Queensland Visitors - Queensland Tourist Safety Information - regularly updated, official website.
COVID-19 FAQ's For Activities, Tours, Cruises & Theme Park Tickets - General Ticket & Pass FAQs and COVID-19 Travel Update.
Thank you for your understanding and patience at this really difficult time.

Annie Rettie
Gold Coast Australia Travel Tips - Owner
Broadbeach The Quieter Alternative to Surfers Paradise!
Broadbeach (known to locals as Broady!) has a feel all of it's own and the restaurants rock!
It seems quieter and more upmarket than Surfers Paradise. Don't get me wrong, there's still loads going on, it just appears more subtle and much less in your face!
Well, that is except for eating!
The restaurants are everywhere and there are definitely some excellent award winning choices.
The beach is just as great as Surfers Paradise. Kurrawa Surf Life Saving Club right by the beach has a bistro that overlooks the ocean - serves great food, is not expensive and proceeds go to help support the surf life savers.
Aerial view of Broady north
towards Surfers Paradise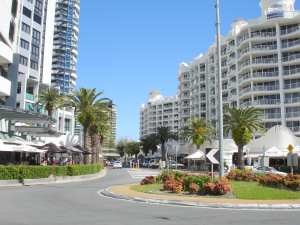 Restaurants on Surf Parade
close in to main zone of Broadbeach
The new Exhibition Centre draws visitors and locals alike to many exhibitions, conferences and trade fairs. Whilst, Jupiters Casino (now known as The Star Gold Coast) offers entertainment, restaurants, hotel and shows and round off your stay with a visit to Pacific Fair a massive shopping centre with both indoor and outdoor shopping.
One of the downsides of all the restaurants is the noise of the garbage trucks picking up the restaurant bins at 3.00am! So I recommend you pick accommodation away from the restaurants if you are a light sleeper!
Broadbeach is a great choice for those wanting to be close to the attractions of Surfers Paradise, without having to stay right in the middle of it. It is a particularly good choice for older couples and families with children and teenagers.
It is still easy to get around the area, and travel times to Gold Coast theme parks are not too much different than Surfers Paradise.
Attractions
Kurrawa Beach – patrolled every day all year round from 8.00am to 5.00pm.
Kurrawa SLSC great for good value meals and great views and is directly across from the Oasis Centre.
Broadbeach Beach – patrolled every day from September to April each year from 8.00am to 5.00pm.
Pacific Fair – Shopping, cinemas and entertainment.
Draculas Dinner & Show - a nightly dinner and show. Adult themes - shows change from time to time and include names like 'Fangs and Fetish' and 'RedRum Cabaret' and 'Transfusion'! So you decide! Current Show: Dracula's Cabaret on the Gold Coast Tickets: Dracula's Caberet Dinner and Show buy online now.
The Star Gold Coast (previously known as Jupiters Hotel and Casino and before that Conrad Jupiters) - includes hotel, restaurants, bars, and casino including table games and gaming machines. It is a venue for visiting entertainment acts and during the year they run dinner theatre shows that have included Mamma Mia, Joe Labero, STOMP and Hale and Pace. Dinner and show packages are best booked in advance.
Gold Coast Convention and Entertainment Centre - Many trade shows, exhibitions and conventions are run here. Most convention visitors like to stay close to this venue. Plus the Gold Coast Blaze basketball team play their home games at the Entertainment Centre.
Broadbeach Mall and Oasis Shopping Centre – Food and Shopping in a Mall environment.
Broadbeach Art & Craft Market is a great, fun market run on the 1st and 3rd Sunday of each month. More information about this Art and Craft Market.
Broadbeach Lantern Market is held in the mall every Friday night from September to May. More information about this Lantern Market.
Monorail - this is a bit of an oddity as it only goes between the Casino and Sofitel Hotel at the end of the mall - you can easily walk the distance - but hey it is something to do and the kids always love it... plus if you are carrying lots of shopping perhaps you don't want to walk 100m!
Accommodation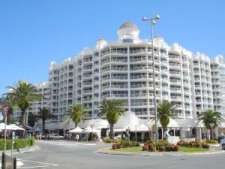 Phoenician Resort at Broadbeach
with restaurants below
Like Surfers Paradise, there are many options for accommodation in Broady.
Unlike Surfers Paradise, you can find absolute beachfront apartments and accommodations.
There are a range of hotels, motels, apartments, resorts and holiday homes for rental.
When choosing a place to stay in Broadbeach, you need to check location as some (particularly the cheaper motels and some resorts) are right on the VERY busy Gold Coast Highway.
Check out a range of Broadbeach Accommodation or scroll down for a selection below.
Hotels
The Star Gold Coast (formerly Jupiters Hotel and Casino)
The Star Gold Coast - If you want to stay in a hotel in Broadbeach this is a good choice particularly if you enjoy the 5 star feel! Formerly known as Conrad Jupiters & Jupiters Hotel & Casino.
The hotel has a range of bars, restaurants and entertainment areas as well as all the comforts you would expect in a 5* hotel.
Check out deals and options for The Star Gold Coast (Jupiters Hotel)
---
Sofitel Gold Coast
Sofitel Gold Coast is part of the Accor group and is a very modern and comfortable 5 star hotel, conveniently situated near the Oasis Centre.
It has a pool, spa and tennis court and is linked to Jupiters Casino by the monorail. It is a short stroll down the Mall to the beach and Kurrawa Surf Life Saving Club. The fabulous local Broadbeach restaurants are all within easy walking distance and so is Pacific Fair Shopping Centre and the Gold Coast Convention Centre.
Compare deals for Sofitel Gold Coast
Apartments & Resorts
Mantra Broadbeach on The Park
Mantra Broadbeach on The Park is located on the beach side of the Gold Coast Highway. It is very convenient for local restaurants, mall, The Star Gold Coast (Jupiters) and the Gold Coast Convention and Exhibition Centre.
1, 2 and 3 bedroom apartments all with airconditioning, balconies, in-room spas and lots of other facilities. 2 and 3 bedroom apartments have 2 bathrooms. Some have Ocean views.
Resort facilities include heated pool including a 25m lap pool, fully equipped gym, sauna, spa, steam room and BBQ facilties.
These apartments also boast some great restaurants underneath including Moo Moo Wine Bar and Grill, Lauxes VIP Champagne Salon and Biscotti Italian Cuisine & Martini Bar.
This resort also has undercover parking which adds to its convenient position.
Find out more about this Mantra Accommodation.
---
Breakfree Diamond Beach Resort
Diamond Beach Resort is also known as Breakfree Diamond Beach as it is managed by the Breakfree group. Resort apartment style accomodation is rated by some as 4 star with options for 1, 2 and 3 bedroom apartments.
The drawcards for this resort include the tropical gardens, freeform pools one of which is heated, one heated spa and another unheated spa, shaded BBQ area, childrens playgrounds, cascades and waterfalls and a kids pool.
It is located in a quiet street between the Gold Coast Highway and the beach.
Click Here for more information about Diamond Beach Resort.
---
Carmel by the Sea Apartments
Carmel by the Sea - 4½ star 2, 3 and sub-penthouse apartments in well located building. All master bedrooms have spa in the bathroom. Both indoor and outdoor heated pool and spa. Sauna, gym, steam room and tennis court.
Each apartment has either ocean or hinterland views from the balcony and they are modern and fresh in appearance.
Downside is there is no restaurant on-site - but given you are in Broadbeach I think you can forgive that one!
A good friend of mine Carol, always books her visitors here as it is away from the noisy restaurant precinct but still close to all the action and very comfortable!
---
South Pacific Plaza Resort
South Pacific Plaza Resort - right on the Mall a 4 star apartment resort. 1 and 2 bedroom apartments for up 5 people.
Resort facilities include heated pool, spa, sauna and tennis courts as well as BBQ facilties.

Check that the apartment you book has airconditioning as they don't all have it!
Golf Information
No golf courses in Broadbeach itself. Many courses are within 20 to 25 minutes drive, but the luxury courses further away are worth driving to!
Name

Suburb

Travel time

Extra Info

Luxury Golf Courses

Lakelands Golf Course

Merrimac
15 mins
Usually available for bookings at selected times Monday to Friday only.

Palm Meadows Golf Course

Carrara
15 mins
At Raddisson Resort

Royal Pines Resort

Carrara
20 mins
At Crowne Plaza Royal Pines Resort

The Colonial

Robina
20 mins

The Villa

Nerang
25 mins
Only takes groups - minimum 12 maximum 32. Can play at night under lights.

Hope Island Resort Golf Course

Hope Island
35 mins
At Hope Island Resort - the only links course in the Gold Coast.

The Grand Golf Club

Gilston
35 mins
Very Exclusive - you'll have to know someone to get in here!

Sanctuary Cove Golf Resort

Sanctuary Cove
45 mins
Two courses - The Palms and The Pines

General Golf Courses

Gold Coast Burleigh Golf Club
Miami
10 mins
Surfers Paradise Golf Club
Clear Island Waters
10 mins

Emerald Lakes Golf Club

Carrara
15 mins
9 holes under lights to 9.30pm each night.

Southport Golf Club

Bundall
15 mins
Robina Woods Golf Course
Robina
20 mins
The Glades
Robina
20 mins
Greg Norman designed course

Parkwood International Golf Club

Parkwood
25 mins

9 Hole Courses

Merrimac Golf Course

Merrimac
15 mins
This isn't a very exciting course - but is very affordable!
Beach Information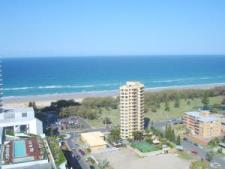 Kurrawa Beach at Broadbeach taken from Sofitel
Broadbeach has direct ocean beach frontage. It is a continuation of the beach from Surfers Paradise. The beach in this part of the Gold Coast is just as magnificent as in Surfers!
The beach is cleaned every day and is a pleasure to visit winter or summer.
Beaches that are patrolled every day of the year from 8.00am to 5.00pm unless they are closed are:
In addition Australia Avenue is patrolled weekends from September to April only and Margaret Avenue which is near Pacific Fair is patrolled every day from September to April.
Make sure you are aware of the beach and surf conditions and only swim between the flags - I cannot stress this enough!
Travel Times
Approximate travel times by motor vehicle - please note travel times can be affected by many factors including traffic hazards and roadworks. These are just an indication.
Directions for Car Travel
For directions and other information I recommend you use Google Maps Australia. On this website there are several google maps including a map of Surfers which you can click on to get directions which will also give you an idea of travel times for driving.
Custom Search