Surfers Paradise Attractions
COVID-19 Pandemic & This Website
The COVID-19 Pandemic has had a huge impact on local Gold Coast businesses, which rely heavily on visitors from Queensland, interstate and overseas.
During this time, it is hard to keep the website fully up to date with all the changes. In the meantime here are some resources for visitors. Our main booking partners for hotels and for tours, tickets, theme parks and activities are keeping everything up to date, so please use those resources in the meantime.
Travel Information for Queensland Visitors - Queensland Tourist Safety Information - regularly updated, official website.
COVID-19 FAQ's For Activities, Tours, Cruises & Theme Park Tickets - General Ticket & Pass FAQs and COVID-19 Travel Update.
Thank you for your understanding and patience at this really difficult time.

Annie Rettie
Gold Coast Australia Travel Tips - Owner
How Many Surfers Paradise Attractions Will You See or Do These Holidays?
| | |
| --- | --- |
| | This is the Mini Golf course at Adrenalin Park in Surfers Paradise. Adrenalin Park has many attractions including the bungee and vomatron! Don't worry, you aren't under any of the other attractions when playing mini golf, just watch the way the wind is blowing! Only kidding! |
How many attractions in Surfers Paradise?
That is hard to answer! It's also a moving target. There always seems to be something new popping up as Surfers is being rejuvenated. There are many different kinds of attractions in Surfers for example Surfers Paradise beach and beach life and Surfers Paradise indoor attractions are good in wet weather or really hot days.
The list of Surfers Paradise activities and attractions is long. Are you ready? I won't apologise for this list, I can't see a way around letting you know what there is here! But I have culled as much of the rubbish as I can without making it seem I'm a party pooper!
Surfers Paradise Attractions
By Name
Surfers Paradise Attractions
Here are a couple of suggestions for attractions that appeal to different kinds of visitors and their different needs.
Cafes and Shopping Areas
Budds Beach
Something completely different from the hustle and bustle of Surfers. An oasis of tranquility!
---
Cavill Mall
Extends from the famous Surfers is Paradise sign which heads down to the beach right up to Circle on Cavill which is the brand new entertainment area in Surfers. Shops, restaurants and entertainment to be found all around Cavill Mall and the surrounding area.
---
Chevron Island
Walk across the bridge by Chevron Renaissance to find some great cafés and restaurants in the main shopping strip.
---
Chevron Renaissance
The Towers of Chevron Renaissance have apartments both residential and for holiday rent. Underneath there is a shopping area that includes supermarket, restaurants, cafés, spa and bathhouse and Infinity.
---
Circle on Cavill
Entertainment zone with Strike Bowling Bar, Minus 5 Ice Bar, restaurants and cafés and a huge entertainment screen.Circle on Cavill is managed by Mantra and has serviced apartments great for holidaying right in the heart of the revitalized zone of Surfers.
---
Surfers Paradise Beachfront Markets
The markets are held every Wednesday, Friday & Sunday nights. They are held year round, but may be cancelled if the weather is too windy or wet. Times of opening are variable, depending on the time of the year. Check here for more details. There are many different types of arts and crafts on show. You may find some souvenirs to take home with you here. Entry is free, but you'll probably need cash to buy things!
Return to menu Surfers Paradise Attractions
Day Spas




Paradise Day Spa and Bathhouse
Pampering in the heart of Surfers. Mix of ancient traditional and modern techniques. Quite surprising facilities tucked away under Chevron Renaissance.

---

Q1 Resort and Day Spa
Q1 is the stunning, contemporary building that towers over the other high rises in Surfers. Q1 Resort and Day Spa means you can stay in this amazing building and be right in the heart of everything.
Great Views
Q1 Observation Deck
The first time I went up in the the elevator to the Q1 Observation Deck I was awestruck by the view. The 360 degree view on a clear day or night is nothing short of spectacular. This is probably my favourite of all Surfers Paradise attractions, particularly on a clear day.
Whilst up there you can enjoy coffee and cake, or a drink from the bar in the Skybar. If you are looking for a venue for a special occassion, wedding or a party they do private functions here. Now that would be a memorable location for a party or function.
Don't forget your binoculars and camera! More information about SkyPoint Observation Deck (formerly QDeck) including opening information, latest deals and how to combine and save $s.
Return to menu Surfers Paradise Attractions
Fun Tourist Attractions In Surfers Paradise
Wheel of Surfers Paradise (No Longer In Surfers Paradise)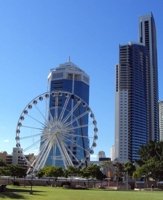 Opened in September 2010 and closed in August 2013. This wheel used to be at Sea World and moved to Surfers Paradise in 2010. I've left the information here, so that anyone who was looking for it, knows it is no longer in Surfers Paradise.
You used to enjoy the air-conditioned gondolas wtih views up and down the coast, to the beach, the sea and across the western parts of the Gold Coast and it's amazing hinterland.
There were two options to ride the wheel. Standard, in a regular gondola or else pay extra for the VIP Gondola experience.

---
Adrenalin Park
Located just north of Surfers Paradise Holiday Inn between Gold Coast Hwy and Surfers Paradise Boulevard. Includes Bungee Rocket, the aptly named Vomatron, Slingshot, Flycoaster and Bungee trampolines which sound positively tempting!

As bizarre as it sounds there is also Mini Golf right next door! With all that adrenalin rushing around, it seems like you've been there for no time at all!

Adrenalin Park ride.
I get dizzy just watching this!
---



Australian Shooting Gallery
Located in Centro Surfers Paradise on Cavill Mall. Right across from Timezone. An opportunity for some gun play any style you want. Western. Dirty Harry! You name it!

They even have a Big Boy Toys special with 3 different types of firearms! It's actually not my thing, but I have to mention it!

Get ready to quack like a duck if you go on an Aquaduck Safari!
---
Dracula's Haunted House
This is run by the same group who do the Dracula's Theatre in Broadbeach. A scary house of horrors in the centre of Surfers, opposite Chevron Renaissance. You can buy lots of scary souvenirs here too!
Probably, not the best for younger children!
Return to menu Surfers Paradise Attractions
---



Infinity
Infinity is at Chevron Renaissance on Surfers Paradise Boulevard. It is an attraction where you walk through a set of rooms with lots of things to test your senses!

Remember once you leave a room you cannot go back, so don't rush this, take it all in.

If you pace yourself should take about half an hour to 40 minutes!

More information about Infinity Gold Coast including latest deals and specials

Infinity Gold Coast is one of the popular Surfers Paradise attractions.
---
King Tutt's Putt Putt
King Tutt's is Cnr of Surfers Paradise Blv & Pandanus Ave. This is popular with my family! We love Putt Putt or mini golf.
3 themed 18 hole mini-golf courses. Outdoors African Jungle, indoors Ancient Egypt and Jurassic Dinosaurs!
---



Minus 5 Lounge and Bar
Minus 5 Lounge and ice bar was quite a unique attraction at Circle on Cavill, unfortunately it has now closed.

You used to go in for 30 minute sessions inside the ice bar wearing a parka and drinking cocktails or mocktails (non-alcoholic) out of ice glasses. Sad to see it gone.

Minus 5 Ice Lounge and Bar.
---



Old Time Photos
Located in Centro on Cavill Mall. It's one of those places where you can get dressed up in costumes and have your photo taken in the theme.

They specialise in those olde worlde photos.

Return to menu Surfers Paradise Attractions

Have your photo taken in Old Time Photos.
---



Strike Bowling Bar
Enter from the mall at Circle on Cavill. The bowling alley is downstairs.

By day a bowling alley suitable for families, by night a vibrant bar and entertainment zone.

Great ten pin bowling alley under Circle on Cavill.

Strike Bowling Bar in Circle on Cavill.
---



Surfers Ten Pin Bowling
Surfers Ten Pin Bowling is in Centro Surfers Paradise on Cavill Mall.

Family friendly bowling alley with automatic bumper lanes for the little kids.

Surfers Paradise Tenpin Bowling Alleys at Centro
---



Timezone
Located in Centro Surfers Paradise on Cavill Mall. This is a huge games arcade including dodgem cars and laser skirmish. It is a massive area of full on fun!

Positively something for everyone here, even some mini-golf for enthusiasts!

I defy you to stay in Timezone for only an hour!

Playing games at Timezone Surfers Paradise
---
Wax Museum
The Surfers Paradise Wax Museum is on Gold Coast Hwy, near the Chevron Island Bridge.
It is a museum of wax figures! Famous people one the one side and the Dungeon full of horrors on the other. Perhaps, not the best for the little kids! What more can be said!
More information about Surfers Paradise Wax Museum including latest deals and specials
Return to menu Surfers Paradise Attractions
Surfers Paradise Things To Do On Water



Aquaduck Safaris, Adventure Duck
Take your pick! How silly do you want to feel? Whatever the name you'll quack like a duck on these tours. No, honestly, you will!

These are the silliest looking tour boats you've ever seen, but the kids love them! It takes about an hour all up. Pick up from various locations and hotels around Surfers Paradise.

More information about Aqua Duck Cruises in Surfers Paradise including latest deals and specials

Get ready to quack like a duck if you go on an Aquaduck Safari!
---
Jet Boat Extreme
Extreme jet boating tours leave from the jetty behind Appel Park on Ferny Avenue. Experience jet boating in the calm of the broadwater - you probably won't feel calm afterwards!
More information about Jet Boat Extreme including latest deals and specials
---
Mirage Boat Hire
Hire a boat and check out the local attractions by water or go fishing.
---
Whales in Paradise
Tour boat departs from behind Titanium Bar on Ferny Avenue and takes whale watchers out to see the humpback whales during whale watching season from June to November each year.
More information about Whales in Paradise.
Return to menu Surfers Paradise Attractions
Nightlife in Surfers Paradise
The Nightlife
There certainly are plenty of bars and adult entertainment. You can even go on an organised tour! If it is your thing, you will no doubt find what you are looking for and you won't have to look too hard in the heart of party central!
Cavill Ave and Orchid Ave are the main areas you will find the bars and clubs. There are a couple of irish bars too. QBar is a popular nighttime venue.
On Friday nights there are the beachside markets, and Adrenalin Park seems to come alive. Dinner and night cruises are go from the wharf at the far end of Cavill Avenue.
Return to menu Surfers Paradise Attractions
Custom Search