Budds Beach Gold Coast
COVID-19 Pandemic & This Website
The COVID-19 Pandemic has had a huge impact on local Gold Coast businesses, which rely heavily on visitors from Queensland, interstate and overseas.
During this time, it is hard to keep the website fully up to date with all the changes. In the meantime here are some resources for visitors. Our main booking partners for hotels and for tours, tickets, theme parks and activities are keeping everything up to date, so please use those resources in the meantime.
Travel Information for Queensland Visitors - Queensland Tourist Safety Information - regularly updated, official website.
COVID-19 FAQ's For Activities, Tours, Cruises & Theme Park Tickets - General Ticket & Pass FAQs and COVID-19 Travel Update.
Thank you for your understanding and patience at this really difficult time.

Annie Rettie
Gold Coast Australia Travel Tips - Owner
Budds Beach Guide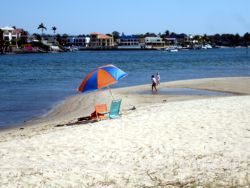 The beach at Budds on a sunny Spring afternoon.
Budds is an oasis of tranquility in the midst of Surfers Paradise!

It's a secret, and perhaps I shouldn't be telling you about it!

Nestled on the Nerang River, Budds is one of those places that many visitors to the Gold Coast never see.

Budds Beach isn't a suburb, rather a corner of Surfers Paradise. There isn't much to it except the beach, Bumbles Cafe, SuGa SuGa and the fabulous Trilogy apartments. Well there is a bit more, but that's strictly for us locals!

Funnily enough, for me, it is that simplicity in the midst of the Gold Coast that makes this spot so appealing.

Budds is less than 5 minutes walk to the centre and hubbub of Surfers Paradise, yet you would think you were miles away.
Budds is one of those places where you feel like time is standing still. I love to come down here on a sunny day to sit and watch a little of the world go by.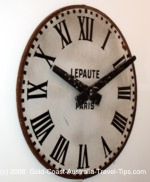 At Budds time seems to
stand still
It's a peaceful and reflective environment, yet there are kids playing on the beach, boats going up and down the river and people going about their lives in the houses on the other side of the river on Chevron Island.
Bumbles is always a hive of activity - perhaps that's where the name came from!
Bumbles Cafe is a place to meet friends, enjoy great coffee, their amazing cake or lunch.
Bumbles is deceptively spacious inside and there are tables on the pavement.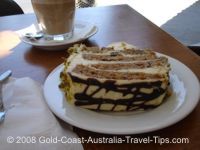 Amazing carrot cake at Bumbles
Don't forget to visit SuGa SuGa next door for some interesting homewares from Australia and around the world. Pick up something very special here.
Make sure you visit Budds Beach when you are in Surfers Paradise and then let me know what you think.
Or you could stay in this generally quiet, and out of the way area of Surfers Paradise. Check out the options for places to stay below.
Budds is very convenient for the Gold Coast Indy/600 Motor event in October - though admittedly it isn't so quiet during GC600/Indy week - but then nowhere in Surfers or Main Beach is!
Where to Stay
The place to stay in Budds Beach is Trilogy. Trilogy consists of three ultra modern towers of apartments from 1 to 3 bedrooms, set around tropical gardens and a heated swimming pool.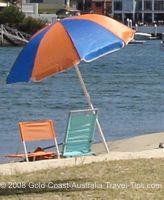 Budds lifestyle is relaxed
If you are on a tight budget you could try Budds Beach Apartments a 3½ star complex with thirty 1 bedroom apartments for rent. Airconditioning is an optional extra. These apartments are an economic option for singles and couples.
Budds Beach lifestyle is relaxed and enjoyable. I enjoy taking photos around the area trying to capture this atmosphere. I have put some of these photos on a separate page.
Some of these photos are quite large so you can get a real feel for the area I hope you enjoy them.
As Budds is really a part of Surfers Paradise, check out my page on Surfers for more information about the area in general.
Custom Search
Return to Surfers Paradise Guide or Gold Coast Australia Home