Budds Beach Photos
COVID-19 Pandemic & This Website
The COVID-19 Pandemic has had a huge impact on local Gold Coast businesses, which rely heavily on visitors from Queensland, interstate and overseas.
During this time, it is hard to keep the website fully up to date with all the changes. In the meantime here are some resources for visitors. Our main booking partners for hotels and for tours, tickets, theme parks and activities are keeping everything up to date, so please use those resources in the meantime.
Travel Information for Queensland Visitors - Queensland Tourist Safety Information - regularly updated, official website.
COVID-19 FAQ's For Activities, Tours, Cruises & Theme Park Tickets - General Ticket & Pass FAQs and COVID-19 Travel Update.
Thank you for your understanding and patience at this really difficult time.

Annie Rettie
Gold Coast Australia Travel Tips - Owner
Collection of Budds Beach Photos
Please note this page may load slowly because I have tried to keep the photos taken at Budds Beach as large as possible for your enjoyment.
Budds Beach is a part of Surfers Paradise that for me is very photogenic! I love popping down on a sunny day and snapping this tranquil spot.
Here are some of the photos I have taken at Budds Beach. I also cannot go past a coffee and cake at Bumbles Cafe and a quick look at what SuGa SuGa has to offer!
I've put them right at the bottom of the page, but I also seem to get a creative urge whenever I am taking Budds Beach photos.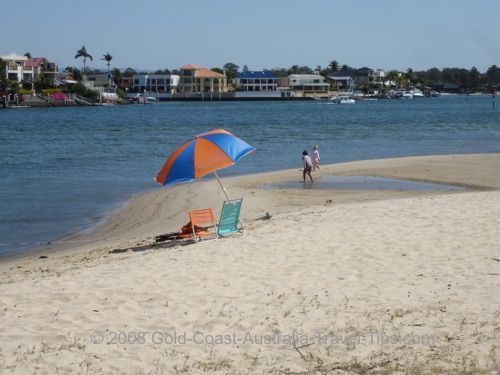 I call this shot
Budds beach umbrella
. This photo looks like I set it up - I didn't!
We arrived to have a coffee one day to find this kindly
set up for us!
This picture really says it all about the relaxed atmosphere on this beach.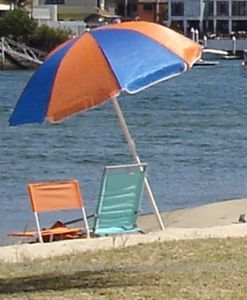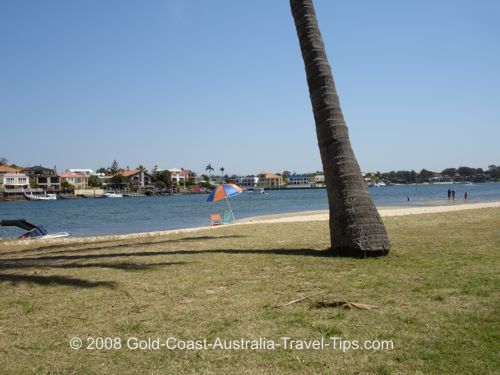 Don't worry if you forget your beach umbrella...
This shot is to show you that there are palm trees at Budds that you can use for shade.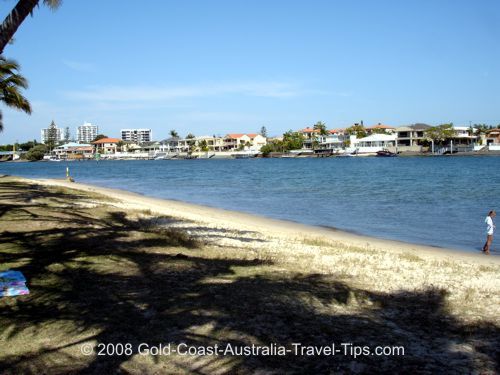 Budds Beach looking across Nerang River to the houses on Chevron Island.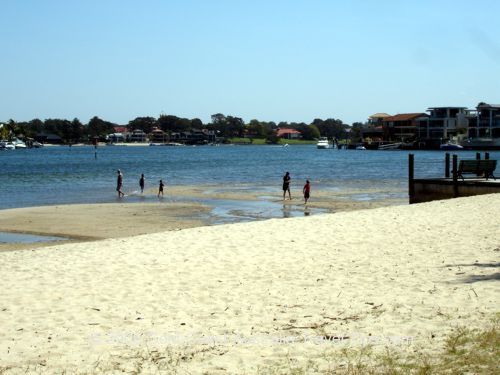 Budds Beach at low tide, looking towards Cronin Island and Paradise Waters
These are two exclusive residential Gold Coast areas with
large houses, waterfront and often a rather nice boat moored on the jetty.
Ah this is the life!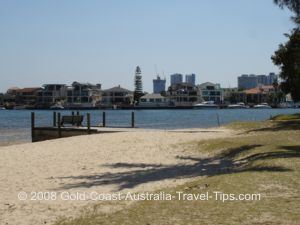 Budds Beach jetty.
Background
Paradise Waters houses.


Bumbles Cafe at
Budds Beach
is definitely worth a visit.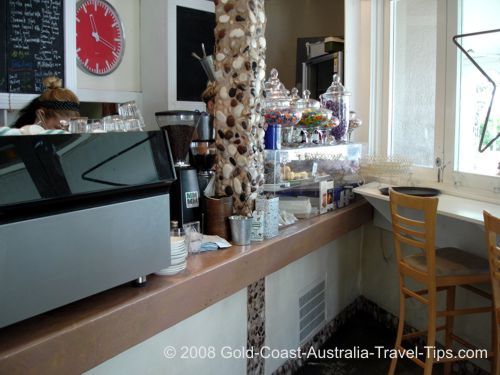 Inside Bumbles at Budds Beach - the atmosphere is so friendly and inviting, you can't help but linger here. No need to worry there is plenty of inside seating.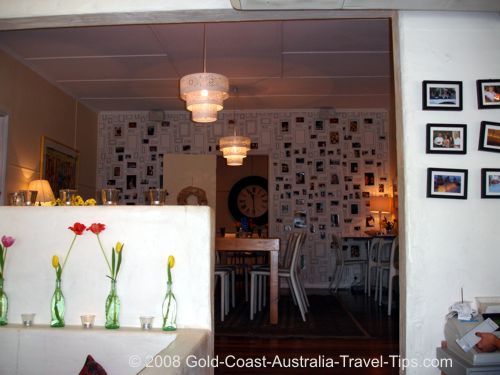 Plenty of seating inside and out. There needs to be it is a
popular spot for breakfasts, lunches and coffee and cake.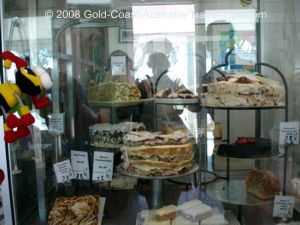 I know this photo is not very professional with our reflection in it,
but these cakes are just something else!
I share the carrot cake with my husband.
It's enough for us both! So delicious. We are trying to discipline
ourselves to work through the cakes - but the carrot cake keeps calling.
This streescape is looking from Bumbles past SuGa SuGa.
It feels like a perfect mix between Australian and European.
The day I took this we had an Italian couple sitting chatting
on the next table, we could have been almost anywhere.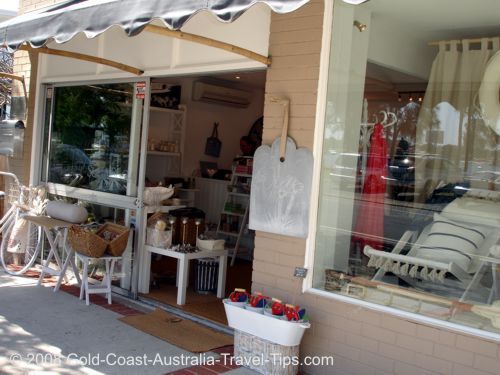 SuGa SuGa has some lovely items from both Australia and around the world - you might find a really novel souvenir to take home.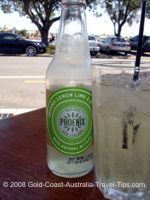 Organic softdrink from Bumbles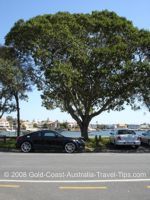 Budds Beach tree with
nice car parked underneath!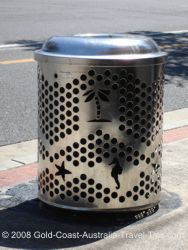 I can almost not believe I took this shot.
I really could only photograph a rubbish bin
when I am feeling really creative! Must be
something in the air at Budds!
And with a rubbish bin I finish off my Budds Beach photos. I hope you have enjoyed them. Don't forget to share this page with your friends if you enjoyed it.

Make sure you visit Budds Beach when you are in Surfers Paradise and then let me know what you think.

If you want somewhere great to stay in Budds Beach recommend Trilogy Apartments.
Custom Search
Return to Budds Beach Guide, Surfers Paradise Guide or Gold Coast Australia Home