Southport Gold Coast
COVID-19 Pandemic & This Website
The COVID-19 Pandemic has had a huge impact on local Gold Coast businesses, which rely heavily on visitors from Queensland, interstate and overseas.
During this time, it is hard to keep the website fully up to date with all the changes. In the meantime here are some resources for visitors. Our main booking partners for hotels and for tours, tickets, theme parks and activities are keeping everything up to date, so please use those resources in the meantime.
Travel Information for Queensland Visitors - Queensland Tourist Safety Information - regularly updated, official website.
COVID-19 FAQ's For Activities, Tours, Cruises & Theme Park Tickets - General Ticket & Pass FAQs and COVID-19 Travel Update.
Thank you for your understanding and patience at this really difficult time.

Annie Rettie
Gold Coast Australia Travel Tips - Owner
Check Out How Southport Is Changing!
North of Surfers Paradise and Main Beach on the Nerang River and Broadwater - it is one of the oldest suburbs in the Gold Coast.

Southport is now enjoying a major rejuvenation. Great new cafes are springing up under the new buildings (see below), the Broadwater Parklands now showcase the water side lifestyle and the light rail is no longer a glimmer, the roadworks remind us it is not that far away.
Caffemio is under the Pivotal Point building which is on the northern side of Australia Fair. Caffemio is typical of the kinds of cafes you will find.
This one is especially good on a Saturday morning when it is quiet!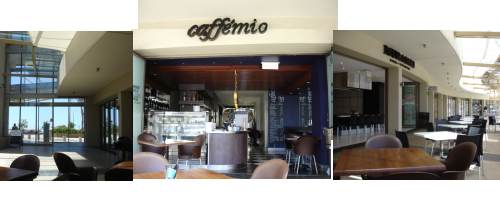 Cafes such as these under Pivotal Point are creating a new feel to the area
If you like hot chocolate their Italian Hot Chocolate is worth a visit - rich and thick! Two thumbs up from my chocoholic husband!
The area is traditionally a business hub. During the week it is busy with Gold Coasters shopping or catching a bite to eat whilst ducking out from the office.
The newly completed Broadwater Parklands directly opposite Australia Fair Shopping Centre provides an impressive range of activites and interests including a kiosk, wetlands, playgrounds and pier. It is also home to the entertainment part of the Gold Coast 600 (Gold Coast Indy replacement motor racing event) during October each year.
Broadwater Parklands also hosts shows, exhibitions, concerts and outdoor cinema sessions from time to time.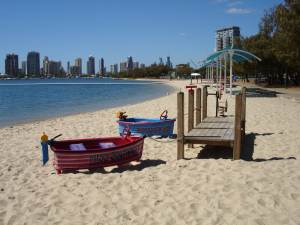 Southport Beach play boats on the sand
by the swimming enclosure.
Marine Parade runs adjacent to the Broadwater but the two are separated by parklands, walking and cycle track.
All along Marine Parade you will find areas of interest such as:
park areas
childrens playgrounds
entertainment areas
broadwater beach
a swimming enclosure in the Broadwater
The main types of accommodation here are apartments close to or on Marine Parade including some holiday apartments.
Local Information
Click to find on this page or click to return to top
Attractions
Southport is central to many of the attractions whilst being a bit away from the main hubbub.

There is no ocean surf beach frontage. If you want the buzz stay in Surfers Paradise, Main Beach or Broadbeach.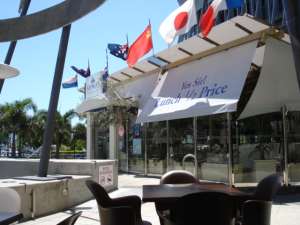 Georges Paragon on Marine Parade -
greek seafood restaurant
It is not a place to stay and walk to restaurants and activities.
Although, there are some good restaurants in the area including the fabulous seafood at Georges Paragon which now has a restaurant under the Pivotal Point Building, as well as one at Surfers and one at Sanctuary Cove.
I highly recommend you hire a car if you base yourself in Southport.
If you don't like the hassle of driving yourself you will be able to find other transport options quite easily here. There are quite a few roadworks at the moment as the new Light Rail system is being installed in and around Southport. When it is finished it will really improve the public transport system.

Another little secret the locals like to keep up their sleeves is the trendy Ferry Road Markets – especially good if you are looking for a bit of Melbourne sophistication!
Australia Fair – shopping centre, food hall and cinemas
Southport Library – large library including local interest collections

Southport Olympic Pool - 50m lap pool, play pool and diving pool
Southport Olympic Swimming Pool – 50m, 25m and diving pools are all outdoor and heated plus an indoor heated pool and an outdoor children's water play pool (not heated).
Walking and Cycling Track along the foreshore from Surfers Paradise , through to Labrador and on to Biggera Waters
Queens Park Tennis Centre - home to Gold Coast tennis heroes Samantha Stosur (2011 US Open winner) and up and coming tennis player Bernard Tomic.
Broadwater Parklands & Playgrounds – playgrounds scattered along the foreshore walking track – including a great bike and scooter track and a train ride during school holidays and weekends.

Playgrounds by the Broadwater
Beach and Swimming Enclosure – calm water beach and swimming enclosure with beach shower and shade cover.
Ferry Road Markets – food markets and eateries with a touch of Melbourne class! Great place to pick up food for a picnic or easy prepare dine-in food.

Ferry Road Markets in Brickworks
Southport Information
Click to find on this page or click to return to top
Accommodation
There are several different types of accommodation in the Southport area including Backpackers, Apartments and tourist parks including cabins and camping sites.
There is a cluster of apartments near the Nerang River close to the Sundale Bridge which crosses the Nerang River and heads into Main Beach and Surfers Paradise. The other main cluster of accommodation is further north along the Gold Coast Highway on the way towards Labrador.
A selection of accommodation in the area is shown below including my comments.
Apartments
Blue Water Bay Luxury Apartments and Villas
Blue Water Bay Apartments and Villas are Self-rated 4 star with one and two bedroom apartments and two bedroom villas.
Not all accommodation is air-conditioned so check before booking. Complex facilities include split-level swimming pool, heated spa, tennis court, barbecue, gym and sauna.
---
Rays Resort Gold Coast
The Rays Resort on the Broadwater formerly Breakfree Rays Resort Apartments is 3½ Star, 1 bedroom air-conditioned apartments. All apartments have balconies.
Located on the busy Gold Coast Highway, just north of the Southport CBD area. Facilities are set around tropical gardens with four BBQ areas, swimming pool, spa, gym and undercover secure parking. This is a popular resort and quite well situated close to good transport links.

Click here for more information about Rays Resort including rates and availability.
---
Harbourside Resort
Harbour Side Resort is 3½ Star accommodation with studio, one and two bedroom air-conditioned apartments located on Marine Parade in Southport at the northern end close to Labrador.
This part of Marine Parade is a two lane major road. Cross the road to the Broadwater park area with children's playgrounds, cycle and walkways. Swimming enclosure at Southport is about a 15 minute walk, so is Australia Fair.

Resort facilities include in ground pool and spa, half tennis court, BBQ and entertainment pavilion.
Click here for more information about Harbour Side Resort including rates and availability.
---
Apartments near Sundale Bridge
Other apartments in the area include the popular and new Meriton Serviced Apartments and Brighton on Broadwater Shores apartments located within the Shores Precinct right next to the Sundale Bridge on the way into Surfers Paradise. Both are newly opened in 2011, luxury complexes with 1, 2 and 3 bedroom apartments. Excellent choices for GC Marathon Accommodation and Gold Coast 600 (ex Gold Coast Indy) accommodation.
Alternatively, Southport Waters which is also located near the Sundale Bridge provides 2 bedroom roomy apartments with full kitchens in a older style complex.
And for the more budget concious there's Aquarius Backpackers.
All of these accommodation options in Southport are particularly handy for the Gold Coast Marathon each July, which starts in the Broadwater Parklands Precinct and for the Gold Coast 600 event in October each year, although you will not have track views!
Tourist Parks - Cabins, Caravan and Camping Sites
Broadwater Tourist Park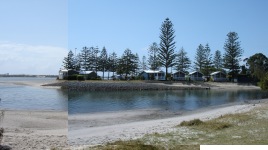 Broadwater Tourist Park absolute
waterfront cabins!
Broadwater Tourist Park has 19, 4½ star cabins including one with disabled access and facilities.
This tourist park offers over 200 camp sites including powered sites for caravans and campervans, un-powered sites for camping and 12 en-suite sites with private bathroom including shower, toilet and vanity.
As you can see from this photo there are some waterfront cabins.
---
Southport Tourist Park
Southport Tourist Park is located just north of Broadwater Tourist Park, but does not have waterfront. It has a selection of cabins and basic resort facilities.
Local Information
Click to find on this page or click to return to top
Golf Information
The only golf course in this suburb is Southport Golf Club which is a private members and guest only golf club. You will have to know someone from this club to get a game on this course.

There are however, plenty of other Golf Courses within a 10 to 15 minutes drive including:
Resort Golf Clubs - Open 7 days
Palm Meadows Golf Course - Carrara
Royal Pines Resort - Benowa
Emerald Lakes - Carrara
Lakelands Golf Course - Merrimac
Public Golf Courses
Lakeside Country Club - Coombabah - 9 holes only
Merrimac Public Golf Course - Merrimac
Private Golf Clubs - Members and Guests only
Arundel Hills Country Club - Arundel
Surfers Paradise Golf Club - Clear Island Waters
Semi-Private Golf Clubs - Limited opportunities for non-members
Gold Coast Country Club - Helensvale
Helensvale Golf Club - Helensvale
Parkwood International Golf Club - Parkwood
Southport Information
Click to find on this page or click to return to top
Beach Information
Southport has beach frontage to the Broadwater along Marine Parade. There is a safe water swimming enclosure opposite Australia Fair. To be fair, it isn't the best beach in the Gold Coast, but at least there is one!

The closest ocean surf beach is Main Beach about 5 minutes by car, with beaches stretching from the Gold Coast Seaway through Surfers Paradise and beyond.
Local Information
Click to find on this page or click to return to top
Travel Times
Approximate travel times by motor vehicle - please note travel times can be affected by many factors including traffic hazards and roadworks. These are just an indication.
Local Information
Click to find on this page or click to return to top
Directions for Car Travel
For directions and other information I recommend you use Google Maps Australia. This will open in a new window, select the Get directions tab. Type in your starting point and where you want to go. I find the format the easiest to use and follow.
Not found quite what you are looking for?
Other Broadwater suburbs are Labrador and Runaway Bay.

Surfers Paradise, Broadbeach and Main Beach offer luxury hotels and great quality apartments in an ocean beachside setting. Main Beach is quieter than Surfers Paradise. Broadbeach has great restaurants and cafes.

For golfing holidays research Sanctuary Cove, Hope Island, Carrara or Robina.

When is the best time to visit?
That depends upon what you want to do, when you can come, your budget and what kind of weather you'd prefer! Check out my guide to the best time to visit the Gold Coast.
Custom Search
Back to Suburbs of Australian Gold Coast, Map of Gold Coast or Gold Coast Australia Home

Return to top