Sovereign Islands Gold Coast
COVID-19 Pandemic & This Website
The COVID-19 Pandemic has had a huge impact on local Gold Coast businesses, which rely heavily on visitors from Queensland, interstate and overseas.
During this time, it is hard to keep the website fully up to date with all the changes. In the meantime here are some resources for visitors. Our main booking partners for hotels and for tours, tickets, theme parks and activities are keeping everything up to date, so please use those resources in the meantime.
Travel Information for Queensland Visitors - Queensland Tourist Safety Information - regularly updated, official website.
COVID-19 FAQ's For Activities, Tours, Cruises & Theme Park Tickets - General Ticket & Pass FAQs and COVID-19 Travel Update.
Thank you for your understanding and patience at this really difficult time.

Annie Rettie
Gold Coast Australia Travel Tips - Owner
Sovereign Islands are 6 Exclusive Islands In Gold Coast Broadwater
The Sovereign Islands in Australia's Gold Coast are 6 exclusive residential islands in the middle of the northern part of the Broadwater.

The islands are linked to the Paradise Point by a bridge.

The exclusive community is home to many of the Gold Coast finest houses and some fabulous luxury motor boats and yachts!
Many different architectural styles but one common theme - accommodation designed specifically for the Gold Coast lifestyle!

Sovereign has no public amenities, shops or attractions, so it is purely a place to stay.
A limited number of the private homes are available for exclusive holiday lets or rentals.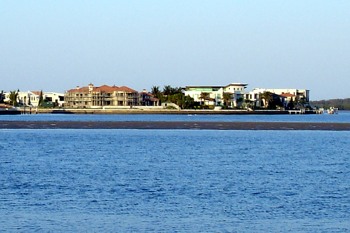 Luxury houses on these exlusive, private islands
in the Broadewater
It's a great place to base your holiday.
Some of these luxury holiday homes even come complete with personal assistant and access to all the toys including the cruiser, jet skis and Mercedes!

Ephraim Island is another exclusive island community right next door in the Broadwater. Also linked to Paradise Point by bridge.

Ephraim Island is quite different with apartments, villas and penthouses.
Paradise Point has some thriving restaurants and a fabulous deli, and the Hope Island shops are not too far away.
Sovereign Islands Information
Click to find on this page or click to return to top
Attractions
Hmmmm, let me think! No real attractions here - just seclusion, privacy and a great location!
Sovereign Islands Accommodation
How can I describe the accommodation on Sovereign Islands? Well, pretty much it's like staying in your dream holiday home. Most of the luxury private homes are themed, luxurious and designed for those wanting comfort, large and 5 star plus surroundings on holiday.
These private homes for holiday rental have strict no party rules, minimum number of nights you can rent for, some will accept children though you will need to check and you will have to pay a cleaning fee for when you leave.
Holidaying in one of these houses will certainly give you privacy and I think they all have their own heated pools and some have boat pontoons.
You will just need to bring your personal belongings and arrange you food and drinks.
To give you an idea here are some of the names of the private holiday homes for rent on the islands - just the names conjure up luxury and decadence... take your pick...
Aqua Villa - waterfront home which accommodates up to 8 guests with minimum stay of 4 nights
Nautica - waterfront holiday rental accommodating up to 10 guests with minimum stay of 5 nights
Paradiso - Up to 12 guests can stay in this luxurious home away from home. Minimum 4 night holiday rental.
Royal Bali - balinese inspired house on Sovereign Islands accommodating up to 10 guests in 5 bedrooms.
Sirene - north east facing waterfront home accommodating up to 12 guests
The Peninsula - waterfront home accommodating up to 14 guests
Tuscany - European style, canal waterfront home accommodating up to 10 guest in 6 bedrooms. Minimum stays from 3 to 5 nights depending upon the time of year.
Valencia - stunning waterfront house for holiday let accommodating up to 12 guests
Sovereign Islands Information
Click to find on this page or click to return to top
Golf Information
No Golf Courses on Sovereign Islands.

Golf Courses within a 30 minute drive are:


Resort Golf Clubs
- open 7 days
Hope Island Resort Golf Club
Palm Meadows Golf Course - Carrara
Royal Pines Resort - Benowa
Emerald Lakes - Carrara
Lakelands Golf Course - Merrimac
Sanctuary Cove - The Palms - Championship Course
Lakeside Country Club - Coombabah - 9 holes only
Private Golf Clubs
- Members and Guests only
Sanctuary Cove - The Pines - Sanctuary Cove Resort guests can play
Arundel Hills Country Club

-

Arundel
Semi-Private Golf Clubs
- limited opportunities for non-members
Gold Coast Country Club - Helensvale
Helensvale Golf Club - Helensvale
Parkwood International Golf Club - Parkwood
Sovereign Islands Information
Click to find on this page or click to return to top
Beach Information
No beaches on Sovereign Islands except the private beaches of the houses!

Putt across in your boat to South Stradbroke Island for some unspoilt beaches.

The closest ocean surf beach is Main Beach about 20 minutes by car.



Travel Times
Approximate travel times by motor vehicle - please note travel times can be affected by many factors including traffic hazards and roadworks. These are just an indication.

Sovereign Islands Information
Click to find on this page or click to return to top
Directions for Car Travel
For directions and other information I recommend you use Google Maps Australia.
This will open in a new window, select the get directions tab and then type in your starting point and where you want to go. I find the format the easiest to use and follow.
Not Quite What You Are Looking For?
Did this location not quite fit what you were looking for?
Other nearby options include Sanctuary Cove and Hope Island.
These two resort style locations offer great private villa, private house accommodation and luxury resort hotel style accommodation based around pristine Golf Courses and waterways.

Surfers Paradise, Broadbeach and Main Beach offer luxury hotels and great quality apartments in an ocean beachside setting.
Sovereign Islands Information
Click to find on this page or click to return to top
Custom Search
Back to Suburbs of Australian Gold Coast, Map of Gold Coast or Gold Coast Australia Home

Return to top