Dreamworld Gold Coast
COVID-19 Pandemic & This Website
The COVID-19 Pandemic has had a huge impact on local Gold Coast businesses, which rely heavily on visitors from Queensland, interstate and overseas.
During this time, it is hard to keep the website fully up to date with all the changes. In the meantime here are some resources for visitors. Our main booking partners for hotels and for tours, tickets, theme parks and activities are keeping everything up to date, so please use those resources in the meantime.
Travel Information for Queensland Visitors - Queensland Tourist Safety Information - regularly updated, official website.
COVID-19 FAQ's For Activities, Tours, Cruises & Theme Park Tickets - General Ticket & Pass FAQs and COVID-19 Travel Update.
Thank you for your understanding and patience at this really difficult time.

Annie Rettie
Gold Coast Australia Travel Tips - Owner
Dreamworld Gold Coast Australia Famous for Big Thrill Rides and Tigers!
Dreamworld is a popular theme park that is suitable for young and old, thrill seekers and those who just enjoy the characters, activities and atmosphere.

Over several pages you can find out my thoughts on many parts of Dreamworld. Read on to find out more, or use the Dreamworld Resources Box, to navigate to one of the main topics.

Only a few visitors plan to visit just Dreamworld. However, best value tickets and passes include other theme parks, attractions or activities.

Before buying your tickets, I suggest working out what else you want to see and do on the Gold Coast. Check out my planning cheat sheets, tips & tools which steps you through planning out the things to do and makes it easier to find the best combinations and options for you.

Annie Rettie
Gold Coast Australia Travel Tips - Owner
Join the conversation or just check us out...
Select The Topic You Are Interested In
Dreamworld - Gold Coast Theme Park
Dreamworld theme park caters for young & old, quiet & thrill-seeking and does it in great style.
Parents with young children can rest assured that WigglesWorld, Australian Animals, Dreamworld Tigers and the DreamWorks themed attractions will hold them captivated.
Need a thrill? No problem! Dreamworld has it covered with the BIG 9 Thrill Rides!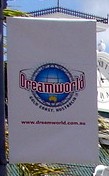 Dreamworld Gold Coast
a popular theme park
Overall, Dreamworld has an outstanding entertainment package for the whole family, and I haven't even mentioned WhiteWater World yet!
The park is owned by Ardent Leisure who also own WhiteWater World which is next door and SkyPoint Observation Deck in Surfers Paradise.
Many of the theme park combination tickets have outstanding value, especially if you want to visit all three of these attractions.
If you are considering visiting Dreamworld during your holiday on the Gold Coast, I suggest you check out my holiday planning sheets and resources to help you work out the best combination of activities including Dreamworld.
If you haven't grabbed your copy yet, you can get them here.
The Dreamworld theme park map, which you pick up when you arrive at the park, suggests itineraries for your day based on whether you are:

What a cutie! Tiger cub
out and about in the park.
a family with really young children,
a family with children aged 4 to 13 or
a full on thrill seeker!
You will find a mixture of attractions including thrill rides, native australian wildlife exhibits, tiger show and exhibit, shows and two areas aimed at the younger children.
Those areas for the younger (and older kids too) are themed around the Dreamworks characters including Shrek and Kung Fu Panda, as well as Wiggles World for all things based around The Wiggles.
DREAMWORLD TICKETS NEWS
VALUE OPTIONS FOR DREAMWORLD

1 DAY OPTIONS
Dreamworld 1 Day Ticket
WhiteWater World 1 Day Ticket
2 DAY OPTIONS
Dreamworld & SkyPint Observation Deck 2 Day Ticket
3 DAY OPTION
Dreamworld, WhiteWater World & SkyPoint Observation Deck 3 Day Ticket
Quick Links For Theme Park
General Information:
Including opening times, how to get there, ticket information and general tips for your visit.

Shows and Attractions:
What you can expect in terms of shows, rides, animals and extras you can enjoy.

Photo Gallery:
Photos taken around the theme park, attractions, rides and shows.

Reviews:
What I think about this park and my kids views! You can write your own review, or make comments about other people's visits.
Where to Buy Tickets:
The low down on where you can buy tickets, and information about the various passes and options available.
Ideas About Where To Stay Near Dreamworld
Dreamworld is the furthest theme park on the Gold Coast from Surfers Paradise. It is inland and there are not many options really close by.
The two closest are the Gold Coast Holiday Park which combines a Caravan Park and 4 star motel accommodation and is best suited to those who have a car for transport.
Coomera Motor Inn is a 3 star motel style accomodation within walking distance of Dreamworld and WhiteWater World and a short car ride to MovieWorld, Wet n Wild, Australian Outback Spectacular and Paradise Country.
Another option is Treasure Island Holiday Park at Runaway Bay.
Other areas to look for accommodation would be Hope Island, Sanctuary Cove and Runaway Bay.
If you do stay out near the theme parks, remember you are not close to the beaches so make sure you think this through before committing to inland accommodation, which is away from some of the main Gold Coast attractions, restaurants and beaches of Surfers Paradise, Main Beach and Broadeach.
LIMITED TIME OFFER - BEST VALUE

3 days of Entry to Dreamworld, WhiteWater World and SkyPoint Observation Deck within 7 consecutive days.
Plenty of time to visit these theme parks & Surfers Paradise attraction SkyPoint Observation Deck for up to 3 full days at your leisure over the 7 days.
Adult | Child (3 to 13 years)

Use within 12 months of purchase date.
Entry to Dreamworld, WhiteWater World and SkyPoint over 3 days within 7 consecutive days from first gate entry.
Check for special bonuses.
DREAM IT
You'll find lots of photographs, descriptions and information to help you dream up your perfect Gold Coast Holiday.
Why not start with all that the Gold Coast has to offer.
PLAN IT
After many years of planning trips with my family both locally and overseas, I've created many resources to help you through creating an itinerary and plan that will have you seeing, doing and experiencing the best the Gold Coast has to offer you.
You can do it yourself using the resources on this website by starting here.
Or you can cut some corners and get my travel planning sheets and extra resources.
BOOK IT
When you are ready to book your Gold Coast travel arrangements I've hand picked the best resources for all aspects of your travel itinerary. You can feel confident that you are accessing the best local and global travel providers for your holiday.
Back to Top - Best Time For Whale Watching