Dreamworld Attractions and Rides
COVID-19 Pandemic & This Website
The COVID-19 Pandemic has had a huge impact on local Gold Coast businesses, which rely heavily on visitors from Queensland, interstate and overseas.
During this time, it is hard to keep the website fully up to date with all the changes. In the meantime here are some resources for visitors. Our main booking partners for hotels and for tours, tickets, theme parks and activities are keeping everything up to date, so please use those resources in the meantime.
Travel Information for Queensland Visitors - Queensland Tourist Safety Information - regularly updated, official website.
COVID-19 FAQ's For Activities, Tours, Cruises & Theme Park Tickets - General Ticket & Pass FAQs and COVID-19 Travel Update.
Thank you for your understanding and patience at this really difficult time.

Annie Rettie
Gold Coast Australia Travel Tips - Owner
Which Dreamworld Attractions and Rides Will You Try?
DREAMWORLD TICKETS NEWS
VALUE OPTIONS FOR DREAMWORLD
1 DAY OPTIONS

Dreamworld 1 Day Ticket


WhiteWater World 1 Day Ticket

2 DAY OPTIONS

Dreamworld & SkyPoint Observation Deck 2 Day Ticket


3 DAY OPTION


Dreamworld, WhiteWater World & SkyPoint Observation Deck 3 Day Ticket

Dreamworld rides and attractions
include Wiggles World, Australian animals, thrill rides & the tigers!
One of the things about Dreamworld that is a bit different from the other theme parks is the polarity of people in each area, although that is changing since the new DreamWorks areas have been added.
You are likely to find teenagers and thrill-seekers almost exclusively in the Ocean Parade area, in the extreme ride queues (or on the rides) or with a WorldPass going between DW and WhiteWater World!
Whilst the smaller kids and families are more likely to be found in the DreamWorks Experience area (formerly Nickelodeon Central), Tiger Island, Wiggles World and the Dreamworld Corroboree.
Dreamworld attractions and rides are usually open from 10am to 5pm (except for maintenance or other reasons).
Scheduled shows, presentations or demonstrations only run at certain times. Which is the part that requires a bit of forward planning.
The theme park map you can pick up on arrival, suggests itineraries for those with World Passes attending both parks: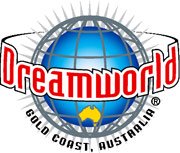 Families with Youngsters
These are all the easy rides, attractions and shows.
Families with kids aged 4 to 13 years
These include some of the medium thrill rides.
Thrill Seekers
Pure adrenalin what can I say!
It's hard to keep up with the new attractions at Dreamworld most of the focus is on the new DreamWorks Experience with new rides and shows.
Please note: There is no guarantee that there will be shows running when you visit. And the prices and details of passes may be out of date. Check for details of shows at the park when you arrive.
Dreamworld Animal Adventures
DREAMWORLD TICKETS NEWS
VALUE OPTIONS FOR DREAMWORLD

1 DAY OPTIONS
Dreamworld 1 Day Ticket
WhiteWater World 1 Day Ticket
2 DAY OPTIONS
Dreamworld & SkyPint Observation Deck 2 Day Ticket
3 DAY OPTION
Dreamworld, WhiteWater World & SkyPoint Observation Deck 3 Day Ticket
No credit card or booking fees.
Mobile Vouchers Accepted or Print your own vouchers.
Australian Pensioners ONLY with ID.
Terms & Conditions Apply. All Prices Quoted Online Only.
There are a couple of different animal adventures at Dreamworld.
These revolve around the native Australian animals in the Dreamworld Corroboree (formerly Australian Wildlife Experience) and the famous Tiger Island tigers and if you are lucky tiger cubs.
Tiger Island is fascinating, I could stay here all day.
From time to time, there are tiger cubs at Dreamworld.
Once when we went they had 5 cubs and we were lucky enough to see them not only at play with their handler, but also out and about on walks in the park, which was totally incredible.
I found out later that there is a cub experience where you get to spend 30 minutes with the cubs!
Obviously this is only available when there are cubs and when those cubs are small enough to do this safely!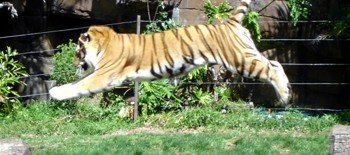 Dreamworld Tiger Island Show. Tiger jumping between logs.
This is extremely popular and needs to be booked in ahead of time. You will still need a theme park ticket or pass to go into the park on that day, and tickets for this are best bought and booked in early.
As well as having a valid Dreamworld Entry ticket for that day you need to arrive at the park by at least 9.30am, but check your booking confirmation for full details.
This experience is definitely on my BUCKET LIST! How about you?
There are a couple of extra activities you can do with the animals. There are tiger walks and photos as well as cub experiences (when they have cubs small enough to make this safe!).
At the Dreamworld Corroborree you can have your photo taken with a koala :D .
During school holidays and peak visitor times there are other adventures with animals such as Sunset Safari. You will need to check with Guest Services to find out what is on and when it is on.
Dreamworld Helicopter Joy Flights
Dreamworld Helicopter Joy flights - NO LONGER AVAILABLE.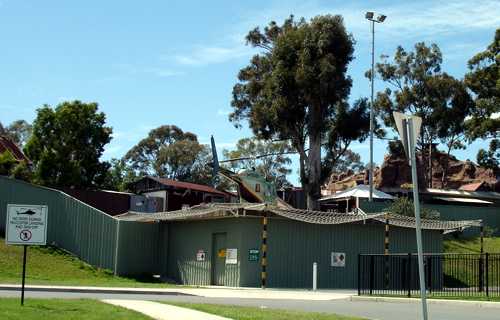 Dreamworld Helicopter Joy Flights used to take off from this rather well camouflaged area
near the front of the theme park.
Back to Top of Dreamworld Attractions
Dreamworld Shows and Presentations
Madagascar Live - All the whackiness of Madagascar with all your favourite characters in a 20 minute show. The kids and adults will love this, just like the movie!
Tiger Island Presentation. See the tigers big and small.
Dreamworld Corroboree - this area has been rethemed from the Australian Wildlife Experience. As well as the wildlife in this area, there are also opportunities to learn about and see cultural aspects of indigenous cultures. You can walk through and see many native animals such as Koalas and crocodiles as well as theme areas where you will see examples of local wildlife such as the Daintree rainforest area and the Kakadu Wetlands with its saltwater and freshwater crocodiles. There's a sheep shearing show, and indigenous cultural music, fire and weapons demonstrations. There are also special experiences which are available at an additional cost to your entry.
Australian Sheep Shearing Show - see life on an Australian farm with live sheep shearing. Now part of the Dreamworld Corroboree.

Dreamworld Tigers are everywhere! This one is at the entrance to Tiger Island
Back to Top of Dreamworld Attractions
General Attractions
Dreamworld Corroboree

Bilby House
Daintree Rainforest
Koala Country
Kakadu Wetland
Outback Adventure

Dreamworld Studios

Big Brother House (only open at certain times of the year)

DreamWorks Experience

Madagascar Madness - Rides and Live Show
Shrek's Faire Faire Away - rides & more
Kung Fu Panda: Land of Awesomeness (opened summer 2012) - extreme thrill. Pandamonium will have two sides - a not-so crazy and a seriously crazy side! Which will you take? In this area there will be Skadoosh bumper cars, Kung Fu Academy all based around the Furious Five Fountain.

Wiggles World

Captain Feathersword's Ship
Fun Spot Activity Centre
The Wiggles Farmyard Friends
Opened Summer 2012 Big Red Boat Ride

Big Brother House

Only open at certain times of the year - usually for short time just after the end of the latest series. Generally this is over the November, December period, but please check if this is something you really want to see.

Dreamworld Bilby conservation house. Never seen a bilby? This is a great chance to see them and help.
Back to Top of Dreamworld Attractions
Dreamworld Rides
Mild Rides
Avis Vintage Cars
Dreamworld Railway
DreamWorks Experience: Shrek's Faire Faire Away
Dronkey Flyers
Ogre-Go-Round
Puss in Boots Sword Swing
Gingy's Glider
DreamWorks Experience: Madagascar Madness
Escape from Madagascar
Mad Jungle Jam
Wiggles World
Big Red Car Ride
Big Red Boat Ride - opened Summer 2012
Dorothy's Rosy Tea Cup Ride
SS Feathersword
The Fun Spot for more games and Wiggly music!
Medium Intensity Rides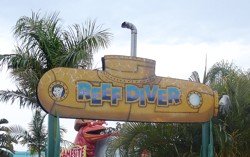 Reef Diver ride was a medium intensity
thrill ride in Ocean Parade
Rocky Hollow Log Ride
Thunder River Rapids Ride
Shockwave
Ocean Parade
DreamWorks Experience: Kung Fu Panda: Land of Awesomeness
Pandamonium - take the Not-so Crazy Line for a rickshaw chase adventure
Skadoosh - bumper car ride
Extreme Thrill Seeker Rides
Dreamworld Tower of Terror ride
looks harmless as a still photo.
Definitely for EXTREME
Thrill Seekers only!
Mick Doohan's Motocoaster
The Giant Drop
Tower of Terror II - now goes backwards up and face first down!
Buzzsaw
Virtual V8 Super Cars Experience - Pay Per Play
Tailspin
Ocean Parade
Claw
Cyclone
FlowRider (pay extra for this ride)
Wipeout
Zombie Evilution - Vortex and then AVPX were previously in this spot, but now the Zombie's have taken over with a laser tag attraction!
Kung Fu Panda: Land of Awesomeness
Big Thrill Ride - Pandamonium - Expect 3.8 G-forces!
Back to Top of Dreamworld Attractions
Custom Search