Dreamworld Reviews
COVID-19 Pandemic & This Website
The COVID-19 Pandemic has had a huge impact on local Gold Coast businesses, which rely heavily on visitors from Queensland, interstate and overseas.
During this time, it is hard to keep the website fully up to date with all the changes. In the meantime here are some resources for visitors. Our main booking partners for hotels and for tours, tickets, theme parks and activities are keeping everything up to date, so please use those resources in the meantime.
Travel Information for Queensland Visitors - Queensland Tourist Safety Information - regularly updated, official website.
COVID-19 FAQ's For Activities, Tours, Cruises & Theme Park Tickets - General Ticket & Pass FAQs and COVID-19 Travel Update.
Thank you for your understanding and patience at this really difficult time.

Annie Rettie
Gold Coast Australia Travel Tips - Owner
Looking for Dreamworld reviews?
DREAMWORLD TICKETS NEWS
BEST VALUE OPTIONS FOR DREAMWORLD

3 DAYS FOR THE PRICE OF 1
3 Days 3 Attractions - Unliited Entry to Dreamworld, WhiteWater World & SkyPoint over 3 consecutive days
- Only $109* per Adult | $99 per Child | $360 Family (2A+2C)
* - SAVE $10 PER PERSON FROM GATE PRICES
Unlimited World Annual Passes
Unlimited Entry to Dreamworld, WhiteWater
World & SkyPoint Observation Deck
For 12 Months Adult $189 | Child (3-13 yrs) $169
If you live in QLD or Northern NSW (post codes 2450-2490) check out the heavily discounted entry of a Locals Annual Pass
Amazing Value
My Dreamworld review is scattered around these pages on Dreamworld. Although, I try to be objective with the information pages, I think my views come through anyway!
Dreamworld was the first theme park I ever visited on the Gold Coast, back in 1990.
Over the years, I haven't visited Dreamworld as often as some of the other Gold Coast theme parks and for many years my view was fairly average in comparison to the other theme parks.
Recently, my views have changed. Where I once was of the view I could watch the tigers every day of the week, but the rest of the park wasn't quite as compelling for me, I have certainly changed my opinion as the park has changed and evolved.
My clever children on the other hand have always had a BLAST at Dreamworld!
I used to feel that Dreamworld tries to be too much, which my kids saw as variety! Now, I realise that it is a big park and that you probably need more than one day there to do it justice. I think I just kept thinking that you would have to cram everything in.
If you are really strapped for time, you can pick what you want to see and do in the park in a very action packed day, but if you can I highly recommend looking at a multi-visit pass so you can spread your fun out over a couple of days.
This is especially true at the busy times, as you have to remember you are going to be queuing for rides for quite a long time during our school holiday times.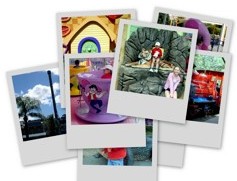 Some photos of our visits to Dreamworld
To give you an example of the diversity of Dreamworld. The Dreamworld Corroboree is a part of the park that most people don't even know exists till they get there.
It isn't what you would go to Dreamworld for. The tigers probably, the thrill rides definitely, DreamWorks zone YES!, but not this part of the park.
The Dreamworld Corroboree area (formerly Australian Wildlife Experience) gives you the opportunity to see native Australian animals and cuddle a koala. It definitely doesn't compare to the experience at Currumbin Wildlife Sanctuary.
The rides have been added to and upgraded over the year and there are certainly rides for everyone. Mild, Medium and Extreme - a bit like chilli!
The queuing can be tedious and my major critisism is there is little emphasis on keeping you entertained whilst you wait.
Most people think that there is queuing only for the Big 9 rides, but there are queus in Wiggles World too!
Once, in the Big Red Car queue we stood for 45 minutes for a 1 minute ride.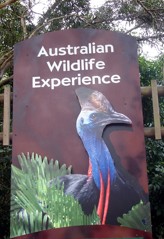 If someone had been there selling us drinks and snacks, it would have been a welcome distraction from the tedium! It would have saved us downtime too!
As, I said before, I don't think you can do this park justice in one day.
On warmer days (especially between September and May) having the option to go over to WhiteWater World to cool down is a great choice, but this just stretches your time across even more activities.
I highly recommend putting aside two days at least to enjoy Dreamworld and WhiteWater World if you really want to get the most out of it.
Probably the best way to tackle this park is to decide what you want to do most and do that first.
Back to Top of Dreamworld Reviews
My Kids Dreamworld Reviews
When I asked my children what they enjoyed most about our September 2008 visit, this is what they had to say.
The little one was 6 years old and she said she enjoyed:
the SpongeBob Flypants ride* the most. It was the most exhilarating ride she went on!
the tiger cub we saw walking round the park. We almost got to stroke its back - oh that would have made my year!
taking my camera off me so she could take photos of everything she saw!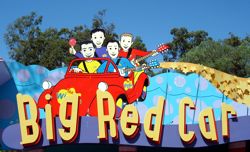 Dreamworld Big Red Car
Ride in Wiggles World
She really enjoyed the Australian Wildlife experience, she hated queuing for rides and was disappointed the Animal Farm wasn't operating. It was a big day for her and she was very tired by the end of the day.
My older daughter was 12 years old. We all stayed together for about 2 hours until it became obvious that the 6 year old wasn't going on any thrill rides!
So the 12 year old paired up with her thrillseeker Daddy and they went off to enjoy the rides!
Sidebar!
Before kids, my husband and I used to do the thrill rides together! So we've decided we are going to have a date one day during the week to enjoy these things together!
The two of them, dad and eldest daugher, did the The Tower of Terror where she screamed the entire time. Luckily for her Dad was only about a 10 second ride! They then enjoyed the Runaway Reptar Rollercoaster, the Thunder River Rapids Ride, the Mick Doohan Motocoaster and the Cyclone Rollercoaster. After those she was pumped, but by that time the park was closing.
Overall, our 12 year old thinks MovieWorld has better thrill rides, whereas Dreamworld has more variety. On the other hand she LOVES the tigers!
As you can see even though our two children fit within the Families with kids aged 4 to 13 years category, it was hard to stay together with their different requirements.
We had no option but to split up. I cannot see a way around this for most families with children above and below the age of about 8 years depending on how thrill seeking they are. It was just not an option to stay together.
* This ride has been renamed as Nick Central has been replaced by the new DreamWorks area.
Dreamworld Reviews? Don't take my word for it!
Read other people's Dreamworld Reviews, add your own comments, send in your photos or share your own review.
Tell Us About Your Visit To Dreamworld or Ask A Question
Do you have a great story about your time at Dreamworld?

Or do you have a question?

Share it! That way others can read it and you can share with your friends.
What Other Visitors Have Said
Click below to see contributions, reviews, stories and questions about Dreamworld from other visitors to this page...

Travelling to Dreamworld using Public Transport

Can we travel to Dreamworld using public transport in the Gold Coast? We will be staying at Broadbeach. How long does it take to travel from Broadbeach …
Custom Search