Movie World Attractions and Rides
COVID-19 Pandemic & This Website
The COVID-19 Pandemic has had a huge impact on local Gold Coast businesses, which rely heavily on visitors from Queensland, interstate and overseas.
During this time, it is hard to keep the website fully up to date with all the changes. In the meantime here are some resources for visitors. Our main booking partners for hotels and for tours, tickets, theme parks and activities are keeping everything up to date, so please use those resources in the meantime.
Travel Information for Queensland Visitors - Queensland Tourist Safety Information - regularly updated, official website.
COVID-19 FAQ's For Activities, Tours, Cruises & Theme Park Tickets - General Ticket & Pass FAQs and COVID-19 Travel Update.
Thank you for your understanding and patience at this really difficult time.

Annie Rettie
Gold Coast Australia Travel Tips - Owner
Which Movie World Attractions and Rides Are Your Favourite?
Best Of MovieWorld, Sea World & Wet n Wild

3 DAY PASSES
3 Days Entry To Movie World, Sea World & WetnWild
3 Days Entry To Movie World, Sea World & WetnWild PLUS Hop On Hop Off Ferry Day Pass
7 DAY PASS
7 Day Pass to Move World, Sea World, WetnWild AND Paradise Country

14 DAY PASS
14 Day Pass to Move World, Sea World, WetnWild AND Paradise Country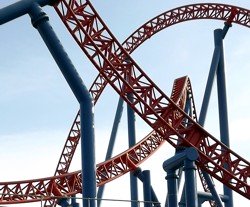 Movie World Rollercoaster -
Superman Escape!
Warner Bros Movie World main attractions are based around movie and tv characters. There are a selection of rides, shows, parades and photo opportunities.
Movie World hosts special events such as Fright Nights and White Christmas which provide the opportunity to visit the park after dark and experience rides in the dark. Even if you aren't so interested in the theme of the event, I know my kids just LOVED going on the Superman Ride in the dark!
Just like Sea World and Dreamworld, at this Gold Coast theme park it is worth planning out your day when you first arrive.
Collect your theme park map and showtimes insert when you come through the turnstiles into the park.
Hollywood Stunt Driver (now upgraded to Hollywood Stunt Driver 2) is the main show we plan around as it is only on once or twice in a day. They open the gates about half an hour before the show, and it is worth getting in and settled, because once the show starts you cannot go in.
If I had smaller children, I would probably be more interested in the various shows and parades in Main Street Plaza, but we tend to head off to do the rides.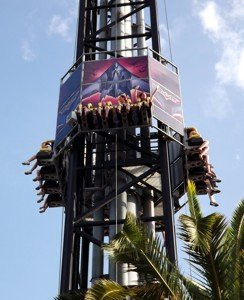 Batman Spaceshot is one of our
family favourites at Movie World
Wet n Wild water theme park is right next door. If you have a combo Theme Park Pass with multiple entry, you can slip into Wet n Wild to cool down after a hot day at Movie World.
Movie World attractions and rides are mostly open all day (except for maintenance, extreme weather conditions or other reasons).
The theme park rides open at 10am (gates open at 9.30am) and closes at 5pm.
If there is a nighttime event, and you have tickets, they still close the park and you have to re-enter, or they put you in a reserved zone whilst they clear the park.
On the rest of this page, you will find some photos and descriptions of some of the main rides, shows and attractions at Movie World.
Movie World Attractions - Rides
The following Movie World ride attractions are included in your entry ticket or pass to the theme park. You can check out the shows and parades below.
Green Lantern - Based on the Green Lantern film and characters. It features an inverted drop. Lots of hype about this ride, I have heard mixed reviews. My family likes it but it is not their favourite. But I have heard others rave about it.
JUSTICE LEAGUE: Alien Invasion 3D Ride - Expect a family friendly ride based around your favourite Justice League super heros in a battle to save the earth! This is a unique ride experience where you get to interact with your own laser blaster as you take part in the fight from your transporter pod! This should be good for most family members, from what I have seen it doesn't look too scary!
Batwing Spaceshot - This ride is quite exhilarating and was the first one my 9 year old went on. You are catapulted up the tower and get great views of the park and surrounds, if you open your eyes!
Superman Escape - This ride is our family favourite. The rollercoaster has you fly highing, plunging back through the building and is very exhilarating. Definitely a highlight!
Green Lantern Rollercoaster at Movie World
Located close to the entrance.

Scooby Doo Spooky Coaster - it's like a ghost train, but a bit more! Can be quite scary for kids, but very popular.


Arkham Assylum - Shock Therapy - Ride based on the old Lethal Weapon. Updated and still exhilarating! My husband loved the old Lethal Weapon, my girls didn't enjoy it that much - probably a bit rough, however this newer version is smoother.
Wild West Falls Adventure Ride - Based around a wild west theme, your boat winds its way around and up into the hills... only to plunge down the mountain side and you inevitably get wet! I go on this one and always regret it afterwards as I seem to attract most of the water!
Kids WB! Fun Zone - A special zone just for the kids with a selection of rides and a small roller coaster. The names of some these change from time to time. You will find Sylvester and Tweety Cages, Yosemite Sam Railroad, Taz Hollywood Cars, Speedy Gonzales Tijuana Taxis, Looney Tunes Carousel and RoadRunner Rollercoaster - I am sure it was called Dragon Rollercoaster when I first went to MovieWorld back in the day! There is also a splash zone for the kids to cool off and get wet in, so don't forget your towels. And new in 2014 The WB Junior Driving School!
Please Note: Redeveloped or Retired Movie World Attractions
Movie World attractions that have been retired, repurposed or requisitioned include:
Batman Adventure - The Ride 2 - this ride has been closed for some time and in 2012 has been redeveloped into..Justice League: Alien Invasion 3D Ride.
Lethal Weapon - this exhilarating ride that you hand from the rail rather than ride on it, is being redeveloped and will opened for Easter 2012 as Arkham Assylum - Shock Therapy!.
Back to Top of Movie World Attractions
Pay as you Use Attractions at MovieWorld
Country Fair Fun and Games Area - An intencity games zone, bumper cars and games that you would find at the fair or circus. These are pay as you use games.
Movie World Attractions - Shows & Parades
The following Movie World shows are all included in your entry tickets.
Hollywood Stunt Driver 2 - Brilliant Show - Must See Show when visiting Movie World. I remember the old Police Academy one and I MUCH prefer this one. You are part of making a movie, it is great fun and totally engaging. Latest version is #2 and it sounds even more awesome than the original!
4D Cinema Adventure - The movies and adventures in the theatre change. When we went it was Journey To The Centre Of The Earth. At Christmas we saw Polar Express 4D. Other titles include Ice Age Dawn of the Dinosaurs The 4-D Experience. You need to check when you enter the park, the details should be on the Show Times insert.
Themed Show - Run in the big theatre - we saw the Christmas Show. This was aimed at the little ones. Have to say it was too cheezy for even our 9 year old! But the little ones will love it, and so will the dads because there are some eye candy singer/dancers. Sadly, nothing for the mums!
Main Street Plaza Shows - during the day there are various shows and displays in the main plaza area. This is all undercover. When we were last there it was Scooby Doo Disco Detectives, Marilyn Tribute and a Looney Tunes Show. There is usually something go on in the Plaza whether it be stunt car drivers and cars posing for photos, random characters around or just films on the big screen.
All Star Parade - usually run in the later part of the afternoon - this is the finale of the shows. You'll see your favourite characters.
Movie World Attractions - Special Events
FRIGHT NIGHTS TICKETS
Fright Nights has in the past been on Friday and Saturday Nights during October. Dates and Details TBA - Check Back Closer To the Time.
Approximate times: Gates open 6pm; Rides open till 9pm; Gates close 10.30pm
Not Suitable for under 14s
Special Event Tickets on sale prior to event. Normal theme park tickets will not get you into this special event.
Movie World hosts some special events usually after hours in the theme park.
These events are NOT included in the price of your MovieWorld tickets.
Sometimes there are special deals run where entry to these events is included - so keep an eye out for these.
You will need to book your tickets for these separately and often ahead of time to ensure you get the date you want.
White Christmas - Seasonal Event in December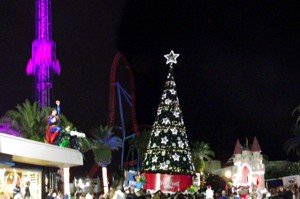 White Christmas has great atmosphere at
Movie World in Gold Coast
White Christmas is an after hours theme park event.
It usually runs from 5.30pm to 8.30pm on selected dates in the week or two before Christmas (approximately mid-December).
The theme park is decked out with Christmas lights, snow and Christmas themes.
Shows within the park often reflect the season festivities and there is a festive parade.
Most of the rides are open during the event. When we went the only main ride that wasn't open was Wild West Falls. Superman Ride at night was probably our favourite! Check latest dates here.
Movie World Fright Nights - Seasonal Event in October
Fright Nights is based around Halloween themes and has evolved from being a family fright night based around Scooby Doo theme to being definitely more scary and more adult oriented.
I haven't been, because I really don't like anything spooky, scary or gory! However, I understand it is popular and fun if you like that sort of thing!
Enjoy the specially created mazes, shows and the rides as well as spooks around every corner! You can find more information about Fright Nights including dates here.
This should give you a taste of what you can expect when visiting Movie World. Attractions and rides not always open all the time due to scheduled maintenance and other factors. There is usually a notice at the entrance of the theme park with any scheduled closures, however, from time to time rides close temporarily during the day.
Custom Search