Wet and Wild Water Park Gold Coast
COVID-19 Pandemic & This Website
The COVID-19 Pandemic has had a huge impact on local Gold Coast businesses, which rely heavily on visitors from Queensland, interstate and overseas.
During this time, it is hard to keep the website fully up to date with all the changes. In the meantime here are some resources for visitors. Our main booking partners for hotels and for tours, tickets, theme parks and activities are keeping everything up to date, so please use those resources in the meantime.
Travel Information for Queensland Visitors - Queensland Tourist Safety Information - regularly updated, official website.
COVID-19 FAQ's For Activities, Tours, Cruises & Theme Park Tickets - General Ticket & Pass FAQs and COVID-19 Travel Update.
Thank you for your understanding and patience at this really difficult time.

Annie Rettie
Gold Coast Australia Travel Tips - Owner
Getting the most out of Wet and Wild Water Park
WET N WILD TICKETS NEWS
BEST VALUE TICKETS FOR WET N WILD
MULTI PARK OPTIONS
GREAT FOR HOLIDAY MAKERS!
ON SALE NOW!
SAVE with Combo Passes When Visiting 2 or More Parks.
BEST VALUE
MEGA 4 Park Pass
4 Parks $189 pp
Unlimited Entry for 14 Days MovieWorld, Sea World, Wet n Wild & Paradise Country
CHEAPEST 3 Park Option
3 Days 3 Parks Pass - Single Entry to Movie World, Sea World and Wet n Wild over 3 consecutive days
- Only $139 pp
Check out all the options for theme parks.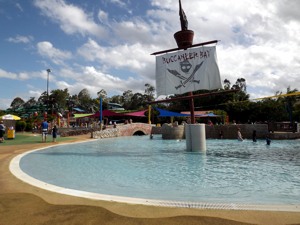 Bucaneer Bay is a favourite with the kids & adults
Wet n Wild was the first and is physically the largest of the water theme parks on the Gold Coast.
There is a small water park at Sea World Resort and of course, Dreamworld's water park WhiteWater World, which was smaller to start with, but not has almost as many rides and attractions as Wet n Wild, just in a smaller area.
When we first arrived on the Gold Coast, Wet n Wild was one of our favourite spots and many a weekend has been spent (all year round I might add) enjoying the rides, dive in movies (sadly, no longer shown) and just floating around the various lagoons and pools.
I am writing this during the summer months and it is easy to forget that many people think you cannot go to this park during the winter.
They heat the water during the cooler months aiming to maintain around 25°C and have worked to ensure that the park is truly a year round attraction. It is definitely quieter in the winter months (May to August) but really there is no reason for the cooler weather to put you off. Plenty of fun to be had year round!
Here are some ideas to help you really get the most out of a trip or two to Wet and Wild Water Park on the Gold Coast ....
Buccaneer Bay - A Good Base For Families with Young Kids
Once they built Buccaneer Bay you couldn't keep us out! It is a great place especially for families with younger children to base themselves for their day at Wet and Wild water park. It was purpose built for children under 10 years old and is reserved for them.
All kids must be clothed and normal nappies are not allowed, you can use the swimmer nappy type if your child is still in the nappy stage.
Holiday Passes

Cheapest 3 Park Passes
Experience unlimited entry to Sea World, Movie World & Wet n Wild for 7 consecutive days. Great way to enjoy the fun with multiple visits and flexibility.
Just $159 per person Buy Now
There are shallow lagoon style pools with interesting water fountains, slides, water cannons and more plus the big slide area with the massive tipping bucket which is always fun to sit and watch the unsuspecting getting soaked!
Especially funny if you don't tell granny!
We would arrive early, stake our claim on some chairs and the sandy area was our favourite, although the picnic tables are good too if you don't like sand.
There is plenty of shade in this area which is really useful if you plan to be there the whole day. Even with sunscreen on, it is nice to get some shade!
We found this area to be pretty much in the middle of everything, so when our older child wanted to do some of the rides, it was never too far to walk to anything.
You can take picnics into Wet and Wild water park - just cannot take in sharp cutlery, glass or commercially produced foods.
Wet n Wild New Years Eve Party
When we first came to the Gold Coast, this was an institution on NYE! Sadly, they last held this event in 2011 and it doesn't look like it will be returning.
Wet n Wild were famous for their family NYE Parties. Every year the park stayed open until 9pm and they moved the clocks forward so that the kids can enjoy a countdown to 'midnight'.
As part of the entertainment there was a Dive in Movie (also no longer available) for all the family to enjoy.
As well as the movie there was other entertainment.
Wet n Wild Dive in Movies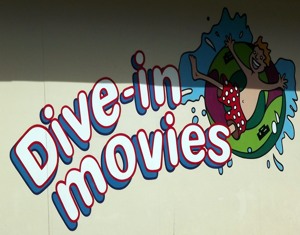 Dive in Movies were another institution with locals and visitors alike.
As well as the movies being on, many of the park rides continued on after normal closing hours and the whole event was very popular.
At the peak of the Dive in Movie era, there were movies on weekends from September to April, and nightly during the busy December and January holidays. The movies were shown on a screen that was raised at the end of the wave pool.
It was like a drive-in but instead of being in cars, you could be floating in a ring on the wave pool or lounging on a sunbed!
Visiting Wet n Wild During Winter
Wet and Wild water park is definitely a year round attraction.
During the winter months May to early September, there are usually slightly shorter opening hours (I think it closes around 4pm during the winter), but the water is heated and it is definitely worth a visit if you like your water slides and rides.
My personal winter favourite - the Hot Spas!
Younger children may feel the cold a little more during winter. However, if you take plenty of towels and warm clothes to change the day can be enjoyable for everyone. We used to take it in turns when our youngest daughter was little and felt the cold - actually she still does, and we still take extra towels and clothes!
A bucket of hot chips and a hot chocolate are very good at dulling kids senses to the cold! And it always amazed me that they would still ask for an ice cream!
One of the main advantages of visiting Wet and Wild water park during the winter months, is that the queues for the rides are shorter! If you want to enjoy the water slides and rides, then this is definitely the time of year to do it!
Custom Search