Wet and Wild Attractions and Rides
COVID-19 Pandemic & This Website
The COVID-19 Pandemic has had a huge impact on local Gold Coast businesses, which rely heavily on visitors from Queensland, interstate and overseas.
During this time, it is hard to keep the website fully up to date with all the changes. In the meantime here are some resources for visitors. Our main booking partners for hotels and for tours, tickets, theme parks and activities are keeping everything up to date, so please use those resources in the meantime.
Travel Information for Queensland Visitors - Queensland Tourist Safety Information - regularly updated, official website.
COVID-19 FAQ's For Activities, Tours, Cruises & Theme Park Tickets - General Ticket & Pass FAQs and COVID-19 Travel Update.
Thank you for your understanding and patience at this really difficult time.

Annie Rettie
Gold Coast Australia Travel Tips - Owner
Which Wet and Wild Attractions and Rides Will You Try?
WET N WILD TICKETS NEWS
BEST VALUE TICKETS FOR WET N WILD
MULTI PARK OPTIONS
GREAT FOR HOLIDAY MAKERS!
ON SALE NOW!
SAVE with Combo Passes When Visiting 2 or More Parks.
BEST VALUE
MEGA 4 Park Pass
4 Parks $189 pp
Unlimited Entry for 14 Days MovieWorld, Sea World, Wet n Wild & Paradise Country
CHEAPEST 3 Park Option
3 Days 3 Parks Pass - Single Entry to Movie World, Sea World and Wet n Wild over 3 consecutive days
- Only $139 pp
Check out all the options for theme parks.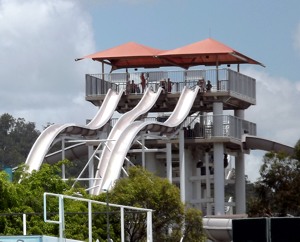 Mach 5 at Wet n Wild -
not for the faint hearted!
The main attractions of Wet n Wild Gold Coast are all the water based rides, the wave pool and the kids play area at Buccaneer Bay.
There aren't really any shows at Wet n Wild. Generally, you are going for the water thrill rides! Well, that's what we go for anyway...
Unlike the other main Gold Coast theme parks - Wet n Wild doesn't require anywhere near the same amount of planning. It's very casual, especially when it isn't too crowded. At peak times the queues can get a bit long, so you may need a little planning then.
You can tell it is different from the other parks because people turn up in boardshorts and rash shirts and maybe carrying a towel!
It's more like going to the beach with some thrill rides thrown in!

If you have a special combo Theme Park Pass with multiple entry, you can slip into Wet n Wild to cool down after a hot day at Movie World (right next door).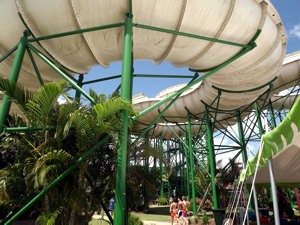 Underneath Mammoth Falls gives you an idea
of how high it is!
Wet and Wild attractions and rides are mostly open all day (except for maintenance, extreme weather conditions or other reasons).
The theme park opens at 10am and closes around 5pm in Summer - though it may be later during the peak summer holiday period from late December through to late January.
During off peak season this park usually closes at 4pm.
On the rest of this page, you will find some photos and descriptions of some of the main rides and attractions at Wet n Wild.
Wet and Wild Attractions and Rides
The following Wet and Wild attractions are all included in your
entry ticket or pass
to the theme park. You can get more information about
pay-per-use rides
below.
Buccanneer Bay
This area is specifically designed for the littler kids - up to about 12 years old. When our youngest was very young, we used to set up camp for the day in this area. It was fantastic for her and made it much easier for me to keep her occupied whilst her dad and older sister went on the other rides.
Calypso Beach - This is one of my personal favourites, it used to be open winter or summer. But I notice that they are saying it is now a seasonal attraction and will be closed in winter. That's a shame it was where you would more often than not find me floating around in the tubes. Good for the mums to relax and catch up, or the family to float around!
Whirlpool Hot Springs Spas - These used to only be during the winter - another great spot, however, they seem to be available in the summer - but not so hot the last time I went!
Wave pool at Wet n Wild with Surf Rider in the
background.

Giant Wave Pool - what can I say - it's a giant wave pool. You can float around on tubes when it is calm.

When the waves start it get's quite a swell on - good for all the family, but you need to keep a very good eye on the younger ones especially when the waves are on.

This is the area where they used to show the Dive in Movies.
Mammoth Falls - Two raft rides or slides with I think up to 4 people in each raft. This is a great ride - though I am not keen on the walk up to the top!
Fast and Furious Mach 5 - this is 5 separate rides including two sidewinders for up to two people in a two person raft, and the jetstreams for single person rides where you plunge down a single long slide! Keep your cheeks tight on this one!
Tornado - This one is whacky! Up to 4 people in a raft are catapulted out of the tubes and into a huge funnel. Depending upon the weight of the people in the raft (from what I can gather) you go up the sides of the funnel until you finally exit into a pool at the bottom. Great fun - not so good if you are standing on the platform trying to take photos - I got quite wet. There is a bit of a walk up to this ride and you have to carry your raft! This is my 10 year old's favourite ride!
Kamikaze - Never been on this one - you plunge down what feels like a vertical drop - I will leave this to the young 'uns!
Black Hole - Again, not been on this one, you head down the fully enclosed tubes in pitch black. Knowing that, you are never likely to catch me on this one either!
Surf Rider - This one looks so funny - a giant surf board with two cogs of people that rotate as it runs up a vertical horseshoe shaped track and I think you get sprayed with water. Rotating is not my thing - so yet another one you will not catch me on - but my eldest daughter likes this one!
Super 8 Aqua Racer - another old favourite. Before we were married my husband and I raced this one many a time when on holidays in the Gold Coast! You race down face first on a mat and see who wins. Basically, he who is heaviest seems to win! Totally unfair, but awesome fun!
Aqualoop - apparently the most extreme ride in Wet n Wild. I went on the old version that used to be on the same site back in the early 1990s, I cannot remember the name back then. Thank goodness they upgraded it, because I remember getting friction burns and static shocks! The new one does look awesome and starts with a full vertical drop and includes a full 360 degree turn which you hit at 60 km per hour!
River Rapids - Again, I think this was called something else back in the day, but these slides are great. You climb up the hill and then the slides wind their way back down to a pool at the bottom. I think two are enclosed now, and there are some open ones.
Please Note: Retired Wet and Wild Attractions
Wet and Wild attractions that have been retired, repurposed or requisitioned include:
Double Screamer - in our first visits to Wet n Wild back in 1991 this was a real favourite! The last time I remember going on this one was probably around 2005 or 2006, so I not exactly sure how long it has been gone. In its place... I think parts of Buccanneer Bay - ah well.
Back to Top of Wet and Wild Attractions
Wet and Wild Attractions - Pay Per Use
The following Wet and Wild Attractions are NOT included in your entry tickets. To enjoy these attractions you need to pay per use.
FlowRider - Try your hand at surfing ro body boarding on the Flowrider! Looks fun! You can see how long you can survive or book in for session to learn how to do it!
SkyCoaster - Before you even enter Wet n Wild you can see the SkyCoaster structure - it is massive. This is a huge sling that 1, 2 or 3 people (well that's as many as I have seen strapped into it) are hauled up about 50m and then swing through pretty fast! It is quite worrying the first time, to watch this especially if you are having a leisurely lounge by the wave pool then all of a sudden there is screaming and you are rather hoping they haven't recently eaten anything! There are restrictions and requirements which are clearly signposted by the ride.
ZipLine - this one runs across the park from the River Rapids "mountain" down to the wave pool. It wasn't running when I was last there - but I think it is about 200m on a flying fox style ride.
These Wet and Wild attractions are NOT included in the price of your Wet and Wild tickets.
You will need to book your tickets for these separately at the surf shop near the Wave Pool.
This should give you a taste of what you can expect on a day at Wet and Wild.
Attractions and rides not always open all the time due to scheduled maintenance and other factors.
It is best to check when you arrive at the water park so you can plan around it. This is usually quite well signed in the park.
Custom Search