Dreamworld Gold Coast Information
COVID-19 Pandemic & This Website
The COVID-19 Pandemic has had a huge impact on local Gold Coast businesses, which rely heavily on visitors from Queensland, interstate and overseas.
During this time, it is hard to keep the website fully up to date with all the changes. In the meantime here are some resources for visitors. Our main booking partners for hotels and for tours, tickets, theme parks and activities are keeping everything up to date, so please use those resources in the meantime.
Travel Information for Queensland Visitors - Queensland Tourist Safety Information - regularly updated, official website.
COVID-19 FAQ's For Activities, Tours, Cruises & Theme Park Tickets - General Ticket & Pass FAQs and COVID-19 Travel Update.
Thank you for your understanding and patience at this really difficult time.

Annie Rettie
Gold Coast Australia Travel Tips - Owner
Dreamworld Gold Coast - All You Need To Know About Planning A Day At The Park
This is a great page full of information about visiting Dreamworld Theme Park Gold Coast. You will find information about the following topics:

Click the links that interest you, or navigate to other information about Dreamworld that interests you in the Dreamworld Resources Box, or simply read on for all the information.

PS: If you are still working out which theme parks, attractions and activities you want to do on the Gold Coast, you may find planning cheat sheets, tips & tools helpful in working out your itinerary and the things you want to do, which makes choosing your tickets and passes much easier.

Annie Rettie
Gold Coast Australia Travel Tips - Owner
Join the conversation or just check us out...
Select The Topic You Are Interested In
Opening Times for Dreamworld Gold Coast
| | |
| --- | --- |
| Daily: | 10.00am to 5.00pm Gates Open 9.30am - Gates close 5.30pm. Hours are sometimes extended during school holidays. |
| Exceptions: | Closed Christmas Day 25 December. & ANZAC Day 25 April. |
Show Schedule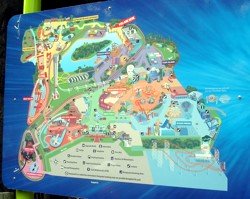 Dreamworld Gold Coast
theme park map
Show schedules change regularly. Dreamworld print new sheets virtually weekly so there is no way I can keep up with that!
You should receive a current schedule and theme park map when you enter the park.
Extra theme park maps can be picked up inside the park.
Buying Tickets for Dreamworld
Tickets can be purchased at gate when you arrive or online. Buying your tickets at the gate, is often more expensive and also eats into your time in the theme parks. Online is often cheaper, and there are exlusive deals you cannot get at the gate.
I have not found anywhere that discounts any of the theme parks significantly. You might save a couple of dollars a ticket, but generally that is about it.
Best deals are often online, but beware of hidden fees, booking charges or credit card surcharges. The links I provide on this website for booking theme parks do not have any booking fees or credit card charges
The best deals for Dreamworld are by buying a pass or a World Pass that combines entry to WhiteWater World and SkyPoint Observation Deck. There are also combinations that include extra attractions or activities that are even more value.
As I mentioned before, you should not pay any more for the convenience of buying tickets online and usually there is a small discount. Always read the fine print if you see a deal that looks very cheap - often there are conditions or they lure you in with a low price only to say it isn't available to you.
Main benefit of buying your tickets before you go to Dreamworld is that you get to go in the pre-paid ticket line. This is usually just as long as the other lines, but much quicker because they are not having to process money at every transaction! And with the new barcode system, this line moves very quickly.
At Dreamworld and most other attractions around the Gold Coast Children are classified as 3 years to 13 years inclusive.
DREAMWORLD TICKETS NEWS
VALUE OPTIONS FOR DREAMWORLD

1 DAY OPTIONS
Dreamworld 1 Day Ticket
WhiteWater World 1 Day Ticket
2 DAY OPTIONS
Dreamworld & SkyPint Observation Deck 2 Day Ticket
3 DAY OPTION
Dreamworld, WhiteWater World & SkyPoint Observation Deck 3 Day Ticket
Getting To Dreamworld Gold Coast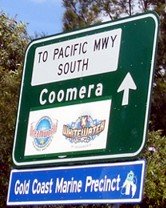 Dreamworld sign is easy
to spot!
Dreamworld is at Dreamworld Parkway, Coomera, Qld, 4219.
It is just off the Pacific Motorway (M1) at Exit 54.
It is well signposted whether you are coming from Brisbane or from the Gold Coast.
Heading north from Surfers Paradise it is about 23kms and will take about 30 minutes in a car depending upon the traffic.
There is plenty of free parking, so driving is a great option. BYO car or hire a car.
Dreamworld Transfers
There are several options for getting to Dreamworld if you don't want to drive yourself, including shuttle bus transfers, local buses and trains (if you are coming from Brisbane).
Whether you want just a single transfer to Dreamworld, or are looking for all Gold Coast ground transport options, you will find information about getting to Dreamworld and other theme parks and attractions on our attraction transfers page. There you will find suggestions for packaging with airport transfers to save money and the pros and cons for using public transport options.
Things To Consider
Food and Drinks
According to the Terms and Conditions of Entry to Dreamworld Gold Coast you are not supposed to take food or drinks into the theme park. This is now pretty standard across theme parks.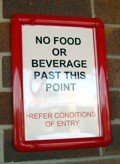 Dreamworld No Food
sign at the entrance
Looking for the positive! This has the advantage that you don't have to carry anything other than money! Which appeals to me as I am the one who makes the picnics and generally ends up carrying them!
But of course the disadvantage is that you then captive to what they have to offer in the way of food and drinks and their prices. Food options have improved at Dreamworld, so be sure to check out the extra details below.
If you are doing the thrill rides, you may find that eating is not such an issue, but do make sure you drink plenty of fluids in particular water as this park gets hot even during the cooler months.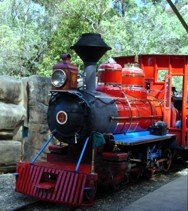 Dreamworld Railway
Accessibility and Getting Around
There are a limited number of strollers, prams and wheelchairs for hire. There is wheel friendly access to most areas. There are restrictions on some rides, so you will need to check.
To help get around the park and reduce some of the traipsing around there is Dreamworld Railway.
Central Station is a short walk from the main entrance. There are four stations in total.
The other stops are near:
Billabong Restaurant
Dreamworld Corroboree (formerly Australian Wildlife Experience)
The Giant Drop
The round trip takes about 20 minutes nd you can get on or off wherever you like. The train is quite a good way to see some parts of the park but it only covers about half of it!
Things to Take
You are going to be out and about most of the day, so make sure you have the following essentials:
Water Bottle
Sunscreen
Hat
Sunglasses
On some of the rides you have to take off your hat and sunnies, so it is worthwhile having a bag to put them in safely. I carry a rucksack, which is easy and doesn't get in the way too much.
Getting Wet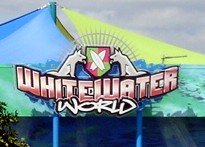 WhiteWater World is a
water theme park.
If you buy a World Pass you can use both Dreamworld and WhiteWater World on the same day or multiple times depending upon your pass conditions.
If you are going to WhiteWater World you will need your swimming gear (trunks, bathers, swimmers or whatever else you call them!) and a towel. And you can take non-commercially produced food into this theme park.
Within Dreamworld there are a couple of places you might get wet.
Flowrider is a ride where you are in the water - so you will definitely need your togs and a towel for this one and a little extra cash as it is not included in your Dreamworld Entry ticket.
The two other rides in Dreamworld you may get wet on are the Rocky Hollow Log Ride and the Thunder River Rapids Ride. Make sure you wear appropriate clothing!
Weather
Dreamworld sell plastic capes when it rains - there are places to get out of the rain, but you will need to go between things. Taking wet weather gear if it looks like rain, will save you bundle on a one use cape!
Dreamworld has always seemed hot to me whenever I have been there, so layers are good in the cooler weather and lots of sun protection even on cloudy days.
Money
There are EFTPOS machines and ATMs at Dreamworld. Most areas take EFTPOS or credit cards. As with any tourist spot you need to be careful with your wallet and precious items. A good rucksack or bum bag (fanny pack for our friends from USA) can be useful.
Within the theme park there are a few places that you have to pay to use. Bear this in mind and make sure you have cash or cards if you want to do these things.
Pre-paid Tickets
I always buy my theme park tickets ahead of time, as the pre-paid lines are much faster than those where you have to buy the tickets at the gate.
Deals & What's HOT!

Dreamworld Gold Coast Entrance Dreamworld On Gold Coast
Shops at Dreamworld Gold Coast
I'm not really a shopper, but I couldn't help but notice that they have a shop on every corner at Dreamworld!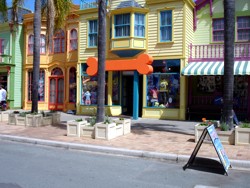 Dreamworld shops seem to be everywhere!
Please Note: Shops change. Nickelodeon Shop
(pictured in 2008) is no longer there.
There are the usual theme park souvenirs you would expect including variations on T-shirts, toys and general souvenirs.
At last count, on the theme park map there were 45 different outlets mentioned on the Dreamworld Theme Park Map.
This covers food, shopping and photos - so you are bound to find something to spend you money on.
There is a shop with motosport gear near the Mick Doohan MotoCoaster, Wiggles gear can be found in the Wiggle World shop and there are plenty of tiger souvenirs from Tiger Island at Bengal Bazaar!
Main Street has plenty of opportunity for retail therapy too! Around the park you can choose options such as Temporary Tattoos, Hat Shack, Surf Shop and Fairy Tale Treasures to name a few.
Food in Dreamworld
Remember you may not bring food into the theme park, although you can bring a picnic lunch into WhiteWater World (with some restrictions - no alcohol, no glassware, no commercially branded foods and no raw meats or cooking devices amongst the main ones).
However, there are plenty of places to eat around Dreamworld. From a reasonably decent coffee, gourmet sandwich and treats, the usual fast food, right through to sit down restaurant.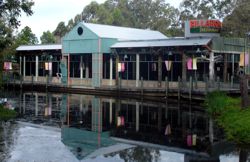 Dreamworld Billabong Restaurant.
Airconditioned & has a range of food.
Halal options used to be available in Billabong Restaurant - when I asked in June 2014, they mentioned that although not specifically Halal certified anymore, there are many items on the menu that are suitable for visitors requiring this option.
Billabong Restaurant is VERY popular and is a welcoming airconditioned roomy restaurant that is a welcome break from a warm day at Dreamworld.
Beer and wine can also be purchased at some locations, but must be consumed at those premises. You cannot walk around with alcoholic beverages.
There are now some healthy options for food, but you will have to track it down a bit. Salads and sushi and of course Boost Juice - very loud YAY from me on that one!
Sweet treats and real holiday food like churrios, fairy floss, popcorn, snowcones and ice-cream are available in a couple of locations too.
Make sure you don't get caught out with some of the food outlets closed on quieter days and some closing before 4pm when the rides were finishing at 5pm and the gates closed at 5.30pm.
There are water fountains around the park - do make sure you drink plenty of water - bought or from the fountains.
You are a captive audience, expect to pay more to eat inside Dreamworld than out. You won't be giving it any hats for a Good Food guide, but as theme park food goes, I think it isn't too bad, especially with some of the healthier options now available in the park.
Where To Stay Close To Dreamworld Gold Coast
Dreamworld is the furthest theme park on the Gold Coast from Surfers Paradise. It is inland and there are not many options really close by.
The closest places will be at Hope Island, Sanctuary Cove and Runaway Bay.
Nearest options include the Gold Coast Holiday Park which combines a Caravan Park and 4 star motel accommodation and is best suited to those who have a car for transport.
Coomera Motor Inn is a 3 star motel style accomodation within walking distance of Dreamworld and WhiteWater World and a short car ride to MovieWorld, Wet n Wild, Australian Outback Spectacular and Paradise Country.
Treasure Island Holiday Park at Runaway Bay. Other areas to look for accommodation would be Hope Island, Sanctuary Cove and Runaway Bay.
If you do stay out near the theme parks, remember you are not close to the beaches so make sure you think this through before committing to inland accommodation.
LIMITED TIME OFFER - BEST VALUE

3 days of Entry to Dreamworld, WhiteWater World and SkyPoint Observation Deck within 7 consecutive days.
Plenty of time to visit these theme parks & Surfers Paradise attraction SkyPoint Observation Deck for up to 3 full days at your leisure over the 7 days.
Adult | Child (3 to 13 years)

Use within 12 months of purchase date.
Entry to Dreamworld, WhiteWater World and SkyPoint over 3 days within 7 consecutive days from first gate entry.
Check for special bonuses.
DREAM IT
You'll find lots of photographs, descriptions and information to help you dream up your perfect Gold Coast Holiday.
Why not start with all that the Gold Coast has to offer.
PLAN IT
After many years of planning trips with my family both locally and overseas, I've created many resources to help you through creating an itinerary and plan that will have you seeing, doing and experiencing the best the Gold Coast has to offer you.
You can do it yourself using the resources on this website by starting here.
Or you can cut some corners and get my travel planning sheets and extra resources.
BOOK IT
When you are ready to book your Gold Coast travel arrangements I've hand picked the best resources for all aspects of your travel itinerary. You can feel confident that you are accessing the best local and global travel providers for your holiday.