Dreamworld Photos
COVID-19 Pandemic & This Website
The COVID-19 Pandemic has had a huge impact on local Gold Coast businesses, which rely heavily on visitors from Queensland, interstate and overseas.
During this time, it is hard to keep the website fully up to date with all the changes. In the meantime here are some resources for visitors. Our main booking partners for hotels and for tours, tickets, theme parks and activities are keeping everything up to date, so please use those resources in the meantime.
Travel Information for Queensland Visitors - Queensland Tourist Safety Information - regularly updated, official website.
COVID-19 FAQ's For Activities, Tours, Cruises & Theme Park Tickets - General Ticket & Pass FAQs and COVID-19 Travel Update.
Thank you for your understanding and patience at this really difficult time.

Annie Rettie
Gold Coast Australia Travel Tips - Owner
Dreamworld Photos
DREAMWORLD TICKETS NEWS
VALUE OPTIONS FOR DREAMWORLD
1 DAY OPTIONS

Dreamworld 1 Day Ticket


WhiteWater World 1 Day Ticket

2 DAY OPTIONS

Dreamworld & SkyPoint Observation Deck 2 Day Ticket


3 DAY OPTION


Dreamworld, WhiteWater World & SkyPoint Observation Deck 3 Day Ticket

So much to see at Dreamworld
Dreamworld is continually changing and evolving. The following photos represent a snapshot of Dreamworld Gold Coast and when I get a chance I update and add more.
I have tried to keep the images a reasonable size so you can see the detail, but that may mean the page will be slow to load. Please be patient, I think it is worth it.
Some of these photos will represent things that may not currently be at Dreamworld, but you will get a snapshot of what it is like.
The following are some of the Dreamworld photos I have taken whilst visiting this Gold Coast theme park over the years. Please forgive me, I cannot order perfect blue skies and I am an amateur!
The first time I went to Dreamworld was 1990. Some of the rides and theme park are still the same.
Many things that have changed, grown, evolved or been removed. Where possible I will leave up old photos as they are interesting, however some of what you see in the photos may not be what is currently at Dreamworld.
I hope you enjoy getting a flavour of Dreamworld. Enjoy,
Annie
Dreamworld Tiger Photos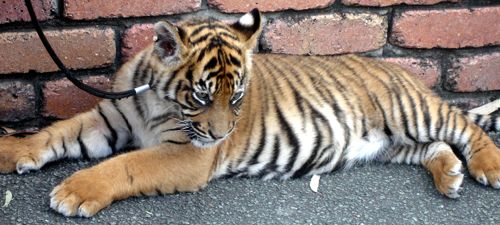 Here is a gorgeous Dreamworld tiger in the park. She was out for a walk around the park. If she had been walking we would have been allowed to stroke her back. They are taught to lie down when they feel too much pressure. That way they know no-one will bother them.
Here she is face on. What a beauty!
She was 13 weeks old!

The girls enjoy a tiger photo opportunity
in Main Street.

Here the Dreamworld Tiger handler can be seen
playing with the smaller cubs.

Two tiger cubs are about 5 months old, playing
in enclosure next to Tiger Island.

Tiger jumping between logs during
the Tiger Island Presentation.
An awesome sight.


Mohan Dreamworld's white tiger.
Wasn't he magnificent.
Dreamworld Corroboree (was Australian Wildlife Experience)
| | |
| --- | --- |
| A dingo in its enclosure with a backdrop of red earth. | Getting up close and personal with this carpet python was very exciting, but great knowing there was glass between us! |
Wiggles World Photos
Welcome to Wiggles World!

The Wiggles House!

Dorothy's rosy tea cup ride a firm
favourite with the little ones!

The tea cup ride isn't my cup of tea!
But Charlie loved it!
Ocean Parade Photos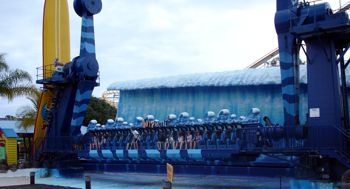 The Wipeout ride twists and turns and seems to go on and on!
Not my thing, but the kids love it.

The entrance to The Claw almost looks inviting!
Till you see the ride in full swing!
Thrill Rides Photos
The Giant Drop. NOT for the faint hearted! Even grown men scream! When you hear this, you'll know what I mean!

Tower of Terror full view!
The Giant Drop goes all the way to the top
and then DOWN!

This day they were only doing the drop from one side.

This car was coming back down
and they were still screaming!

This is the part of the Tower of Terror track
where it starts to go up the tower!

Charlie checking out the Motocoaster ride.
She could have riden in the sidecar, but she wasn't interested!
Mick Doohan Motocoaster - is a motor bike on rails. There are restrictions but there is also the option to ride in a sidecar. The queue splits into two, those who want to be right at the front and the rest.
You have to wait for the extra thrill of being at the front. They only take 2 at a time from this queue.

General Dreamworld Photos
It's easy to get around this park. Signs point to attractions and you will have your park map.

Central Cafe - cafe & bar close to the entrance.

There is a crocodile in Dreamworld,
but this isn't the real thing luckily!

Main Street when you first enter the park.
Looking towards the old IMAX theatre.
The Tower of Terror in the background.
Custom Search