South Stradbroke Island
COVID-19 Pandemic & This Website
The COVID-19 Pandemic has had a huge impact on local Gold Coast businesses, which rely heavily on visitors from Queensland, interstate and overseas.
During this time, it is hard to keep the website fully up to date with all the changes. In the meantime here are some resources for visitors. Our main booking partners for hotels and for tours, tickets, theme parks and activities are keeping everything up to date, so please use those resources in the meantime.
Travel Information for Queensland Visitors - Queensland Tourist Safety Information - regularly updated, official website.
COVID-19 FAQ's For Activities, Tours, Cruises & Theme Park Tickets - General Ticket & Pass FAQs and COVID-19 Travel Update.
Thank you for your understanding and patience at this really difficult time.

Annie Rettie
Gold Coast Australia Travel Tips - Owner
Idyllic Day Trips or Resort Stays
South Straddie Island as it is affectionately known to locals, is a world away from the bustle of the Gold Coast. Whilst you can see it across the Broadwater, the best bits are out of view.

Stay in Couran Cove Resort for a fully rejuvenating island, beach adventure. If you cannot stay, an affordable day trip is well worth the effort and now easily accessible from Main Beach.

Read on to learn about South "Staddie" Island.

If you are still in the process of planning your Gold Coast getaway, don't forget to check out my planning cheat sheets, tips & tools to help step you through planning out the things to do, where to stay and when to visit.

Annie Rettie
Gold Coast Australia Travel Tips - Owner
Join the conversation or just check us out...
Select The Topic You Are Interested In

South Stradbroke Island Australia views
About South Stradbroke Island Australia
South Straddie separates the ocean from the Broadwater in the northern parts of the Gold Coast. It stretches from the northern side of Gold Coast Seaway (Southport Bar) to Jumpin Pin Bar. In fact on the ocean side it is 21kms of beautiful untouched beach front.
It stretches north from Biggera Waters, past Runaway Bay, Hollywell, Paradise Point, Hope Island, Sanctuary Cove and Coomera to just north of Jacob's Well.
This map of South Stradbroke Island and some of the great facilities in the area gives a better overview than I can describe...
The quiet, mostly untouched, sand island has two different sides. The calmer inner waterways and the deserted ocean beaches separated by virtually untouched bush where you will find interesting Australian wildlife and bush plants.
The island has very little development on it. There is only one commercial place to stay Couran Cove Island Resort, which has had some ups and downs over the years, but is currently undergoing a major rejuvenation with new owners.
There are camping grounds run by the Gold Coast council for those who want to do this, but the facilies are very limited and you have to bring everything you need over to the island.
Another great alternative is to stay on a houseboat anchored in the shelter of the island. The island is very popular with local boaties on the weekends and holidays, especially near Tipplers Cafe.
There is a private day resort called McLaren's Landing which mainly does weddings, conferences and business functions. But from time to time, they run day trips there. It is right next door to Tipplers.
South Stradbroke Island Resort closed a few years ago and was redeveloped by the Gold Coast City Council into a camping ground with Tippler's Cafe being revamped and made into a bar and restaurant to service the boaties and campers.
It is now open most days for Brunch and Lunch from about 9am to 3pm with longer hours on weekends and during holiday periods.
From the surf beach during whale watching season you may catch glimpses of the majestic humpback whales migrating north to breed and have their calves.
Whale migration starts in early June and runs through to late October early November.
Attractions, Things To See and Do
Here are a selection of attractions, things to see and do on South Stradbroke Island Australia. I like to split the between natural attractions (nature and eco activities) and man-made attractions and activities. You can check out which you prefer for yourself.
Natural Attractions & Activities
Jumpinpin
Jumpinpin also incorrectly known as Jumpin Pin and Jumping Pin it is simply called The Pin by local boaties.
This area is great for fishing or to anchor up and enjoy the beautiful beach and sand. However, the Jumpinpin Bar can be quiet treacherous so beware if you don't know the area or are inexperienced on the water.
There are tours that can take you to this beach, either by water, air or by 4WD from where you are staying on the island.
It is a stunning location and very popular on the weekend with the local boaties!
Ocean Surf Beaches
If you are after idyllic Surf Beaches you can't go wrong with 21kms of surf beach on the ocean side of South Stradbroke Island.
They aren't patrolled and are full of rips, so I don't actually recommend swimming on this side. The swell can be quite large and as I said there are plenty of rips. But it is an awesome beach to walk along.
From Couran Cove Island Resort, it is about 2.5 kms through to the ocean beach. There is a resort "train" than runs in the holidays that goes over a few times a day to the Surf Club, or you can ride a bike over or walk.
If you take a 4WD tour on the island you are bound to end up on this beach too!
You can walk along the entire 21kms of surf beach, but that might be a bit epic with a 42km round trip! There are spectacular views to the north and south, back to the Gold Coast seaway.
The surf beach is particularly stunning at day break. You can easily make your way over in the pre-dawn light - you'll have about 30 minutes of good light before the sun actually comes up - be sure to check the sunrise times - and set off around 30 minutes beforehand.
If you decide to go on a long beach walk, be sure to check your bearings to get back to where you started, let people know where you plan to go, check in when you get back, take water and food just in case. And watch out for those crazy 4WDs and Tractor Tours!
Water Sunrises & Water Sunsets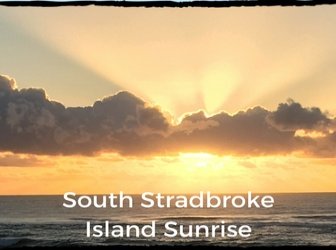 It's not that common to get to see both Water Sunrises and Sunsets when you are staying in Australia! But an island such as South Straddie provides the perfect spot.
There is something magical about seeing the sun rise, especially over water and it's also quite soothing to watch the sun go down.
There are many great spots to watch the sun rise over the water in the east and set over the water in the west.
Obviously you will need to be staying on the island to see these two amazing sights.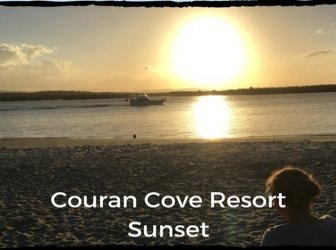 Local Wildlife
South Stradbroke Island has some fantastic wildlife. Both in the water and out of it.
There is nothing quite like something you can only find in that location...Golden Wallaby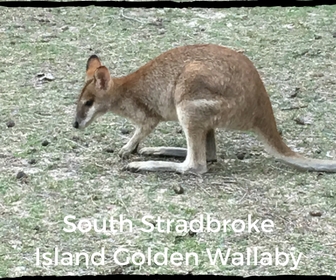 This rare wallaby is only found in this area, spotting one can be a real treat. Staying at Couran Cove, you are bound to spot a few if you stay over.
Another fantastic opportunity is during whale watching season (early June to late October). Just off the ocean beach is a favourite haunt of the migrating whales, called by locals "Whale Alley".
During the season you will often see the whale watching tour boats in this area, as the whale love it. If you are lucky, you might be able to spot the whales from the shoreline - their spouts, a whale tail, a fin or even them jumping (also known as breeching).
Man Made Attractions and Activities
There are two main types of activities for South Straddie Island. There are those usually start from another Gold Coast location and get you on to the island - creating a sort of day trip or half day trip. And there are those that you can enjoy by staying on the island.
Here's a quick list of things you could do on the island!
Jet Skiing
Parasailing
Snorkelling
Kayaking
Fishing
4WD Tour
Tractor Tour
Scenic Flights
Sand Boarding (also known as Sand Tobogganing or Sand Sledding)
Bush Walking
Bike Riding
VR World - Virtual Reality Gaming at Couran Cove Resort
Day Spa - at Couran Cove Resort
Serious sand sledding
at South Stradbroke Island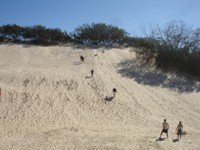 Sand Tobogganing
at South Stradbroke Island
Here's a quick list of things you could do on a day or half day trip to the island.
Half Day Chill Out Kayak Tour to both South Stradbroke and Wavebreak Island. The paddle across the Broadwater can bring some special opportunities to see dolphins, turtles and stringrays. At South Stradbroke, there is a bushwalk over to the surf beach. On returning to Wavebreak Island, there are many activities to enjoy including clear bottom kayak over the reef, fishing, beach sports and there is a lunch provided.



An Exhilarating 2½ hour Jet Ski Safari along Broadwater, that will take you right up to Jumpin Pin and the bottom of North Stradbroke Island. On the way back you get to pull into Tippler's on South Straddie for a quick stop for something to drink or a splash in the water. Share your jet ski or ride alone, the choice is y ours.



A 2 hour guided jet ski tour that will take you around the Broadwater islands and up to parts of South Stradbroke Island. Experience seeing South Stradbroke Island from the water and ride your own jet ski.



Fishing Trips
There are several options for fishing on South Stradbroke Island. There's the estuary fish on the broadwater side, and you can also fish from the beach on the ocean side. Or you could take a deep sea fishing tour for something really special.
Fishing off boats or kayaks on the eastern broadwater side you will typically find estuary fish such as bream, flathead, luderkick, tailor, whiting and jewfish.
Occassionally you may be lucky and find the larger mangrove jack or trevally. There are also bountiful sandcrabs to be had.
Resorts such as Couran Cove have fishing guides to help you with general fishing information and local fishing tips. They can arrange fishing trips to take you to the best spots!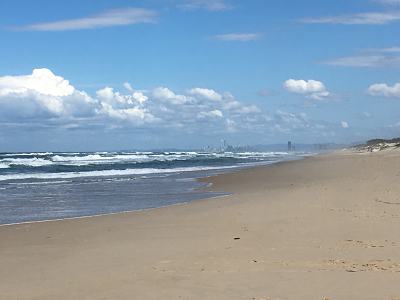 South Stradbroke Island Ocean Beach
Looking South To Surfers Paradise
Gold Coast Local Information
Accomodation On South Stradbroke Island Australia
There have been a few changes to accommodation on South Straddie Island over the last few years.
South Stradbroke Island Resort, which was close to Tipplers, closed down and has be redeveloped as a camping ground.
Couran Cove Resort has been bought by new owners who are doing a fantastic job of rejuvenating the fantastic facilities and services on offer. I have seen many reviews during the period in which the resort was run down and having stayed recently and visiting quite often, I can highly recommend this destination.
For all South Straddie Island accommodation you MUST book accommodation on the island before you arrive.
Accommodation styles include private holiday rentals, self contained apartments, villas, lodges, eco cabins, houses and camping grounds. Most of the accommodation on the island is found close to Couran Cove but there are also some private owners offer their properties directly in a location further to the south. It does not have the same facilities, so be sure you know that's what you want before booking.
South Stradbroke Island Resort Style Accommodation
Couran Cove Island Resort
Couran Cove Island Resort is a high quality resort with extensive facilities and programs on offer.
It is nestled in the bushland but partly based around the Couran Cove Marina. Very picturesque and built to fit in with the surrounding bushland.
Modern and fresh with great facilities. You could easily spend your entire trip to the Gold Coast here. I highly recommend this resort and during school holidays there are extra activities and options available..
South Stradbroke Island Resort - NOW CLOSED
This formerly knowns as Tipplers Resort is a little further north than the Couran Cove, and has direct Broadwater beachfront. It was sold to the Gold Coast City Council 2009 to redevelope. There is no longer any accommodation at this resort, however there is a camping ground with facilities.
Tipplers Cafe & Bar is one of the redevelopments and is open daily from around 9am to 3pm with extended hours on weekends and in school holidays.
Tipplers is very popular with local boaties.
Other Accomodation Options on South Stradbroke Island
Camping On South Straddie
There are three camping grounds on South Stradbroke Island all operated by the Gold Coast City Council.
Tipplers to the north and the two Currigees further south - North Currigee and Currigee.
All have amenities blocks and some have other limited factilities. All are surrounded by native bushland.
North Currigee is located around an inlet which makes it great for mooring and camping.
South Currigee also offers some cabins. I have never been there, so I don't know how good they are.
It is recommended that campers bring all their supplies as the island is not commerically developedand there are small kiosks in most of the locations, but they really do not have very much and very little fresh food.
Camping trips are usually to get away from it all, so you cannot expect the same facilities and you are isolated on an island in bushland, so you must come prepared.
Access is usually by boat. But depending on the location ferry or water taxi may be an option to get to these spots.
Click here to find about more about camping on South Stradbroke Island Australia. This link will take you to the Gold Coast Tourist Park website which can give you more information about rules, booking and camping on South Stradbroke Island.
Private Rentals on South Stradbroke Island
With the rise of AirBnB and other accommodation sites, there are some private rentals in both Couran Cove and in the settlement at Currigee.
You will need to consider a few things if choosing these options such as:
How to get there and back?
What to bring?
What facilities you will have access to?
Beach Information for South Stradbroke Island Australia
There are no official beach patrols, but at peak times there is sometimes a is a flagged area close to Couran Cove Island Resort on the ocean side.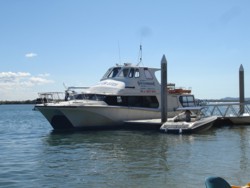 As with any unpatrolled areas, swimmer beware. Also be particularly careful at Jumpinpin Bar as the tides can make this particularly hazadous for swimmers, canoists, kayakers and boats.
As well as the ocean beach there are some smaller beach areas on the Broadwater side of the island, and a large expanse of beach at Jumpinpin at the northern tip of the island.
The Broadwater side of the island is more bushland some some areas do not have a real beach area.
South Stradbroke Island Resort has a reasonable beach particularly at low tide on the Broadwater side and you can walk, bike or take the resort train through to the Ocean Beach near their own Surf Club venue.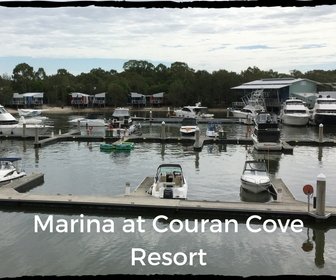 Couran Cove Marina
Gold Coast Local Information
About South Stradbroke Island Australia
How To Get To South Stradbroke Island Australia
There are several ways to get to South Stradbroke Island:
By Water
Boat hire or charter
Ferry
Water taxi
By Air
Gold Coast departure options include:
Marina Mirage - Main Beach - Couran Cove Day trips leave from here, making it very convenient for visitors without their own transport.
Runaway Bay Marina - Runaway Bay - closest option for water taxis to Currigee.
Sanctuary Cove Marina - Sanctuary Cove - closest option for water taxis to Couran Cove.
Hope Harbour - Hope Island
Jacobs Well - northern Gold Coast
Looking for other Queensland Island Holiday destinations?
Since Couran Cove Resort has been been rejuvenated and Tipplers and the former site of South Stradbroke Island Resort have been redeveloped, I believe that this destination now offers a variety of activities and a super day trip option.
This is the closest island getaway option to the Gold Coast and is also an affordable and convenient day trip with cruises departing from Mariner's Cove for those staying in Main Beach, Surfers Paradise and Broadbeach. This is especially useful to those who don't have a car or hire a car whilst in the Gold Coast.
Some of the other options in south east Queensland include North Stradbroke Island (accessible by ferry from Wellington Point) and Moreton Island (accessible from Pinkemba Wharf and Redcliffe).
Moreton Island is the location of the fabulous Tangalooma - a resort facility with activities plus the Wild Dolphin Feeding. This is available as a day trip option from the Gold Coast but it is expensive, and apart from the dolphin feeding and snorkelling on the wrecks, many of the same activities are available at South Stradbroke Island.
Further north still is Fraser Island. You can take day trips or longer tours to visit Fraser Island or even Great Barrier Reef. Once again, these end up being very expensive.
The two options below are more suited to single travellers or couples who want to experience something rather special and are prepared to pay for the experience. They are probably not as suitable for families with young children.
After many years of planning trips with my family both locally and overseas, I've created many resources to help you through creating an itinerary and plan that will have you seeing, doing and experiencing the best the Gold Coast has to offer you.
You can do it yourself using the resources on this website by starting here.
Or you can cut some corners and get my travel planning sheets and extra resources.
When you are ready to book your Gold Coast travel arrangements I've hand picked the best resources for all aspects of your travel itinerary. You can feel confident that you are accessing the best local and global travel providers for your holiday.