Day Trips To South Stradbroke
COVID-19 Pandemic & This Website
The COVID-19 Pandemic has had a huge impact on local Gold Coast businesses, which rely heavily on visitors from Queensland, interstate and overseas.
During this time, it is hard to keep the website fully up to date with all the changes. In the meantime here are some resources for visitors. Our main booking partners for hotels and for tours, tickets, theme parks and activities are keeping everything up to date, so please use those resources in the meantime.
Travel Information for Queensland Visitors - Queensland Tourist Safety Information - regularly updated, official website.
COVID-19 FAQ's For Activities, Tours, Cruises & Theme Park Tickets - General Ticket & Pass FAQs and COVID-19 Travel Update.
Thank you for your understanding and patience at this really difficult time.

Annie Rettie
Gold Coast Australia Travel Tips - Owner
What Are The Options For Day Trips To South Stradbroke Island?
A day trip over to South Stradbroke can be a fabulous getaway and totally different pace to the hubbub of Surfers Paradise and the rest of the Gold Coast.

I highly recommend staying at Couran Cove Resort. However, if you don't have time to stay over for a few nights, a day trip here definitely worth it!

Read on to learn about the options and our tips for day trips and tours to South "Staddie" Island.

If you are still in the process of planning your Gold Coast getaway, don't forget to check out my planning cheat sheets, tips & tools to help step you through planning out the things to do, where to stay and when to visit.

Annie Rettie
Gold Coast Australia Travel Tips - Owner
Join the conversation or just check us out...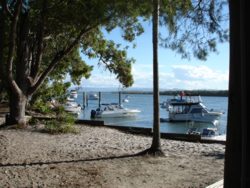 South Stradbroke Island
Day Trip Options
Warning: Day trips to South Stradbroke can leave you seriously frustrated!
A day trip to this amazing island is such a great experience it will frustrate you and leave you wanting more!
Not everyone has the luxury of being able to stay over on the island. If you are able to, I highly recommend staying on South Stradbroke for a night or more.
Day trippers read on for suggestions on how to get to South Stradbroke Island for a day trip plus some tips about what to bring and other suggestions for your tour. Enjoy this island getaway even if it is for only a half or full day.
Day Trip Options For South Stradbroke Island
Day trips to Couran Cove Resort are, in my opinion, the best way to enjoy South Straddie Island if you are a tourist. Whilst there are other areas you can go to, Couran Cove offers plenty of activities to keep everyone in the family happy.
I do recommend staying for a few days at Couran Cove Resort.
There are also options below for trips that include other activities, such as kayaking to South Stradbroke or going on a scenic flight or jet ski tour. Be sure to check out these options, they may not be full days, but you can still get to see some parts of the island and have a memorable tour.
Couran Cove Resort Day Trips
Couran Cove Resort Day Trip departs from Hope Harbour at Hope Island and takes you to Couran Cove Resort for the day.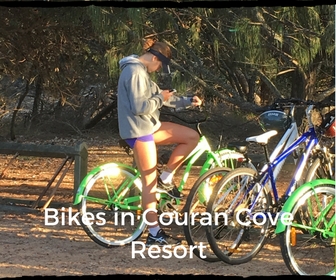 Whilst at the resort, you can enjoy the recently upgraded facilities, many of which are included in the trip price. Usually, these include the non-motorised water sports such as kayaking, stand up paddleboards and other land based activities. There are also a selection of other activities such as Jet Ski Hire, scenic flights, 4WD tours and more you can add on for an extra fee.
Check out the deals, sometimes you can get bike hire and access to the Virtual Reality Games at VRWorld included in your trip.
Highly recommend taking a bike and cycling around the paths or over to the Ocean Beach.
There are various water based activities in the resort lagoon. There are both lap pools and children's pools as well as a range of other sports facilities, restaurants, bar and a resort spa.
Sea World Nature Cruise to Couran Cove
This tour runs from December to the end of April each year. Generally, it runs on Tuesdays, Thursdays and Saturdays. It leaves the Sea World Cruise Terminal (in the Sea World Car Park) around 10am and returns about 4pm. There is an option to purchase the cruise as is, or with a lunch included for an extra $20 per person.
You will be on the amazing Sea World Cruise boat for about 2 hours out of the 6 hour tour and you get about 4 hours at Couran Cove Resort. If you take the included lunch, it is served at the poolside restaurant. Otherwise you can buy lunch at one of the other bars or places to eat.
Whilst you can use the free activities at the resort, you will need to pay for everything else, including food, drinks, snacks, bike hire, games at VR World etc.
If you are interested in this cruise, send me an email and I will be able to get you more details and booking information. It doesn't always run, so it's a bit tricky to book!
Half Day or Less South Stradbroke Island Tours
Want to combine visiting South Stradbroke Island with another activity? Well here's a list of options from a few hours to half a day long.
An Exhilarating 2½ hour Jet Ski Safari along Broadwater, that will take you right up to Jumpin Pin and the bottom of North Stradbroke Island. On the way back you get to pull into Tippler's on South Straddie for a quick stop for something to drink or a splash in the water. Share your jet ski or ride alone, the choice is y ours.



A 2 hour guided jet ski tour that will take you around the Broadwater islands and up to parts of South Stradbroke Island. Experience seeing South Stradbroke Island from the water and ride your own jet ski.



Sea Plane Flights to South Straddie And Couran Cove
Another way to get to South Stradbroke Island is by flying. The Scenic Sea Plane flights depart from Sea World Resort in Main Beach daily.
They leave at approximately 11am returning about 4pm.
It is definitely a more expensive way to get to South Straddie, but you can take your own picnic and find a secluded beach to relax and enjoy the idyllic location away from the hubbub of the Gold Coast.
The added bonus of this option is the scenic flight with views across Gold Coast and beyond - this is a stunning way to see the Gold Coast. And if you visit during May to November, you might even get some whale watching from above thrown in for good measure!
Flights can accommodate between 2 and 5 passengers, so this may be a consideration in your choice of this tour.
Day Trips To South Stradbroke Island
These tours give you more choice as to where you go on South Stradbroke Island. You get to choose your location, but remember that you will only get the resort facilities if you go to Couran Cove. There are limited facilities at Tipplers which are now only open at certain times and McLaren's Landing is a private resort.
Hire A Boat
There are plenty of options to hire a boat in the Gold Coast. If you want to hire one to and go over to Couran Cove, Sanctuary Cove is actually the closest. Hope Harbour takes a little while longer and so does Runaway Bay.
If you want to drive it yourself you will need a recreational skepper's licence. If you don't have one there are options to hire boats with skippers.
You can hire a boat and explore a range of locations on South Stradbroke Island such as Tipplers, Jumpin Pin or Couran Cove Resort.
Water Taxis to South Stradbroke Island
Water Taxis are available from Sanctuary Cove, Hope Harbour or Runaway Bay Marina.
You can head over to South Stradbroke Island on a water taxi from one of these locations.
Be sure to book your return time and location! Take adequate supplies of food and drink if you are aren't going to the resort for the day. Tipplers Cafe on South Stradbroke Island is generally open for brunch and lunch betweeen around 9am and 3pm most days. There are longer options during school holidays and on weekends.
Day Trips November To May ONLY
These cruises and tours usually only operate during the off season for whale watching between November to May each year. They do not run from June to October - check above for year round options.
Tall Ship Island Adventure
Tall Ship Island Adventure - [PLEASE NOTE: THIS OPTION IS NOT CURRENTLY AVAILABLE] sails to McLaren's Landing where you can enjoy activities at this eco resort on South Straddie Island.
Usually operates Tuesdays, Thursdays, Saturdays & Sundays from November through to May (outside the whale watching season). Departs from Marina Mirage, Main Beach.
No option to stay on the island. These tours generally include morning and afternoon tea, lunch and use of resort facilities and activities.
Optional 4WD tour and water sports. If you just want to get there quickly you could try Straddie Express which takes you swiftly too and from McLaren's Landing. The general cruise is on one of Tall Ship sailing boats. This is a good operation that takes you to an exclusive (rather basic) island retreat rather than a commercial resort.
Tips For Day Trips to South Stradbroke Island
South Stradbroke Island is a different pace to the Gold Coast. It is a sand island, that only has one main resort (Couran Cove) , some residential housing, a couple of smaller day resorts and camping grounds.
It is popular with local boaties who enjoy heading over to the peace and tranquility of this beautiful location.
The island has both calm water and ocean beaches. There aren't any patrols here - so beware if you want to go for a swim.
Be sure to pack the camera, sunscreen, hat and insect repellent. The sand island has some beautiful and unique animals (Golden Wallaby) and some rather irritating ones (sandflies, midgies and mosquitos) - so come prepared.
If you want to walk or cycle around the island areas, bring or wear some closed in shoes. And pack your swimming costume and towel if you want to enjoy the water based activities.
Food options at the resort are limited to pub style food. If you need special food options, be sure to bring your own supplies. The general store, even at Couran Cove, is very limited with items and virtually no fresh fruit or vegetables. You can get salads at the restaurants.
Want to stay longer than a day? Couran Cove Resort is the place to stay!
Gentle Reminder:
You generally get what you pay for! If it sounds cheap and you are expecting 5 star service, surroundings and gourmet food you may be disappointed. Equally, just because it is expensive does not mean you will get the best - that is why I try to review personally, or go on the recommendations of trusted friends.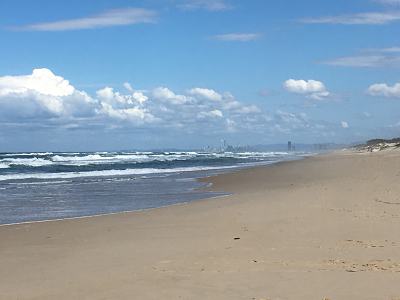 South Stradbroke Island Ocean Beach
Looking South To Surfers Paradise
Deals & What's HOT!
Gold Coast Local Information
DREAM IT
You'll find lots of photographs, descriptions and information to help you dream up your perfect Gold Coast Holiday.
Why not start with all that the Gold Coast has to offer.
PLAN IT
After many years of planning trips with my family both locally and overseas, I've created many resources to help you through creating an itinerary and plan that will have you seeing, doing and experiencing the best the Gold Coast has to offer you.
You can do it yourself using the resources on this website by starting here.
Or you can cut some corners and get my travel planning sheets and extra resources.
BOOK IT
When you are ready to book your Gold Coast travel arrangements I've hand picked the best resources for all aspects of your travel itinerary. You can feel confident that you are accessing the best local and global travel providers for your holiday.