Whale Watching Season in Gold Coast
What Will I See During Whale Watching Season On Gold Coast?
The humpback whales only visit our coastline for about 6 months each year. They start around May heading north, and the last stragglers passby going south around November. However, the whale watch crews only going out for sightseeing during June through to late October.

So what will you see? During the main part of the season, you are likely to see whales and maybe some other fabulous fish, dolphins, sharks and sea birds.

On this page you will find more information about the different phases of the season, so please enjoy and read on...

If you still planning your holiday Click Here for my planning cheat sheets, tips & tools to step you through the process and make sure you don't miss anything, or check out the combos and itineraries page to get an idea of some great money saving ready made holiday packages and plans.

Annie Rettie
Gold Coast Australia Travel Tips - Owner
Join the conversation or just check us out...
Select The Topic You Are Interested In
Gold Coast Whale Watching Season is OPEN FOR BOOKINGS!
Whale Watching season is now OPEN For Bookings on Gold Coast.
Whale watching tours start up again for the 2018 Whale Watching Season from 26 May 2018. We expect the season this year to run through to early November 2018.
Check out the booking options for Season 2018 Whale Watching including some pre-season deals with huge savings.
Ready To Get Started? Travel Planning Guide & Sheets
Gold Coast Whale Watching Season
During the entire "official" season you are likely to see whales! You may see them from the land, but they will be quite small - a clue is to look for whale spouts!
The best way to see the whales is by taking a cruise out to meet them in their home territory. As well as seeing the humpbacks, you may well get to see other animals such as fish, dolphins, sharks and sea birds.
The reputable Whale Watching cruises offer a guarantee of some kind, to give you reassurance that you are likely to see whales.
They wouldn't be making those guarantees unless they were confident that is exactly what you will see.
It's worthwhile checking out what the guarantees are, just in case you are extremely unlucky on your tour.

One of the main reasons they are able to offer a guarantee is that we have a magnificent season which officially runs from early June through to late October (sometimes a little longer depending on the whales).
It's important to understand that the guarantees usually relate to seeing the whales on tours.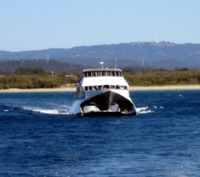 Whale watching boat passing
Wavebreak Island in Broadwater.
However, tours can be cancelled from time to time, usually due to weather conditions and the operators usually work hard to fit people into the next available tour.
Always read all the fine print when booking, so that you are aware what will happen in these circumstances.
Book your whale watch tour before you arrive on the Gold Coast.
Pick a day early in your holiday. This gives you a bit of flexibility, just in case it has to be changed due to weather conditions.
You won't want to miss out on seeing the whales. Theme parks and other attractions will be waiting for you just about every day of the year, but the whales are special!
The humpback whales start migrating from Antarctica up the east coast of Australia from May onwards and the last of the stragglers pass by in November on their way to their summer feeding grounds.
The tour operators know that there is always a pretty good chance that there will be at least one whale sighting on any given tour. Obviously, they cannot guarantee how many whales you will see or what they will be doing. But they are very experienced and seem to know where to find them.
A change to Queensland laws in 2013 allowed whale watching to be done within Queensland waters, and this should be of great benefit to both the tour operators and the visitors as previously they had to motor on out to 3 miles off shore before they were allowed to stop to look at the whales.
So what will you see on your whale watching tour? I cannot guarantee what the whales will be doing, but read on and I'll tell you a bit about the whales and the sorts of things you might see.
About Humpback Whales
The main type of whale we see in the Gold Coast are the Humpback whales.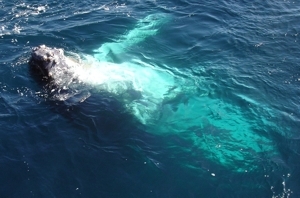 Whale Hanging Around By Boat!
The Australian humpbacks live in the Antarctic during the southern hemisphere summer eating krill. They migrate northwards during the winter months.
They head into Australian coastal waters looking for warmer water for breeding and having their whale calves.

The main breeding grounds are further north than the Gold Coast, around the Hervey Bay and Great Barrier Reef.
The whales are usually travelling either up to the breeding grounds, or back home to Antarctica when they pass the Gold Coast.
You may see whales "sleeping" which is quite interesting as they are still moving, but on a different pattern to those that are awake!
If you are lucky you may see the most amazing sight of a whale breaching up close - which is when they "jump" out of the water and flop back into it.
I've seen them breach from a distance, but never really close. Another reason to get back out there on the water!
Whales like to put on a show! They slap their tails or pectoral fins on the water. They spy hop, which is when they pop their heads straight up and out of the water, like a periscope on a submarine checking out what's going on!
And when it is calm water and they are interested they can hang around and even blow out of their spouts.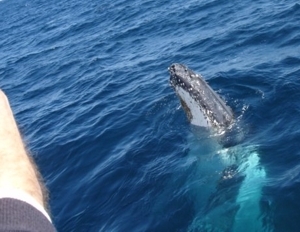 Whale close to the boat!
Just checking us out.
AWESOME!
If you are really lucky (or unlucky, depending on the way you see it) you may end up wearing some whale snot!
Unfortunately, I haven't been able to capture a good whale spout on a photograph, yet.
When they are on their return journey you can sometimes see the mothers and calves together especially later in the season from mid to late September through to November.
In the middle of the whale watching season you can see the humpback whales going both north or south, both ways they are on a mission.
I often get asked, what is the best time to go whale watching on the Gold Coast, and there really isn't any better answer than anytime during whale watching season! However, you will see different things at different points in the season.
Now you know a little more about the whales you are likely to see and what they might do you can check out photos I have taken on my whale watching tours and videos or read stories and reviews that other people have written to get a taste of the sorts of things you might see.
Enjoy your Whale Watching,
Annie
PS: If you really want to get close to the whales you can't beat getting out on the water with a whale watching season cruise.
Current Top Options Whale Watching In Gold Coast
Here's a selection of the best current deals at the moment for the whale watching in Gold Coast. Please check here for all whale watching options including Coolangatta option for those staying in southern Gold Coast.
Surfers Paradise Whale Watching
EASY ACCESS - GREAT VALUE

These cruises go from the heart of Surfers Paradise, so you don't need transfers! Departs 4 times per day - two in the morning morning, a midday and an afternoon departure.

BE QUICK. Click for more info or BOOK BEFORE END OF MAY For Travel up to 4 November & SAVE $40 per adult*...

Surfers Paradise Whale Watching
3½ hours inc. Canal Cruise
Great Value & Options for Visitors

Adult

$99.00 NOW $59.00

Child

(0-14)

$69.00 NOW $59.00

Family

(2A 2C)

$267.00




Surfers Paradise Whale Watch

Surfers Paradise Whale Watching Cruises
4 Cruises Per Day For Great Flexibility

This is the only whale watching cruise that leaves from the centre of Surfers Paradise.

If you are staying in Surfers, Broadbeach, Main Beach or even Southport, you can either walk (Surfers Paradise only) or take the new G:Link or a bus to this cruise. No need to use an attraction transfer for this one!

If you need to drive, you can easily park across the road, under Circle on Cavill or Chevron Renaissance. Parking charges will apply.

There are a couple of great advantages for this whale watch including the convenience of the departure location, a bonus canal cruise to see the houses of the rich and famous from the Gold Coast before you head out to see the whales and the flexibility to choose one of 4 daily cruises to see the whales.

Cruises are just over 3 hours and depart at 8.30am, 10.30am, 12.30pm and 2.30pm daily. You need to be checked in at least 20 minutes before departure.

This whale watching company offers the following guarantee: 'Guaranteed whale sightings or free return cruise.'

All cruises are dependent upon weather conditions, which is why I always recommend you plan your itinerary for your holiday beforehand.

Book your cruise before you arrive in Gold Coast and make sure it is early in the vacation.

This is in case it has to be rescheduled due to weather conditions - it would be terrible to miss out on seeing the whales.

BE QUICK. Click for more info or BOOK BEFORE END OF MAY Travel During 2018 Whale Watching Season & Save. Be Quick. Limited Time.

Whale Watching from Surfers Paradise
Adult $99 NOW $59
Child (0-14 years) $69 NOW $59
Family (2 Adults + 2 Children) $267

BOOK NOW

Outstanding Value - no credit card or booking fees. Print your own or use mobile vouchers.
New!

Comments

Have your say about what you just read! Leave me a comment in the box below.