What To Wear Whale Watching
COVID-19 Pandemic & This Website
The COVID-19 Pandemic has had a huge impact on local Gold Coast businesses, which rely heavily on visitors from Queensland, interstate and overseas.
During this time, it is hard to keep the website fully up to date with all the changes. In the meantime here are some resources for visitors. Our main booking partners for hotels and for tours, tickets, theme parks and activities are keeping everything up to date, so please use those resources in the meantime.
Travel Information for Queensland Visitors - Queensland Tourist Safety Information - regularly updated, official website.
COVID-19 FAQ's For Activities, Tours, Cruises & Theme Park Tickets - General Ticket & Pass FAQs and COVID-19 Travel Update.
Thank you for your understanding and patience at this really difficult time.

Annie Rettie
Gold Coast Australia Travel Tips - Owner
What To Wear Whale Watching - Tips For Men and Women!
Questions such as: what to wear on a boat in the winter in the Gold Coast? Are not just for the ladies.

Men, listen up too, there are some solid tips here that you will thank me for!

If you are wondering also, what you need to take with you and how to prepare yourself for a whale watching (or boat) trip then check out the whale watching tips page too.

Chances are if you are reading this, you are getting pretty close to visiting Gold Coast. However, if you still planning your holiday Click Here for my planning cheat sheets, tips & tools to step you through the process and make sure you don't miss anything!

Annie Rettie
Gold Coast Australia Travel Tips - Owner
Join the conversation or just check us out...
Select The Topic You Are Interested In
Gold Coast Whale Watching Season is CLOSED FOR 2022!
2022 Whale Watching season is now CLOSED on Gold Coast.
Whale Watching Season from usually from late May and runs through to early November.
Check out the booking options for Whale Watching including current deals as they become available, often with huge savings.
Annie's What to Wear Whale Watching Tips!
There's a theme here - Be prepared!
What to wear whale watching?
I know this sounds like a typically female question. But let me assure you my husband was glad I told him to rug up when we went whale watching on the Gold Coast in August.
It's easy to look out of the window in the morning, see the blue sky and think I'll wear shorts! 10 miles offshore with a pesky cold westerley blowing right at you - you'll be glad you took the advice to bring some warm clothes!
Don't forget to check out my whale watching tour review and photos of our August whale watching trip.
Be prepared for the cold wind
June, July, August and September it can be quite cool on the water, especially if the wind is blowing. Actually it can be really COLD!
Of course you can duck inside the cabin of the boat to keep out of the wind, but then you don't get the same view of the whales, which is after all why you are on the tour!
It is really easy to be lulled into a false sense of security when you look out of your hotel window and see the bright blue sky.
In the winter on the Gold Coast, although the temperatures during the day can reach low to mid 20s Celsius or Centigrade (around 70 to 77°F), it is the wind that will make you feel cold.
It doesn't take much to pack some extra layers and a lightweight windproof jacket. Long trousers are my pick when it is breezy!
Layers are great because you can take them off and put them on at whim.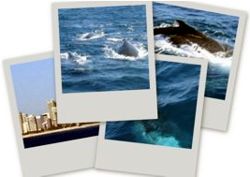 Memories of watching the humpbacks off Surfers!
Be Prepared For The Seering Sun
This is MANDATORY! Always be prepared for the sun in the Gold Coast!
Quite simply you will need:
Sunscreen (Factor 30 plus or stronger)
Sunblock or zinc
Wide brimmed hat
Sunglasses
Long sleeves (but you'll probably be wearing those anyway!)
Water bottle
You can get burnt by the sun in the winter in the Gold Coast. In fact more easily than in the summer because you are not prepared for it.
Invisible zinc is great for your face and don't forget your ears.
Hats with a brim are better than caps as caps leave the sides of your face, neck and ears fully exposed. I think ears are the most neglected part of most people's sun protection routine.
Don't let your ears burn!
Hats are difficult things on boats as they can fly away in the wind. I'll leave that dilemma up to you to work out!
You will be out in the elements for a good couple of hours. Don't overlook this even if it is cold and the winter.
Drink lots of water. It is easy to dehydrate.
Be Prepared For The Spray
This is one caught me off guard and a few others too.
As soon as catamaran starts getting up to speed there is spray. There is more spray the rougher the weather or the stronger the wind.
Of course, you can go inside! If, however, you are like me you will want to be outside. See my tips about motion sickness and seasickness
The other time when you may get sprayed but you won't want to go inside is when you are watching whales close by and they spray you with their whale spouts!
I thought whale spouts would be quite solid looking water spouts! How wrong was I! The reality is they are very fine sprays but very large sprays and they seem to be able to travel quite a distance.
A good waterproof jacket is an option. It will also protect you against the wind too.
Be Prepared For Being On A Boat
I know this may sound obvious, but wear clothes that are appropriate for a boat.
You need to be in comfortable clothes that you can easily move around in. You don't want to be in short tight skirts or long flowing ones, ladies! The gentlemen may enjoy watching you spend the entire trip trying to keep from flying up! But you won't be concentrating on the reason you are there!
Sneakers or comfortable sensible shoes are the best options for boats as well. You want to have sure footing as you move around.
What To Wear Whale Watching In Winter On The Gold Coast?
Personally, I would wear long trousers and take a pair of shorts to change into if I was pleasantly surprised by the weather in the winter.
I would make sure I had layers, a body warmer jacket is a good option and long sleeves. My old faithful waterproof and windproof jacket would be in my bag. If it was really cold I might even take a beanie or woolly hat that covered my ears!
All the usual sun protection and sneakers for my feet.
What To Wear Whale Watching In Spring On Gold Coast Australia?
By spring I mean late September and October for whale watching purposes. I would probably wear 3/4 (Capri-style) pants or shorts if it was really warm. I would still take a fleecy top, or something warm for the top. Layers! If it was windy I would probably wear or take long trousers just in case.
I always carry a spray jacket (you may know this as arain mac, cagoule or windcheater) in my bag.
Sun protection at this time of the year is an absolute must before leaving the house. Face, nose and ears need to be covered well. Sunglasses and a hat are a must have.
I'd probably throw in a swimsuit and towel, not that you swim off the boat, but when you get back to dry land if the weather is nice you can find a beach and go for a swim!
Other Items To Pack For A Whale Watching Trip
As well as knowing what to wear whale watching I've put together a quick checklist of items to remember for your trip:
Digital Camera with strap and bag
Video Camera with strap and bag
Binoculars
Lightweight water and wind proof jacket
Sunscreen and zinc
Hat
Sunglasses
Jumper, sweatshirt or warm jacket
Shorts to change into
Sea Sickness remedy (I like Blackmores Ginger Tablets)
Water bottle
Snack - you'll be out for a couple of hours, although most boats have some small snacks for sale.
I hope you have enjoyed these tips on what to wear whale watching. If you have any more tips or ideas I'd love to hear them and with your permission I can even add them to this list!
Please come back often, share this with your friends, Like us on Facebook or Tweet this - you'll find the buttons at the bottom of the page to make it even easier!
Whatever you do, enjoy your Whale Watching,
Annie
Haven't selected your whale watching trip yet?
Check out our suggestions including some help in selecting the right one for you.

Current Top Options Whale Watching In Gold Coast
Here's a selection of the best current deals at the moment for the whale watching in Gold Coast. Please check here for all whale watching options including Coolangatta option for those staying in southern Gold Coast.
Sea World Whale Watching
POPULAR OPTION

This cruise is ALWAYS POPULAR with a well respected cruise operator.

Morning cruise goes every day during season. Lots of parking close by and easy to get to using shuttle buses, or public transport.

Sea World Whale Watch

Great Value for Visitors

Adult

$99.00

Child

(3-13)

$79.00

Family

(2A 2C)

$300.00




Sea World Whale Watch

Sea World Whale Watching Cruise

This popular cruise is often fully booked, so it is worth booking ahead, especially during school holidays.

Sea World Whale Watch is a popular option, because it is easily recognisable, it has a large boat and is backed by the professionalism of Sea World.

Sea World Whale Watch Cruises are available in the morning from 10am to 12.30pm and sometimes in the afternoon from 2pm to 4pm (though you will need to check for dates and availability on the links provided).

You will need to arrange transfers to get to the Sea World Cruise Terminal - which is in the car park of Sea World. You can use the standard Sea World theme park transfer for the morning cruise.

This season there are two cruises daily. The morning cruise departs around 10am returning around 12.30pm. The afternoon cruise (not always available) departs around 2pm returning around 4.30pm. All cruises are dependent upon weather conditions, which is why I always recommend you plan your itinerary for your holiday beforehand and book in your cruise early in the vacation, in case it has to be rescheduled. It would be terrible to miss out on seeing the whales.

Sea World offers the following guarantee: 'Guaranteed sightings or full refund will be provided except during the months of May and November'

Sea World Whale Watching Cruise
Adult $99
Child (3-13 years) $79
Family (2A+2Ch) $300

Sea World Whale Watch

Outstanding Value - no credit card or booking fees. Print your own vouchers. Mobile Vouchers Accepted.

Surfers Paradise Whale Watching
EASY ACCESS - GREAT VALUE

These cruises go from the heart of Surfers Paradise, so you don't need transfers! Departs 4 times per day - two in the morning morning, a midday and an afternoon departure.

BE QUICK. Click for more info or BOOK NOW...

Surfers Paradise Whale Watching
3½ hours inc. Canal Cruise
Great Value & Options for Visitors

Adult

$99

Child

(0-14)

$69

Family

(2A 2C)

$267




Surfers Paradise Whale Watch

Surfers Paradise Whale Watching Cruises
4 Cruises Per Day For Great Flexibility

This is the only whale watching cruise that leaves from the centre of Surfers Paradise.

If you are staying in Surfers, Broadbeach, Main Beach or even Southport, you can either walk (Surfers Paradise only) or take the new G:Link or a bus to this cruise. No need to use an attraction transfer for this one!

If you need to drive, you can easily park across the road, under Circle on Cavill or Chevron Renaissance. Parking charges will apply.

There are a couple of great advantages for this whale watch including the convenience of the departure location, a bonus canal cruise to see the houses of the rich and famous from the Gold Coast before you head out to see the whales and the flexibility to choose one of 4 daily cruises to see the whales.

Cruises are just over 3 hours and depart at 8.30am, 10.30am, 12.30pm and 2.30pm daily. You need to be checked in at least 20 minutes before departure.

This whale watching company offers the following guarantee: 'Guaranteed whale sightings or free return cruise.'

All cruises are dependent upon weather conditions, which is why I always recommend you plan your itinerary for your holiday beforehand.

Book your cruise before you arrive in Gold Coast and make sure it is early in the vacation.

This is in case it has to be rescheduled due to weather conditions - it would be terrible to miss out on seeing the whales.

BE QUICK. Click for more info or BOOK NOW.

Whale Watching from Surfers Paradise
Adult $99
Child (0-14 years) $69
Family (2 Adults + 2 Children) $267

BOOK NOW

Outstanding Value - no credit card or booking fees. Print your own or use mobile vouchers.